By Joanne Jeffries. Last Updated September 1st 2021. Below, you will find our guide to finding accident claims solicitors for Cheshunt claims. In it, we explain why you don't need to use local personal injury solicitors for Cheshunt claims.
Are you looking for accident claims advice following an accident causing illness or injury that wasn't your fault? If so, you'll find this guide really useful. We'll cover what types of accident can lead to a claim and what you need to do, at the time of the accident, to make claiming easier. We'll also explain how accident claims solicitors covering Cheshunt can represent you.
Although we're not based in Cheshunt, our accident claims solicitors are happy to help with claims for injuries sustained there and they always work on a no win no fee basis. If you'd like to begin a claim today, call us free on 0800 073 8801.
To find out more before you call, please carry on reading.
Choose A Section
What Is An Accident Claims Solicitor Covering Cheshunt?
The amount of different accidents and injuries that could lead to a compensation claim is way too long to be listed here but we will aim to cover as many types as possible. Claims could be made for injuries sustained in an accident on the A10, a train incident or even a horse accident in the Cheshunt area.
The main points that a personal injury solicitor will need you to prove before agreeing to take on your case are that;
You were owed a duty of care by the defendant.
They were negligent which caused an accident to happen.
You suffered injuries as a result of the accident.
If you can prove all of the above, then one of our accident claims solicitors could help you make a no win no fee claim. For all clients they take on they will offer:
A free assessment of the claim and free accident claims advice.
Help and guidance with gathering the evidence needed to support the claim.
The compilation and submission of the claim to the defendant.
Managing all communication with the defendant or their legal team.
Advice on whether you should accept a compensation offer or not.
There are a very small percentage of claims that don't get resolved by an agreement between both parties. In these cases, your solicitor would represent you in court too, should the need arise.
To discuss making a claim with Accident Claims UK, please call one of our specialist advisors today. We're available 7 days a week by telephone or online chat.

Claims For Falling And Slipping Accidents
Trips and falls might seem like minor accidents when viewed from afar, but they can cause really serious injuries which either don't heal fully or take months or years to recover from.
When the accident is caused by the negligence of another person, establishment or authority you could seek compensation for any injuries sustained.
Examples include:
Tripping on road defects like raised paving slabs or potholes.
Slipping on a wet floor with no warning signs.
Failing to spot a trip hazard because the area was poorly lit.
Falling down the stairs because a handrail was damaged.
If you'd like to discuss claiming compensation for falling on a pavement defect or any other type of fall, please call today.

Claims For Road Traffic Accidents In Cheshunt
A car crash or any other type of road traffic accident (RTA) in Cheshunt can lead to pain, suffering and financial losses. It's only right, therefore, that if somebody else was to blame for the accident, that you should seek compensation for your injuries. We could help with such road traffic accident claims and could provide free legal advice to you for claim covering road traffic accidents of all kinds.
At the time of an RTA, you should try to:
Take photographs before the vehicles are moved.
Ask witnesses for their details.
Identify if any vehicle captured the accident on a dashcam device.
Seek medical treatment where needed.
Swap name, address and contact details with the other driver along with their registration number and contact details.
It may seem like there's a lot to do but the more evidence you gather immediately after an RTA the better.

How Many People Are Injured At Work In Broxbourne?
We've included the table below to show how many accidents at work occurred in Broxbourne (the district Cheshunt is in) over a period of a number of years.
| Location | Total - Non Fatal Injuries | Total - Non Fatal Injuries per 100,000 workers | Fatal Injuries |
| --- | --- | --- | --- |
| Broxbourne | 73 | 408 | 0 |
The table shows the number of accidents, fatal accidents and accidents per 100,000 workers to allow a comparison with other areas of the UK. To see the full report, please click here.

You can also see statistics relating to workplace ill-health, from the HSE's 2019/20 figures in the graph below.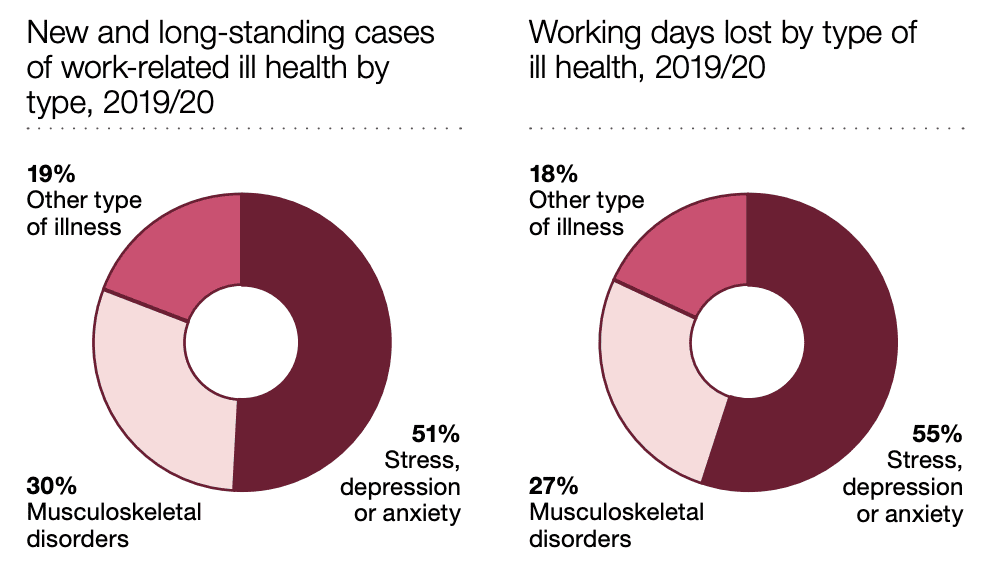 Cheshunt Injured At Work Claims
All employers are obliged, under health and safety legislation, to make sure you're as safe as possible while at work. It might not be possible to remove all risks from the workplace, but steps need to be taken to reduce them as much as possible.
Therefore, your employer needs to:
Reduce potential dangers identified during risk assessments.
Train all staff properly.
Ensure equipment is kept in good working order and repaired when required.
Make staff wear protective equipment where it's been identified as a method of making a task safer.
If you've had an accident at work where any of the above has not been put in place or executed properly, you could make a claim against your employer. Don't worry about the implications of claiming as, if the claim is genuine, your employer can't discriminate against you. They'll also have insurance in place to cover any claims.

Public Accident And Injury Compensation
Some accidents happen in public places that anybody can use, visit or enter without asking permission from the owner. Public places include car parks, footpaths, public highways, parks and shopping centres.
When an accident does occur, you might need to do some extra work to identify who's liable. It could be a local authority, an individual, a charity or a business. Whoever it is, if the accident was caused by a neglectful act or omission then you could be possible that you are eligible to make a claim for personal injury compensation.

Making A Clinical Negligence Claim
A medical professional will always owe their patient a duty of care to keep them as safe as possible while treating them. This mean they must try to follow the recommended procedure, keep hygiene standards high to avoid infection and to use the correct equipment. They should also explain the procedure and any risks before treating you.
Medical negligence claims could be made against doctors, nurses, midwives, surgeons, anaesthetists, care workers, dentists, beauty technicians and hospital staff. Such claims could be against the NHS or against private healthcare providers.
We recommend that you photograph any visible injuries, report them and seek advice from a different medical professional regarding remedial treatment.
If you've suffered an injury during cosmetic or medical treatment and would like help making a clinical negligence claim, please contact our team of specialists today.

Criminal Injury Compensation
If you've been injured during a criminal act against you, then you might not have considered that you could be compensated for your injuries. CICA (the Criminal Injuries Claims Authority) is a government organisation that has been set up to award compensation for those who have suffered as a result of physical, sexual or mental injuries caused by crime. They can also cover loss of income and other expenses associated with your injuries.
The scheme operates differently to a normal personal injury claim. The compensation amounts are different and with multiple injuries, you'll receive reduced payments for each subsequent injury. Also, the time limits for claiming are less than with personal injury claims (2 years rather than 3).
That said, the scheme does allow you to seek compensation where you might not have had any other method of claiming. You could even claim if the criminal hasn't ever been caught.
To discuss how we could help you make a CICA claim, please contact us today.

No Win No Fee Accident Claims Solicitors Covering Cheshunt
One thing that puts people off claiming accident compensation is the perceived costs involved with hiring a personal injury lawyer. That's why our panel of accident claims solicitors work on a no win no fee basis for all of the claims that they handle.
A no win no fee solicitor is only paid if the case is successful. Failure to do so means you don't have to pay your solicitor anything at all. When they win the claim, their success fee (the maximum fee allowed is 25%) is deducted from your compensation.
Using no win no fee solicitor reduces the financial risk involved.

How Do I Start My Claim?
If you've read this guide about accident claims solicitors covering Cheshunt and decided that you'd like us to help with your claim, to get the maximum compensation possible for your claim then please get in touch today.
Our team of friendly advisors can be contacted on 0800 073 8801, live chat or we can call you back if you fill in this online form. Our specialist solicitors, regulated by the Solicitors Regulation Authority (SRA) could help you under a No Win No Fee agreement so no funds would be needed to start your claim.

Frequently Asked Questions About Personal Injury Claims
Hopefully, the guide has provided all of the information you've needed about accident claims in Cheshunt. As we're asked some common questions by new clients, we've answered some of them below.
What Could A Claim Compensate Me For?
An accident claim solicitor can request payment for a number of different things to ensure you're compensated appropriately. First of all, you could claim for general damages. This covers the pain and suffering caused by your injuries.
Then you could include a number of different 'special damages'.
Special damages can include travelling expenses, care costs, medication charges, personal property damages and lost earnings. If your injuries are likely to affect your ability to work in the future, then you could also claim for future loss of earnings.
When Should I Start My Claim?
When you begin your personal injury claim, you'll need to be aware that there is an accident claims time limit of 3 years for adults. This begins on the date you were injured or when you are made aware of your injuries.
In the case of children, a parent or responsible adult can make a claim for them until they're 18 or the child's time limit is 3 years from the date of their 18th birthday.
Do I Need To Be Medically Assessed And Will This Be In My Area?
It's really important that a personal injury solicitor can demonstrate how serious your injuries are/were. They can do this by using any medical records obtained from a GP or from the Cheshunt accident and emergency department, but they'll also need an independent report.
Therefore, any accident claim you make will require a medical assessment. If you choose to utilise our accident claims solicitors, you'll be happy to know that we also work with a panel of doctors who are close to your area. Some members of our panel of doctors can be found below;
Sajive Bansal
Harlow Occupational Health Service,
Templefields,
Harlow, CM20 2DJ.
Alba Mascunano
Cockfosters Road,
South Mimms,
Barnet, EN4 0PY
Will I Have To Travel And Meet My Solicitor?
The good thing about today's modern world is that communication is so much easier than it was in the past. This means that many accident claim solicitors are happy to handle claims by telephone and email. This avoids the need for face to face meetings and enables you to have regular updates on the progression of your claim. It also means you are able to choose to use accident claims solicitors covering Cheshunt, rather than those who are based there.

Could accident claims solicitors covering Cheshunt give me advice on a data breach claim?
Every organisation that collects, processes and stores data has a legal obligation to protect personal data from being compromised, in terms of its privacy and security. Laws including the General Data Protection Regulation and The Data Protection Act 2018 give data subject certain rights. These rights include the right to claim compensation for non-material and material damages caused by a breach of their personal data.
If you could prove an organisation such as a healthcare provider, employer, financial service provider, educational establishment or council for example, had breached your data, and it caused you harm, you could make a claim for compensation. Our personal injury solicitors covering Cheshunt could help you get compensation for any financial impact the breach has had on you. We could also assist with making a claim for psychological injuries caused by a breach, such as distress or anxiety. You would, however, need to prove wrongdoing on the part of the organisation, however. They could have failed to sufficiently protect computer systems from unauthorised access, for example. Or, they may have sent your data to the wrong address. Whatever the reason for the data breach, we could assess your case to see if you could claim. Please don't hesitate to get in touch for a free, no obligation case check.
Could accident claims solicitors covering Cheshunt help with a case involving a hit and run?
Have you been run over as a pedestrian and the driver has left the scene without stopping? Perhaps you were sideswiped or rear ended at a junction and the driver sped off? Either way, you might be worried that since you don't have the driver's details, you wouldn't be able to claim? If so, you might be relieved to know that personal injury solicitors covering Cheshunt could assist you with a hit and run claim. Your case could usually be made to the Motor Insurers' Bureau, which aims to reduce uninsured driving as well as compensating victims of untraceable, uninsured driving who've been injured on the roads in the UK. We could help you start a claim from the MIB for personal injuries you've received in such an incident. You would, however, need to have reported the accident to make a claim. Should you wish to get a free, no-obligation assessment of your case, our team are ready and willing to help you.
Where To Find Out More If Injured In Cheshunt
Hopefully, you now have all the information about hiring accident claims solicitors covering Cheshunt that you need. However, to assist you further, we've provided some useful links and guides below.
Reporting Accidents – Information from the Health and Safety Executive about the types of accidents at work which must be reported.
Hertford Court – Details of Cheshunt's local court including phone numbers and opening times.
Whiplash Injuries – Information from the NHS about the symptoms of whiplash which is a common injury following a car accident.
Injured at Work Claim – A guide which explains in more detail when you could claim for injuries sustained in the workplace.
Road Traffic Accidents – This guide could be helpful if you've been involved in traffic accident in Cheshunt.
Fatal Accident Claims – A guide which will help if you're having to deal with an accident in Cheshunt that led to a fatality.
Hopefully, you've found our guide to finding accident claims solicitors for Cheshunt claims helpful. Now you'll be aware of why you don't need to use local personal injury solicitors for Cheshunt claims.