By Joanne Jeffries. Last Updated September 6th 2021. Here, you will find our guide to accident claims solicitors covering Glenrothes. In the sections below we explain why you don't have to use personal injury solicitors covering Glenrothes that are based locally.
If you're considering using accident claims solicitors to help with a compensation claim because you've been injured as a result of somebody else's negligence, then you'll find this guide useful. We'll explain how accident claims solicitors covering Glenrothes can help with claims there, what evidence you need to support your claim and the types of accidents that could lead to a claim.
Even though we're not based there, we can help with Glenrothes accident claims and our panel of accident claims solicitors work exclusively on a no win no fee basis.
To begin your claim today, you can speak with a specialist advisor by calling 0800 073 8801 right away.
To find out more about making a no win no fee accident claim before you call, please continue reading.
Choose A Section
What Is An Accident Claims Solicitor Covering Glenrothes?
A personal injury lawyer could help you begin a claim for any type of accident if you were injured by it and it was caused by negligence. The types of accidents that could lead to a claim include a car accident, an accident at work or a slip trip or fall accident.
The claim could be for a serious accident or minor one so long as it was caused by some form of negligence. Over the coming sections of this guide, we're going to cover some of the more common accidents that can lead to a claim. We'll explain what could make somebody else liable and what evidence you could provide to assist your claim.
You might not be aware that there is an accident claims time limit. Essentially, it means claims need to be made within 3 years of the accident. Alternatively, you've got 3 years from the date your injuries were diagnosed. There are, however, further exceptions to this time limit, so please do contact us to discuss your circumstances.

Work Injury Compensation Claims
If you're worried about what your employer might do if you claim against them, then you should stop worrying. Legally, employers can't treat you differently, discipline you or sack you for making an honest accident at work claim against them.
Under the Health and Safety at Work Act 1974, your employer needs to protect your safety and welfare while at work wherever possible. They need to risk assess your work procedures and the workplace and reduce the risks or eliminate them where possible.
You could be eligible to claim for an accident if it caused you an injury because one of the following is true:
You weren't trained properly in the task that caused your accident.
The equipment which caused an accident hadn't been maintained properly.
There was a fault with a machine which caused your injuries.
You weren't allowed sufficient work breaks.
The protective equipment required for your task wasn't provided.
To discuss making a claim for an accident at work, please call a specialist advisor today.

You could also claim for industrial illness or ill-health at work. The below statistics show how prevalent this is in the workplace in 2019/20, from the HSE's own statistics.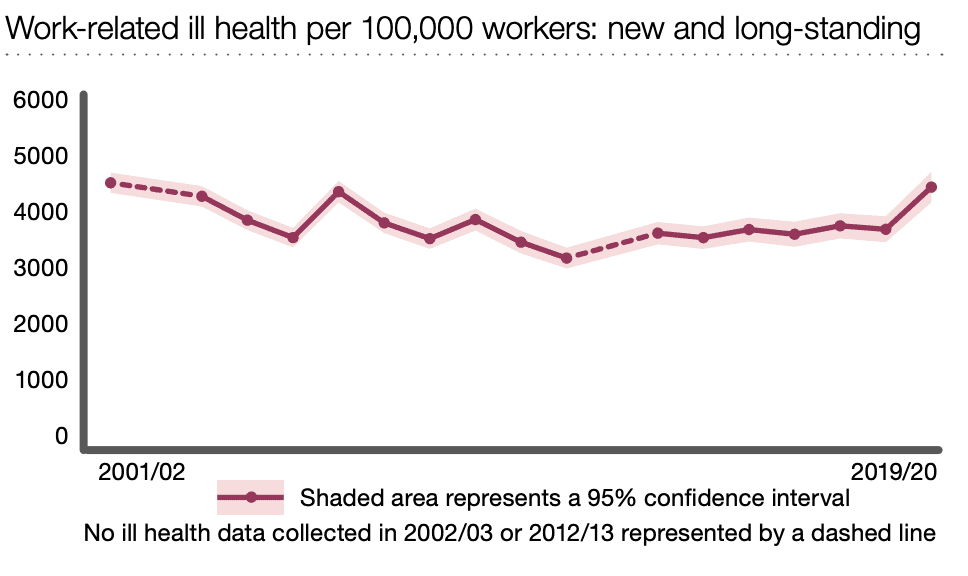 Work Injuries Reported In Fife
To show just how common accidents at work are, we've provided the table below. It shows all Fife (including Glenrothes) workplace accidents reported to the Health and Safety Executive (HSE) between 2014/15 and 2019/20
| Location | Total - Non Fatal Injuries | Total - Non Fatal Injuries per 100,000 workers | Fatal Injuries |
| --- | --- | --- | --- |
| Fife | 329 | 258 | 0 |
You can compare this data with other regions of the UK by reading the full report here.

Glenrothes Road Accident Compensation Claims
You could make a compensation claim for any road traffic accident in Glenrothes if you were injured and it was caused by another road user acting negligently. It could be for an accident on the A92, the high street or on the street outside your house.
It's really important to try and gather as much evidence for this type of claim. Also, you'll need to try and do it quickly as, once the scene has been cleared, it can be very tricky to capture who may be at fault.
Following any form of RTA, try to:
Take photographs, if it's safe to do so before any vehicles are removed from the scene.
Ask witnesses for their details.
Attend the GP or Accident and Emergency department near Glenrothes to have your injuries assessed and treated.
Get the details of any other driver involved.
See if there is any CCTV or dashcam footage that shows how the accident happened.
Tripping And Falling Accident Compensation
A trip slip or fall can occur just about anywhere. They don't always mean you're eligible for compensation, but you could be if it can be shown that your injuries were caused by someone else's negligence. It is important to note that in order for a third party to be liable they must owe you a duty of care in which they have subsequently breached. Examples of when a fall could've been caused by somebody else include:
Tripping on wires trailed across your workspace.
Slipping on a wet floor without warning signs.
Slipping on icy paths that haven't been cleared properly.
Falling because of a broken handrail.
Tripping on trip hazards which were obscured because an area was poorly lit.
In these types of situations, a claim for personal injury compensation might be possible against businesses, local authorities or individuals.

Criminal Injury Victim Compensation
A more unusual type of compensation claim is one made following a criminal act against you. It is different than a normal personal injury claim as it might be that the criminal hasn't been identified or they don't have the means to pay compensation.
That's where the Criminal Injuries Compensation Authority (CICA) could help. CICA, a government department, is able to provide criminal injury victim compensation for  victims of crime whom have suffered injuries, loss of earnings and other expenses linked to the crime.
CICA claims have different eligibility requirements and compensation is awarded differently to other personal injury claims. That said, our panel of accident claims solicitors covering Glenrothes could still help you make a claim.
If you'd like to discuss making a CICA claim, please call and speak with one of our legal advisors today.

Injury In A Public Place Compensation
A public place accident could lead to a compensation claim if the accident was caused by some form of negligence. You'll probably need to work out who's responsible for the place though. By public places, we mean somewhere that you're allowed to visit without asking permission first. That could be a park, a public highway, footpath, car park or spaces such as village greens.
If you'd like to claim compensation following an injury in a public place, photograph the cause, get the details of any witnesses and report the accident to the land or property owner.

Medical And Clinical Malpractice Compensation
There are a number of reasons you might want to make a medical negligence claim. These could possibly include:
If you were avoidably injured during medical or cosmetic surgery.
When you've suffered because you were given the wrong medication.
If a delay in treatment, due to a negligent misdiagnosis, caused you to suffer worse symptoms.
When you suffer from an infection because hygiene standards were poor.
If the wrong procedure was used causing you to suffer where you wouldn't have done so had the correct procedure been followed.
A medical negligence claim could be possible against private healthcare providers, the NHS and also beauty salons or similar establishments.
When we talk of medical professionals, we're talking of GPs, midwives, surgeons, nurses, care home workers, hospital staff, dentists, and anaesthetists.
To start a claim today, call one of our medical malpractice experts to discuss your options.

No Win No Fee Accident Claims Solicitors Covering Glenrothes
One thing that some people worry about is the cost of using an accident claim solicitor. It's understandable but you needn't worry. Our accident claims solicitors work on a no win no fee basis.
If they decide to take on your claim, and you're happy to proceed, then both parties will sign a Conditional Fee Agreement (CFA). This is the legal name for a no win no fee agreement. The CFA clearly states that you don't pay the solicitor unless they win compensation on your behalf. It will also tell you what the success fee will be should the solicitor win the case.
The success fee is a percentage of your compensation used to pay the solicitor and is deducted automatically, which means you don't need to have the funds to pay the solicitor yourself.
Using a no win no fee solicitor allows a lot more people to make claims and it reduces a lot of the financial risk involved with making a claim.

Speaking To Our Team
You're now coming towards the end of this guide about accident claims solicitors covering Glenrothes. If you've decided that you'd like to begin your claim with Accident Claims UK, then you can contact us by:
Calling 0800 073 8801. We're available 7 days a week and 24 hours a day.
Using our live chat facility.
Or ask for a call from an advisor by filling out this claims form.
Common Accident Claim Questions
When we're contacted about accident claims we often hear the same questions from potential clients. So that you can ask us more pertinent questions about your accident, we've answered some of the more commonly asked ones below to save time.
Could I Claim Compensation For My Injuries?
To be able to make a personal injury claim you'll need to demonstrate that:
You suffered an injury of some sort.
The accident that caused it happened because somebody else was negligent.
And that person owed you some sort of duty of care.
To find out whether you can claim compensation, call one of our specialist advisors. They're friendly and will offer free accident claims advice. They'll also help you work out if you can claim during a free assessment.
If they agree that your case is strong enough, they could connect you with one of our panel of accident claims solicitors. If that's the case, you'll get a solicitor with many years' experience in seeking accident compensation on a no win no fee basis. They will represent you during your case and strive to ensure you are compensated fully for the injuries that you have sustained.
Will I Get A Local Solicitor?
Nowadays, accident claims solicitors covering Glenrothes are happy to take on claims even though they're not based in the area. That's because modern communication methods allow for claims to be handled over email or the telephone.
This means that you won't need to have face to face appointments with your solicitor if you do not want to which may mean less waiting time for your claim to proceed.
What Could I Be Compensated For?
A compensation claim is actually made up of a number of different elements. Your personal injury solicitor will work out which elements are relevant to your claim and include them where necessary. These elements are known as heads of loss and include:
General Damages: Paid for pain and suffering.
Travel Expenses: This could include traveling to medical appointments or using alternative travel arrangements while you're recovering.
Medical Expenses: You could claim for prescription and other over the counter medication.
Care Costs: The claim could include the cost of professional care that's used to help you recover.
Damage Costs: If an item of your personal property is damaged during your accident, you could claim the cost of replacing or repairing it.
To help your accident claims solicitor, it's advisable to keep all receipts for any costs that are being claimed for because your solicitor will need to justify why you've claimed for them.
How Far May I Have To Travel To Have A Medical Examination?
We've got a panel of doctors and medical experts across Scotland and the rest of the UK to try and ensure your medical assessment can happen as local to you as possible. Here are some near to Glenrothes we could use:
Mark Innes Burgin
The Alba Clinic,
148 Princess Street,
Dundee, DD4 6DG.
The Aberdeen Clinic,
1 Berry Street,
Aberdeen, AB25 1HF.

How do you find the right accident claims solicitors covering Glenrothes for your case?
If you want to make a personal injury claim, one thing you might feel you need to do is find an experienced and reputable accident solicitor who can give you the best shot at getting the compensation that you deserve. A lot of people assume that they need to go down the local route when selecting personal injury solicitors for Glenrothes claims, but this is not the case. You can work with any accident solicitor based in the UK, which means you have a much bigger pool of options available to you.
There are a number of different factors you will need to consider in order to narrow down your search effectively, though. The solicitor you select should be registered for practice in England and Wales, as well as being authorised and regulated aby the Solicitors Regulation Authority. It is also important to make sure they have the required experience and that they have worked on cases similar to yours in the past. You might also want to find out whether they would be happy to assess your case before you determine whether or not to use their service. It also makes sense to opt for a law firm offering to work on a no win no fee basis.
Here at Accident Claims UK, we have many years of experience in the industry and we can help assess the validity of your claim, giving you guidance on whether you could have a good chance of compensation. Simply give us a call today.
Would accident claims solicitors covering Glenrothes assist with allergic reaction claims?
If you have eaten or drank an allergen unknowingly because of negligence on the behalf of any sort of food business, you may be able to claim compensation for the allergic reaction that you have suffered as a consequence.
The majority of those with food allergies take a huge amount of care when they buy and consume food outside of their home. After all, they would not want to take the risk of consuming something that contains the ingredient they are allergic to. Allergic reactions can be incredibly uncomfortable and, in some cases, could lead to serious complications such as anaphylaxis.
This is why food businesses have a legal responsibility to make sure that their food is packaged correctly and the right information is supplied to customers. If this is not the case and you have experienced an allergic reaction as a consequence, you may be able to make a claim. Get in touch today to find out more.
Other Information And Related Guides
We hope that this guide about accident claims solicitors covering Glenrothes has been helpful. For more information, please refer to the links, guides, and resources listed below.
Reporting Workplace Accidents – Guidance from the HSE about when workplace accidents need reporting to them.
Kirkcaldy Court – The local court serving the Glenrothes area.
Personal Injury Claims Calculator – A useful tool which shows how compensation is calculated for different types of injury.
Tripping Accident Claims – If you're considering an accident claim following a trip, slip or fall, then this guide will help.
Work Injury Compensation Claim – If you've been injured during an accident at work, this guide should help you decide whether you can claim or not.
We hope you've enjoyed our guide to accident claims solicitors covering Glenrothes. Now you'll know why you don't have to use personal injury solicitors covering Glenrothes that are based locally.