By Joanne Jeffries. Last Updated 17th November 2021. Welcome to this case study, which explains how personal injury claims payouts for a lower leg amputation could be calculated.
When it comes to accidents and injuries, they all present stress and trauma for the individual in question. This is especially the case for anyone that has experienced a lower leg amputation because of what has happened to them. This is something that happened to one claimant.We have carefully researched this case to bring you more information on the kind of claim that often results in a high payout, as it provides an excellent example regarding the sort of amputation claims we have assisted with and can assist with.
In this incident, a man suffered a lower leg amputation because of a popliteal aneurysm that was left untreated. The claimant was experiencing pain for an extended amount of time, however, the person treating him decided to monitor the situation, rather than taking action.
This caused the individual to be diagnosed with a left thrombosis popliteal artery aneurysm. And this resulted in the individual undergoing a below the knee amputation. As a consequence of what happened, the individual in question was awarded £900,000 in loss of limb compensation.
UK Medical Negligence Statistics
The NHS publishes statistics regarding the clinical negligence claims that are brought against them. It is worth pointing out here that statistics for private hospitals and clinical negligence have not been published, so this only gives you a small amount of the picture. The most recent statistics from the NHS showed that in the 2016-17 period there were 17,338 claims brought. Of these claims, 55.8 per cent, which amounts to 9,675 of the claims, resulted in a loss of limb settlement being awarded. Of these successful claims, 67.8 per cent were settled without court proceedings being required.
Details Of Negligence Which Led To The Lower Leg Amputation
Let's take a look at the details of the case. In this incident, the claimant went to hospital because he was experiencing pain in his left calf. He attended A&E. The professionals noted a popliteal aneurysm. He was referred to a Vascular Consultant after being told his condition needed to be monitored. The condition was getting worse, as imaging revealed the aneurysm had grown by 25 mm. Despite this, the Vascular Consultant did not take any action, deciding that it would be best to continue to monitor the situation. However, ten months later, the claimant was in a huge amount of pain. He was then transferred to a nearby hospital whereby he was diagnosed with a left thrombosis popliteal artery aneurysm by the vascular surgical team. He had to have surgery. However, this resulted in a left below knee amputation, despite numerous attempts to save his leg.
You may be wondering what the claimant's original condition, i.e. a popliteal aneurysm, is. This relates to weakness and bulging in the popliteal artery wall, which is responsible for providing blood to the calf, thigh, and joint. Such a condition can cause uncontrolled and life-threatening bleeding because it can burst. Moreover, leg amputations can be needed if the aneurysm causes a blood clot.
Symptoms of popliteal aneurysms are as follows:
Ulcers on the skin of the feet that do not heal
Foot and leg pain
A collection of watery fluid, known as an edema, in the lower leg
Pain behind the knee
It is worth pointing out that there are some people that do not have any symptoms whatsoever. There is also no exact cause for this condition.
There are a number of different reasons why people may end up requiring an amputation. Some examples are as follows:
If a limb has become deformed and it has limited function and movement.
If there has been a serious trauma to your limb, for example, a blast wound or crush.
If your limb has been affected by gangrene.
If you have a severe infection in your limb.
How To Make A Compensation Claim For Medical Negligence
If you have been the victim of clinical negligence that has resulted in an amputation, you may be wondering how you can make a claim. This is simple. All you need to do is give us a call and we will take it from there. However, it does help if you have a number of different pieces of information available. This includes the following:
How and when the incident of medical negligence occurred.
Who you believe is at fault for what has happened.
If you have had any out-of-pocket expenses because of the injury.
If you have had any loss of earnings because of what has happened.
If you have anything else that can support your case, such as your medical report and photographs, these can also prove useful.
What Settlement Was The Claimant Awarded?
When launching this personal injury claim, the solicitors argued that the aneurysm was not surgically repaired for 15 months. This caused the claimant to suffer in many ways. Not only was he compensated for his injury but he was also compensated for the fact that he experienced a loss of earnings because he had to change jobs within the business he worked for. Not only this but adaptations to his property were needed and he was not able to continue with domestic responsibilities either. The solicitors proved all of this successfully, and the claimant was awarded £900,000.
No Win, No Fee Lower Limb Amputation Injuries
Here at Accident Claims UK, all of our solicitors on the panel we provide work on a No Win, No Fee basis. Discover why this is beneficial for you when it comes to making a claim for an accident, whether you are seeking a payout for lower leg amputation or any other type of injury.
No money is needed to begin your claim – If you opt for a No Win, No Fee personal injury solicitor, you will actually not need any money in order to begin your claim for an accident. High initial costs are often a huge hurdle for many personal injury victims when it comes to using the services offered by a traditional solicitor. This is something you need not worry about if you go for this option.
Financial risk is minimised – If you opt for a personal injury lawyer that charges by the hour there is always the risk that you are going to spend lots of money on a service only for your case to be unsuccessful in the end. This is something you do not have to worry about if you go for a No Win, No Fee service, as you pay based on the outcome of your case. This minimises risk by a significant degree and gives you peace of mind.
No time wasting – You can be sure that a No Win, No Fee solicitor is only going to take on your case if they genuinely think you have a strong chance of getting personal injury compensation. They won't waste your time, as they have nothing to gain by doing so.
Better service is guaranteed – Last but not least, this payment structure ensures a better service. No Win, No Fee solicitors going to be impacted by the outcome of your case and, therefore, you can be sure they will give your claim the level of attention it deserves.
It is not difficult to see why a No Win, No Fee solicitor is the best option for anyone that has been the victim of an accident. If this has happened to you, get in touch with us today.
Contact Our Team Today About Personal Injury Claims Payouts for a Lower Leg Amputation
No matter whether you want to secure loss of limb compensation, or you want to make a claim for any other type of accident or injury, we can help you to secure the amputation compensation you deserve. You can reach one of our friendly and experienced advisors by calling 0800 073 8801. This is our personal injury line, which is open every day, 24 hours a day, so you can call at any time that is convenient for you. There are also other ways to get in touch, for example, you can use our live chat feature, and we also have an online contact form on our website. Plus, you can request a free call back too. Don't leave it too long to get in touch though. There are limits on the time in which you can put forth a claim for compensation.
Could I receive personal injury claims payouts for a lower leg amputation my child experienced?
Whether your child lost their leg due to medical negligence, similarly to our case study above, or they suffered a traumatic amputation in a road traffic accident, or another accident that was not their fault, you could make a claim for them. You would need to be able to prove that the accident was due to someone else's fault who had a duty of care towards them. To make decisions about your child's case, including whether to accept a compensation offer, you would have to apply to be their litigation friend. Then, you could instruct a personal injury solicitor who could fight for the maximum compensation possible for their case. The time limits for claiming would usually mean that you could claim for them up until they turn 18. However, if you had not made a claim on their behalf before they reach 18, they could make their own claim up until they turn 21.
How can I maximise personal injury claims payouts for a lower leg amputation?
Like any personal injury or medical negligence claim, the evidence you submit could affect your personal injury compensation payout. Compensation settlements in the UK could be significantly impacted by the medical evidence you present for example. If you present independent medical evidence that proves the nature and severity of your injuries, as well as the psychological impact these injuries have had on you, you could ensure you claim all the general damages you could be eligible for. In addition to this, strong evidence of the cause of the accident and who could be held liable for this could also help your claim. Finally, the evidence of any costs and/or losses you've faced because of your injuries could make sure you maximise your special damages payout. Special damages compensation payouts could include costs such as care costs, travel and medical expenses, and even loss of earnings.
Do I need a local solicitor to get personal injury claims payouts for a lower leg amputation?
When you look for a solicitor to help you with your claim, you could start your search in the local area. However, this is not something you have to do. When a solicitor takes on your case, it does not matter where in the UK they're based, as they could handle lots of claims via means such as letter, e-mail and phone call. When choosing a solicitor to help you maximise personal injury claims payouts, we would advise claimants to consider solicitors that are authorised and regulated by the Solicitors Regulation Authority, and who could offer free legal advice.
How common are clinical negligence claims in the UK?
You might be rather shocked to learn how much the NHS pays out in clinical negligence claims compensation year on year. Below, we offer you some information on the sums paid out in 2020-21. These figures below show the breakdown of the compensation paid out by the NHS during this period.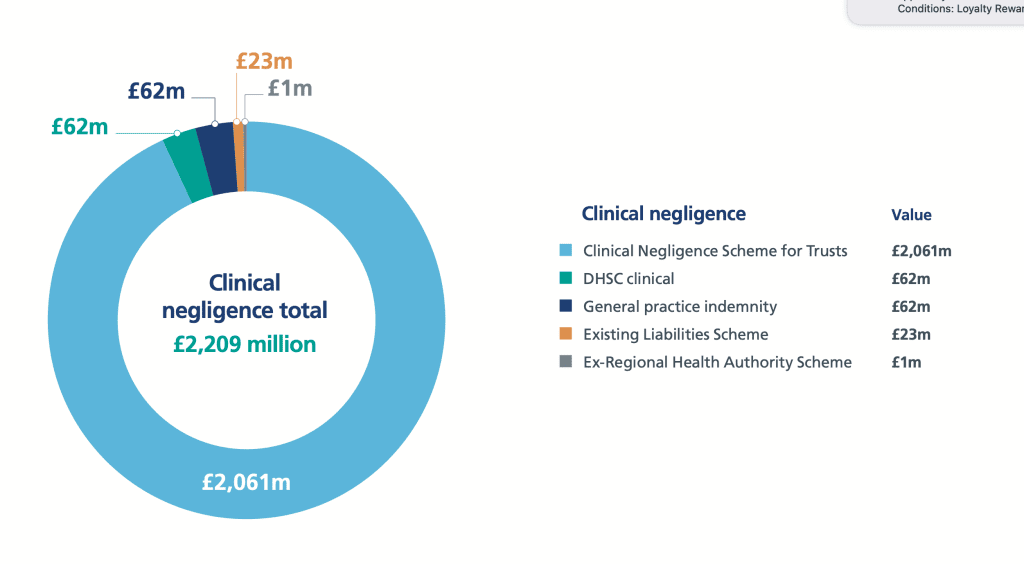 Useful Links Relating To Personal Injury Claims Payouts for a Lower Leg Amputation
We hope that you have found this guide useful while looking for more information on securing a payout for lower leg amputation. If you need any further details, the resources below may be of assistance. If you need more information than we have provided here, we will be happy to talk to you over the phone and offer additional information and assistance – so don't hesitate to pick up the phone.
Patient guide to lower limb amputations – This is an NHS pamphlet from Oxford University Hospitals explaining everything you need to know about lower limb amputation.
Clinical setting negligence claims – This link takes you to our clinical and medical negligence claims guide. You will find plenty of useful information, including how to claim for wrongful and delayed diagnosis, as well as the common medical negligence claims and much more.
How much compensation can i claim for a amputation?
Calculate how much compensation you could claim for amputation injury claim.
Thank you for reading this case study on personal injury claims payouts for a lower leg amputation. If you're considering pursuing a claim for financial losses or pain from any type of amputation, we could help you pursue amputation compensation claims for the loss of a limb that was someone else's fault. We could talk you through the claims process, and help you get compensation that could pay for a prosthetic limb if you lose a limb due to someone else's fault.