By Jo Anderson. Last updated 11th August 2023. Welcome to this guide to Asda compensation payouts. On this page, we look at how to contact the Asda complaints department, how Asda help you make a complaint, and how sometimes, Asda complaints compensation offers might not be enough and you may have to make Asda injury claims to get the right level of compensation for what has happened to you. We even give you an alternative to an Asda calculator to work out how much you could be eligible for. If you are thinking of making a complaint to Asda, and wondering, 'how do I complain to Asda?' or you want to make Asda claims for an injury you've suffered, please read on.
Asda Compensation Payouts – Are You Eligible To Claim?
Asda has thousands of customers each day. Although shopping trips can sometimes be frustrating due to long queues or busy car parks, most of us leave unscathed. However, on rare occasions, shoppers can sustain injuries whilst in Asda. If someone else is to blame for those injuries then they may be entitled to claim damages as a result of the accident.Find out guide to Asda accident compensation claims below.
Select a section
Injury at Asda claims guide
Big
supermarkets
are visited by large amounts of people everyday. Incidents do occur at large supermarkets. However, relative to the amount of visitors, the amount of incidents is negligible. As shoppers we do not expect our trip to the supermarket to result in a visit to the doctor. Particularly not following an accident that happens whilst we are there. If however you have suffered an injury and Asda or another shopper was the cause of this, then you might be eligible for compensation. This could pay for losses that you have suffered subsequently. You could contact Asda to make a complaint, but the Asda complaints department may not offer you compensation. This may be the case even if you might have been unjustly injured.
This guide advises you about all the variables of a claim for compensation against Asda. The information in the guide also applies to workers. It includes those who have been injured whilst carrying out their duties. Shoppers can benefit from this advice whether they were at a large Asda supermarket or a small store. The guide will advise you about what you can claim. Furthermore, it gives you an idea how much compensation you may be entitled to. This is depending on the type and severity of any damage you suffered.
What is included in Asda accident claims?
The list of things that you may be able to claim for is broad. As long as an injury occurred on the premises of an Asda store, it can be considered for compensation. An item may have slipped off a shelf and hurt you. Or, you may have slipped on water in Asda or another type of liquid. You perhaps had a fall in Asda. Or, you may have been involved in a car accident in the car park. Some of the injuries sustained could potentially be quite serious. As long as you were not to blame for the injury then you may be able to claim an Asda compensation payout.
What should I do if an incident at Asda caused me to have an injury?
If you have had a slip in Asda, a fall in Asda or been otherwise injured for a reason outside of your control then you need to collect evidence. If at a later date you decide to make an Asda injury claim then this evidence will support that claim. Important things to collect include:
Details of witnesses. In a busy supermarket it is likely that at least one individual will have been witness to your accident. Try to get the witness's contact details so that we can get in touch with them for a statement at a later date if you decide to pursue Asda compensation. Ask for their name, number and address if possible.
Details of the driver. If the accident involved another vehicle or car then collect the vehicle and driver details. If it was a company vehicle that was involved in the accident then be sure to get the contact details of the business as well.
Other steps to take
Go and see a doctor. To make a claim you may be required to provide medical evidence and therefore you should see a doctor as soon as possible after you have had an accident. Your injuries may not seem serious but an assessment will help you later on. Accident claims will organise a medical assessment on your behalf to support your claim but it is better to backup this later assessment with an initial check of your injuries as soon as you have received them.
Take photos. This includes photographs of your injuries and photographs of where the accident happened. This can provide valuable evidence in your slip or trip fall claim.
Make a written report. Asda accident books are there to be used by both employees who have had an Asda accident at work and also customers who have suffered an injury whilst shopping. Writing an independent report of everything you can remember is also helpful in case you forget something crucial at a later date. If there is no one about to complain to at the time, you could contact Asda to make a complaint in writing afterward. You should address this to the Asda complaints department. That way, you have a written record of your complaint.
If you have suffered an injury at Asda as a result of an accident that was not your fault and you are seeking information on how to begin claiming compensation then please contact us today on our Asda accident helpline and we will be able to offer you no obligation advice.
How to begin claiming compensation for an injury caused by an accident at Asda
Contact us by phone if you wish to attempt to claim compensation for an injury that you received whilst shopping at Asda. One of our highly experienced team members will ask you some details about the incident and find out about the injuries you have sustained. It may feel like they are asking many questions. Don't be worried by this, they are only attempting to find out the full facts about your injuries and the accident. You may have a lot of questions as well and we are here to answer those questions in the best way that we can. Our team are very friendly and will do their best to put you at ease, even if you are feeling nervous.
Making Asda injury claims easier
After we have found out all the facts about the incident we will chat to you about our no win no fee policy. This states that we will not ask you to pay anything upfront. You will be asked to sign the agreement and we will arrange an appointment with a medical professional in order for us to have a report detailing your injuries, the likely recovery time and any other medical notes relevant to the case.
We will find you a solicitor who is best suited to dealing with your case. We have experts in dealing with claims against Asda who are highly experienced in this field. The chosen solicitor will then set to work to get you the compensation you deserve.
I was injured in Asda whilst I was shopping can I claim damages?
You may be entitled to claim compensation if a solicitor can prove that another individual was to blame for your injuries. Plus, that you were not at fault. For example, if you crashed into a car in the car park and suffered injuries as a result you would probably not be entitled to claim compensation. However if another car drove into you in the car park then you would probably be able to make a claim against that driver. If you slipped in Asda compensation would probably be payable if a spill on the floor had not been indicated.
If something fell on you during your shopping trip or you fell on a broken escalator then you should be entitled to claim compensation against Asda. Call the Asda accident claims number to chat about your accident. We'll try and work out who was to blame. Once we have established blame we will be able to advise you whether or not you can make a claim for compensation.
Claiming against Asda for an accident at work
Employers have a duty of care to provide a safe place of work for their employees and yet many workers are injured every year and the employer is to blame. In the Health and safety at work
Summary statistics for Great Britain 2021, the HSE reported that there were 441,000 workplace injuries self-reported by workers. Asda has a great many employees. From people who operate the checkouts, to warehouse workers, delivery drivers and more. If you can prove that Asda have not properly undertaken the duty of care owed to you as their employee then you may be able to claim compensation if you have had an accident whilst working at Asda.
How Much Could I Receive?
Using the accident at work claim calculator on this page you will be able to work out approximately how much money you may be awarded following your accident. Here are some accidents at work compensation examples:
You were not given appropriate equipment to carry out your work
You were not allowed to take regular breaks
Asda knowingly allowed you to continue to carry out unsafe working practices
You were not trained properly which lead to a potential back injury at work claim.
Helping you achieve Asda compensation payouts for Asda injury claims
You may feel nervous to make a claim against your employer but you should not be. Check out our accident at work compensation case studies. Asda has insurance cover which will look after the cost of your compensation if they are liable. It is illegal for them to discriminate against you as a result of any claim that you bring against them. If you'd like to talk about this further or find out about the accident at work claim time limit then please call us and we can explain this to you in more detail.
Making a claim for a trip, fall or slip in Asda
It is not uncommon for people to fall over, trip or slip in superstores. There may be wires trailing, boxes causing an obstruction or shelving which has become loose and is sticking out. However, employers have a legal responsibility to protect workers and members of the public against the risks associated with falls, trips and slips. If the supermarket is to blame for your injury then you may be able to make a claim for your injuries. The injury may be minor or serious depending on how badly you have tripped or fallen. If you have been forced to have time off work as a result of a slip, trip or fall in Asda then you can claim for loss of income.
Am I able to claim for a car accident which occurred at the car park in Asda?
Car park car accidents can be caused by potholes in the road, inadequate lighting or incompetent driving. There is a strong possibility that we can find somebody else at fault for the injuries caused by your accident. It may be a minor sprain or a broken bone or something altogether more serious if you have been involved in a collision.
If someone else was responsible for your injuries which occurred in the car park at Asda then whether it was a major or a minor injury you are entitled to make a claim for compensation. We are here to help you establish who was to blame for the accident.
What Asda injury claims do most people who seek compensation from Asda make?
The key to a successful compensation claim is proving that someone else is to blame for your injuries. This could be somebody who works at Asda, Asda themselves or another customer. This is a list of common accidents which could occur at Asda. Again this list is not exhaustive and other claims may still be valid.
Falls, trips or slips where there has been no sign to warn of wet floors or spillages. This lady claimed £550,000 for slipping on a mushroom in Asda.
Obstacles in the aisles which have caused shoppers to trip.
Faulty products which have resulted in injury
Accidents which have occurred in the car park
Objects which have fallen from shelves
Food poisoning from either the cafe or food purchased in store
Injuries caused by damaged or faulty shelving.
If you are still wondering whether your injury may mean that you are entitled to compensation then please call our team and we will be able to advise you.
How Is A Supermarket Accident Claim Calculated?
If you're eligible to make a personal injury claim for a supermarket accident, and your claim is successful, your settlement could consist of general damages and special damages.
General damages is the head of claim that compensates you for the suffering and pain caused by your injuries. This can be both physical and mental.
When legal professionals are valuing this head of supermarket accident claims, they could refer to the Judicial College Guidelines (JCG) for help. The JCG contains guideline compensation brackets for a range of injuries at various severities.
Some examples of figures from the 2022 edition of the JCG can be found in the table below. However, these are only guidelines.
| Compensation reason | Estimated amount of compensation | Details |
| --- | --- | --- |
| Severe injury to neck (a) | £45,470 to £148,330 | The bottom end includes dislocations, ruptured tendons, soft tissue injuries and fractures. Payment at the top end of the bracket is more serious life changing conditions such as paraplegia and spastic quadriparesis. |
| Moderate injury to neck (b) | £7,890 to £38,490 | Fractures leading to spinal fusion and dislocations will pay out at the top end whilst the lower end is for injuries that have made existing conditions worse. |
| Minor injury to neck (c) | Up to £7,890 | Causing pain and problems with daily tasks. medication is usually needed. |
| Traumatic injury causing damage (i) | £43,010 to £61,910 | Severe damage |
| Traumatic injury causing damage (ii) | £16,790 to £27,760 | Serious damage |
| Traumatic injury causing damage (iii) | £6,610 to £12,590 | Moderate damage |
| Severe injury to shoulder (a) | £19,200 to £48,030 | Injuries resulting in pain and long term disability. |
| Serious injury to shoulder (b) | £12,770 to £19,200 | Commonly awarded for dislocated shoulders and brachial plexus injuries. Both incur severe pain in the shoulder and neck. |
| Moderate injury to shoulder (c) | £7,890 to £12,770 | This usually involves frozen shoulder which involves pain and restriction of movement. recovery time can take a few years. |
| Minor injury to shoulder (d) (i - iii) | Up to £7,890 | Common result of falls, slips and trips. Maximum amount awarded for recovery times of around 2 years and minimum amount for injuries which resolve within 3 weeks. |
| Scarring (Facial)(c) | £9,110 to £30,090 | Worst effects will have reduced by using plastic surgery, but cosmetic defects remain. |
| Minor Injuries (c) | £1,370 to £2,450 | Full recovery within 90 days |
| Minor Injuries (b) | £690 to £1,370 | Full recovery within 28 days |
| Minor Injuries (a) | A few hundred pounds to £690 | Full recovery within 7 days. eg. fall, slip or trip. |
Special damages may also be awarded to compensate you for the financial losses you have experienced due to your injury. Providing evidence of these losses could help support your claim, such as payslips and invoices. 
Examples of the losses you claim under special damages include:
Loss of earnings.

Care costs.

Travel expenses.

Medical expenses.
For more information on when you may be able to make a claim against Asda and the compensation payouts you could be awarded for a successful personal injury claim, you can contact our advisors.
No win no fee claims for Asda compensation payouts
If you choose to make a claim following an injury you may initially be put off by the fact that you are worried about how much it will cost you. At Accident Claims we have a No Win No Fee claims service. We will not ask you to pay a penny when you make your claim. If you are not successful in your claim then there will be no charge, you will not have to pay any legal fees. Whether you are an Asda customer who has suffered an injury whilst shopping or an Asda employee who has had an accident at work, no win no fee applies.We are happy to offer you any clarification that you need on this policy, give us a call and talk to one of our legal experts.
Choosing Accident Claims to help you claim your compensation
Our legal team at Accident Claims have many years of experience. But we know that isn't the only thing that makes us unique. After you have experienced an accident and suffered injuries you may be feeling very vulnerable. We understand the pain and suffering that you have experienced following an accident that was not your fault. You may have felt frustration and trauma. We promise to treat our clients with complete respect and understanding, always. At Accident Claims UK. we put customer satisfaction at the heart of our business and work very hard to ensure that you receive the maximum compensation available for your injuries. We want to help you secure a good financial future following your trauma.
Personal injury law is our area of expertise. We will match your case to a solicitor with the best skills and experience for you to maximise your chances of winning.
Call now to start the compensation process and claim Asda compensation payouts
It really couldn't be easier. Call our Asda Accident Helpline on 0800 073 8801 and speak to a professional member of our legal team who can advise you and let you know your options for claiming compensation. You may have questions about the type of compensation you can seek or are perhaps a wondering how much compensation you may be entitled to. We will do our best to answer your questions. If you wish to make the claim we will take down the details we need to begin filing your case. Why wait any longer? Call us now and let us help you claim the compensation you deserve.
Helpful Links Relating To Asda Compensation Payouts
Slip Trip Or Fall Accident Claims Compensation Amounts
Find out how much compensation you could claim for a slip trip or fall accident. Get free advice today.
Flooring in a supermarket can become slippy, leading to falls. The HSE have compiled an advice guide. It contains both long and short term solutions.
There are a huge variety of health problems and injuries that can be sustained in Asda. Here is the NHS's A-Z guide as to each condition.
Retailers have a responsibility to both staff and customers to ensure their safety. Here, the HSE provides advice on how they could do so.
FAQ On Asda Compensation Payouts
What are the most common Asda injury claims for workplace injuries?
Unfortunately, we don't have any specific statistics relating to how many Asda injury claims there have been from employees of the company. However, we could give you some insight into the most common causes of workplace injury across Great Britain in 2020-21, according to the HSE.
Below, the graph shows you what the most common causes of injuries were. You might be unsurprised to see that slips, trips and falls on one level top the list. No matter what the cause of your injuries at work, if it was due to a breach of duty of care by your employer, you could be eligible to make a claim for compensation.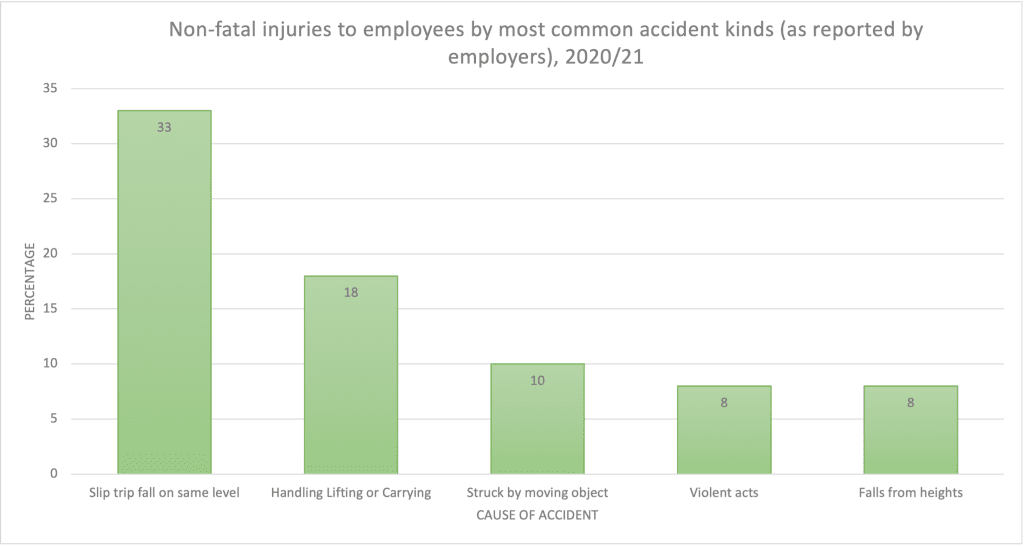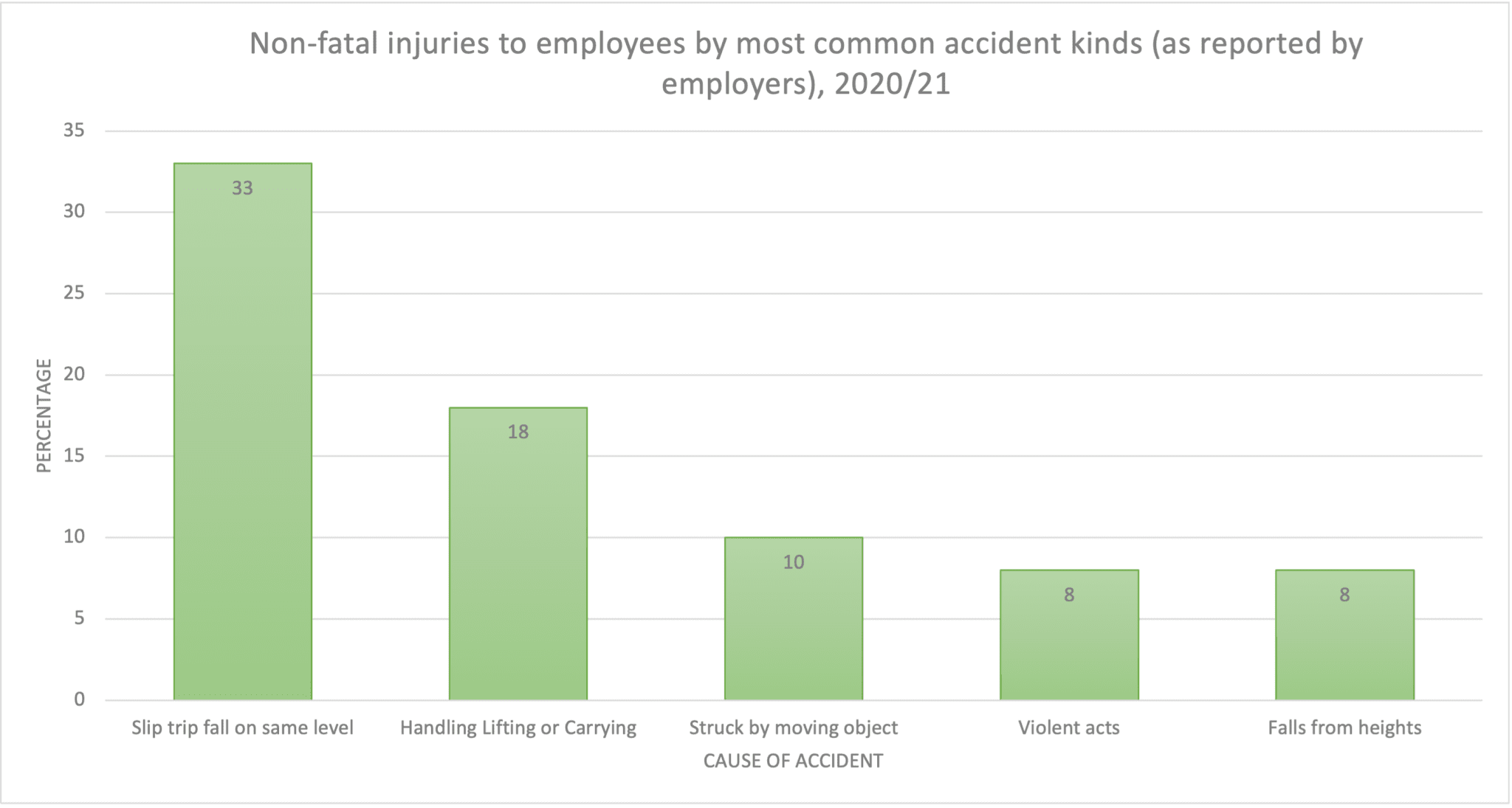 It is worth contacting Asda to make a complaint and ask for Asda compensation payouts?
You could get in touch with the Asda complaints department to give them a report of your injury. If you contact Asda to make a complaint, it would be a good idea to include all relevant details of the accident and injury. However, Asda complaints compensation may not follow a letter of complaint. Even if it does, it may not be as much as you could be entitled to claim from them by making Asda injury claims. If you would like our help with ascertaining whether you could be eligible for Asda compensation payouts, or would like us to help you by providing you with a solicitor working on a No Win No Fee basis, we would be happy to help you. Our solicitors could fight for the maximum Asda compensation payouts possible for your claim.
What could Asda compensation payouts include?
For successful personal injury claims, your settlement could include compensation for financial costs and losses caused by your injuries. These could include loss of earnings, care costs, medical expenses and travel costs, for instance. You could also receive damages for the suffering and pain your injuries caused you. Further to this, you could receive damages for the impact on the enjoyment of your usual daily life. This is known as 'loss of amenity'.
For more information on Asda compensation payouts please get in touch on the number above.
Could I receive Asda compensation payouts for an allergic reaction in the Asda cafe?
If Asda has breached its duty of care towards an allergy sufferer, by providing incorrect allergen information, causing an allergic reaction, it could be that you could claim compensation. Please call us today for a free case assessment. Then, we'll determine whether you could benefit from the assistance of one of our No Win No Fee solicitors.
How do No Win No Fee claims work?
No Win No Fee arrangements could include a Conditional Fee Agreement. This will set out the success fee that would be taken from your payout in the event of a successful claim. By signing the document, you would agree to allow the solicitor to take this percentage from your payout. 
The agreement also means you won't need to pay a fee upfront for your solicitor's services.
If you have questions about making a No Win No Fee claim, please don't hesitate to call us.
How Do I Complain To Asda About An Injury?
If you have sustained harm in a supermarket accident that has caused you harm due to third party negligence, there are several steps you may wish to take. For example, you may find it beneficial to contact the supermarket directly. This can allow them to take steps to resolve the situation.
Could I Make A Complaint To Asda?
If you have been involved in an accident that has caused you harm, you might wonder whether you could make a complaint to the at-fault party. For example, if you slipped on a spill in a supermarket that hadn't been properly signposted and you sustained harm. You could speak to the supermarket directly.
Would like to speak to our team about the Asda calculator on this page? O, do you want to know how much you could claim in Asda compensation payouts for Asda injury claims? Simply call our team today.