By Joanne Jeffries. Last Updated August 7th 2021. Welcome to our guide on bus emergency stop accident claims. There are many road traffic accidents that could lead to a compensation claim if you sustain injuries and the road traffic accident was caused by the negligence of another road user. Some accidents are quite straightforward and third party fault if any can be identified but there are others that are more complex. A bus doing an emergency stop is one of them, if the bus was being stopped in an emergency situation, are you able to claim personal injury compensation? Below we will discuss certain scenarios where a bus accident caused due to an emergency stop may be caused through negligence.
During this guide, we're going to look at the different scenarios which could lead to a bus breaking in an emergency and explain when you could claim for any injuries caused as a result. In cases where somebody else could be found liable, we'll look at how much compensation you could be entitled to and the claims process. Also, we'll cover the types of injuries that can be sustained whether a bus crashed into you or you suffered a slip trip or fall and who else might be to blame other than the bus driver.
If you're injured in a bus accident on any bus services, whether you have CCTV footage or not, our team of advisors could provide you with a no obligation assessment and free legal advice about your options. Also, if they believe you have a valid claim, they could introduce you to one of our no win no fee personal injury solicitors. If you think that you'd like to begin your claim straight away, then please give us a call on 0800 073 8801 today.
To find out more about when you could make a claim for a bus emergency stop accident, please carry on reading.
Select A Section
A Guide To Emergency Stop Bus Accident Claims
You might think that you can't claim compensation if you're involved in an emergency stop bus accident because the driver was taking evasive action to avoid an accident. However, it might be possible if the reason that the bus had to do an emergency stop happened because somebody was negligent.
In normal circumstances, to be eligible to make a personal injury claim, you need to be able to prove that:
Somebody who owed you a duty of care was negligent;
That caused an accident to happen;
And you were injured in the accident which could have been avoided.
Therefore, you might be able to claim compensation following a bus stopping in an emergency if it was caused by the bus driver being negligent or the negligence of another road user. That's because both the bus driver and the other road users have a duty of care to try and keep each other safe by following the rules of the road.
This guide will look at scenarios that could lead to personal injury claims, help you work out whom was liable and also look at different injuries such as whiplash following a bus accident.
We'll also try to answer questions such as:
How do I claim after a bus accident?
How much compensation for a bus accident?
What is the law around bus accidents in the UK?
Something you'll need to consider is the personal injury claims time limit. You'll have 3-years to make a claim from the date of your accident. Alternatively, the time limit can begin from when your doctor diagnoses the injuries if that happens later.
When you've finished reading our guide, if you believe you could be eligible to begin a compensation claim, please give us a call on the number at the top of the screen. Our advisors are happy to help and provide advice on your options.

What Is An Emergency Stop?
Technically, an emergency stop is where a driver has to apply the brakes to try and avoid an accident from happening to avoid a dangerous situation. The idea is to try and do so in a way that isn't dangerous and does not cause any injuries. When that happens, the vehicle can slide and become uncontrollable.
It maybe difficult to know whether you can claim if you are injured due to the bus driver doing an emergency stop, in the following sections we look to clear any confusement about such a scenario.

When Are Emergency Stops Dangerous?
If you're involved in an emergency stop bus accident, then you could be injured no matter what speed the bus was travelling at. If the bus had to break quickly due to a pedestrian walking out in front of the bus, although you maybe injured in the circumstances you would not be able to claim against the bus driver or the bus company as they took emergency action to prevent injuring the pedestrian. In this situation an emergency stop would not be considered dangerous, but when would it be dangerous?
Essentially, a bus is a very large road vehicle which can take a lot of stopping. Therefore, any sudden stopping could mean that anything that's not screwed down will be thrown forwards, including passengers. The fact that most buses don't offer seat belts is dangerous when a bus has to perform emergency braking.
Another scenario that could be deemed as dangerous is when the driver overreacts and performs an emergency stop that wasn't necessary. If you're involved in this type of accident, we'd recommend that you ask other passengers who could see what happened to give you their details and provide a statement. Other evidence you might be able to use in this type of accident is CCTV or dashcam footage from the bus. If you are injured due to the bus driver performing a negligent emergency stop then you maybe eligible to pursue a claim for any pain and suffering caused.

What Are The Consequences Of Buses Making An Emergency Stop?
Even if the emergency stop is successful and an accident is averted, it is still possible for injuries to occur. The main consequences, as explained in the previous section, is that objects, including passengers, can be thrown forwards and could lead to a number of different injuries. These include:
Severe cuts and bruises.
Head injuries including concussion.
Back injuries.
Soft tissue damage.
Shoulder injuries including whiplash.
Neck injuries.
Broken bones or fractures.
Tendon and ligament damage.
Therefore, if you believe you've suffered an injury caused when a driver has swerved to avoid a collision or performed an emergency stop, please call to discuss whether you're eligible to claim or not.
As well as physical injuries, you may well be able to include psychological suffering in your claim.

Why Might A Bus Need To Make An Emergency Stop?
Here are some reasons why bus drivers may need to make an emergency stop:
Loss of concentration by the bus driver.
Drivers performing erratic actions in front of the bus.
Poor road conditions or damage roads.
Pedestrians not paying attention and stepping out in front of the bus.
Passengers on the bus distracting the driver.
Bus malfunction.
An emergency stop at a junction because another vehicle jumped a red light.
Above are circumstances when the driver could be negligent or when other road users have been negligent. If the bus driver has to make an emergency stop because he has not been paying close attention to the road or because a driver has pulled out in front of the bus while driving carelessly, if the negligence can be proven you may be able to make a claim for any injuries suffered.

I Was Driving A Bus And Had To Make An Emergency Stop, Could I Claim Compensation For My Injury?
As well as the passengers making a compensation claim, it's also possible that the bus driver could claim for injuries caused during an emergency stop. That's the case if the sudden stopping was caused by another road user's negligence. Also, under the Health and Safety at Work Act 1974, you could claim if you work as a bus driver and the bus was faulty or poorly maintained and, as a result, caused an accident at work to occur.
If you're driving a bus and you have to perform an emergency stop, we recommend that you:
Swap details with the other driver if they stopped. If not, make a note of their number plate where possible.
Ask your employer for copies of any dashcam footage.
Speak to passengers who witnessed the cause of the accident and ask for their details.
Seek medical treatment from a GP or your local A&E for your injuries.
When you speak with our advisors, we'll help you work out whether a claim should be against another road user or your employer. It's also worth noting that we could help you claim if the other driver isn't identified or doesn't hold a valid insurance policy.

Whiplash Caused By An Emergency Stop Bus Accident
Whiplash may occur when the head is whipped forwards, then backwards suddenly. The sudden motion causes the tendons, ligaments and muscles of the neck to be torn or damaged. Surprisingly though, whiplash can occur in a low speed accident and also where no seatbelt was worn.
Whiplash is a common injury when it comes to any road collisions and can have different effects on different individuals. The symptoms may include;
Any severity of headache.
Neck pain.
Stiffness of the neck, head, and shoulders causing difficulty in moving your head.
Painful muscle spasms in your shoulders or arms.
Whiplash can also have serious complications especially if you are showing signs of;
Pins and needles or tingling on either side (or both sides) of your body.
Weakness in your arms or legs.
Difficulty walking or sitting up.
Severe pain even after taking over the counter pain killers.
A sudden electric shock feeling in your neck or back. This can also spread into your arms and/ or legs.
Seeking medical advice is always important after any road collisions and symptoms do not always manifest straight away. Any medical report can be used in conjunction with an assessment from a medical expert if you go on to make a compensation claim.
Liability For Emergency Stop Bus Accident
When an emergency stop bus accident occurs, liability needs to be proven for you to be eligible to claim. Here are some examples of who might be liable and whom you could make a claim against:
The Bus Driver – When the bus driver has caused the emergency stop themselves, they could be held liable for any injuries. Therefore, a claim could be made against them if they were driving dangerously or carelessly. As mentioned earlier, try and get passenger details as your solicitor could contact them for a statement.
The Local Authority – Road maintenance is usually the responsibility of local authorities or the Highways Agency. Therefore, should an emergency stop be made, due to the conditions of the road you could make a claim against the responsible authority.
Other Drivers – If another driver causes the bus to perform an emergency stop, you could claim against their insurance policy. This type of negligence could include an accident at a junction where the other driver pulled out even though there wasn't enough space, speeding, excessive braking or even drink driving.
Pedestrians – It could also be possible to make a compensation claim if you have been injured because the bus driver needed to make an emergency stop due to a pedestrian stepping out in front of the bus. However the claim would be directed against the pedestrian if they stopped to give their details and had means to compensate those whom were injured.
If you are injured during any bus incident ensure you inform the driver if you believe that you're injured and give them your details. They should fill in an accident report which you'll be able to request later. Also, you will be able to obtain any more information that's required to support your claim from the bus company directly.

Emergency Stop Bus Accident Claims – Updated August 2021
We know that you probably want to know how much compensation you could receive in your compensation claim. While it's not possible to say exactly, as every claim is different, we have provided the personal injury claims calculator table below. It shows how much compensation can be awarded for specific injuries. Don't worry if you don't see your injury listed, we could still help you claim. This is just a sample of compensation amounts.
| Injury | Severity | Range | Details |
| --- | --- | --- | --- |
| Hand | Moderate | £5,260 to £12,460 | Injuries that fall into this range include crush injuries, penetrating wounds and also deep lacerations. |
| Arms | Moderate | up to £11,820 | Injuries that fall into this range include simple fractures (including most elbow fractures) as well as lacerations. |
| Legs | Severe | £90,320 to £127,530 | Injuries that fall into this range include injuries that don't require a leg amputation but where the injuries are so significant the effect is almost the same. |
| Foot | Modest | up to £12,900 | Injuries that fall into this range include simple metatarsal fractures, puncture wounds and also ruptured ligaments. |
| Shoulder | Minor | £4,080 to £7,410 | Injuries that fall into this range include soft tissue damage where there is a full recovery in less than 2 years. |
| Back | Severe | £85,470 to £151,070 | Injuries that fall into this range include spinal injuries which result in impaired bowel, bladder or sexual function and cause incomplete paraplegia. |
| Back | Moderate | £26,050 to £36,390 | Injuries that fall into this range include compression and crush fractures and result in severe pain and and could require spinal fusion. |
| Neck | Moderate | £23,460 to £36,120 | Injuries that fall into this range include fractures (as well as dislocations) in the neck with severe symptoms which could require spinal fusion. |
| Neck | Minor | £4,080 to £7,410 | Injuries that fall into this range include soft tissue type injuries (including whiplash injuries) where full recovery happens between 1 and 2 years. |
As you'll see, each injury is awarded compensation based on how severe it is. Therefore, your solicitor needs to provide information that shows how badly you were injured. Our solicitors use an independent doctor to assess you (usually local to you) and to write a report about your injuries.
The report will include information that helps your solicitor calculate how much compensation you could be entitled to. This includes what injuries you sustained, how serious they were, what effect they had and if there is going to be any long-term suffering caused by the injuries.
The table contains information about 'general damages'. This is compensation awarded for the pain, loss of amenity and any suffering caused by your injuries. In the next section, we'll explain financial losses, known as 'special damages', which can be included in your claim.

Additional Damages You Could Claim
Special damages are designed to ensure you don't lose out because of your accident and injuries. We recommend that when you claim for these, you keep hold of receipts and bank statements to help prove your claim. Also, it's quite a good idea to keep a diary of any spending linked to your injuries. Then, when your solicitor asks you to explain them, it's much easier to recall each expense.
Here are some examples of special damages that you could claim for:
Medical expenses – When you make a claim, you could include the cost of prescription medicines as well as over the counter treatments.
Care Expenses – Should your injuries mean that you require professional care to help aid recovery, you could request the cost of the carer back in your claim.
Travelling Costs – When your injuries prevent you from driving for any length of time, you could claim for the cost of arranging different travel methods. Furthermore, if you have to visit your GP for treatment or check-ups, you might be able to claim for fuel and parking costs.
Property Damage – If any item of personal property was damaged during your accident, it might be possible to claim for the cost of repairing or replacing it.
Lost Earnings – Finally, if you need time off from work because you need to recover, you could claim for any lost income. If the injuries cause long-term issues that affect your ability to work, you could claim for future lost income.
No Win No Fee Emergency Stop Bus Accident Claims
Making a personal injury claim can be a little intimidating sometimes especially when you think about the costs of hiring a solicitor to represent you. Because our solicitors want as many people to be able to claim as possible, without worrying about the financial risks, they work on a no win no fee basis for all claims they take on.
When your claim is accepted by one of our solicitors, you'll both sign a Conditional Fee Agreement (CFA). This really helps lower your stress levels because it clearly states that you don't need to pay any solicitor's fees unless you are paid compensation.
When your case is settled and compensation is paid, the CFA will explain what 'success fee is payable'. You don't need to worry about having the funds available to pay the success fee because it's a percentage of your compensation that is deducted before it's paid to you. The success fee, by law, can't be any more than 25% of your compensation.

Why Let Us Handle Your Emergency Stop Bus Accident Claim?
If you're now thinking about making a claim, we hope you would like to use our services here at Accident Claims UK. Here are some reasons why we believe you should choose us to handle your claim:
We offer free advice for all claims.
Our advisors offer a no obligation assessment of your claim.
The claim line is open 24-hours a day, 7 days a week.
Our team of solicitors have many years of experience. They always try to resolve claims as quickly as possible and they aim to ensure you receive the full amount of compensation that your injuries deserve.
How To Start Your Claim
If you'd like to begin your claim with us today, here are some ways in which you can get in touch:
Remember that we can answer any queries you might have and assess your claim, along with the evidence you have to support it so that you can decide whether to proceed to a claim or not. Our advisors won't pressure you and are happy to work at a pace that suits you.

Essential Resources
Thanks for taking the time to read our guide. To assist you further, here are some more guides, links and resources that we hope you'll find useful.
Whiplash Treatment – Here's a guide from the NHS which explains the causes of whiplash, how it's diagnosed and what treatment options are available.
The Rights Of Passengers On A Bus And Coach Regulations (2019) – This legislation provides a number of rights for bus and coach passengers. It has been updated to reflect changes following Brexit.
The Highway Code – This is the document that lays out all of the rules and regulations which all road users should follow in the UK.
Bus Accident Compensation Claims – A guide that looks at when compensation claims can be made following any type of bus accident, not just emergency stops.
Whiplash Injury Claims – Information about what type of accidents can lead to whiplash injuries and subsequent compensation claims.
Motor Insurers Bureau Claims – This guide explains how the motor insurers bureau could help you to claim if the other road user wasn't insured.
If there is any more guidance or information that you require, please do get in touch with our advisors.
FAQ about Bus Emergency Stop Accident Claims
Would the whiplash claims reforms affect my bus emergency stop accident claims?
If you have received a soft-tissue injury or whiplash for example, and your injury could be considered 'low value', you may have to make your claim according to the Whiplash Claims Reform Programme, which came into force in May 2021. It means that you would need to make a claim using the government's portal. We could help with such claims but you would need to know that not only does the programme mean there is a tariff for such injuries, but that legal costs can't be reimbursed by the at-fault party. Please call us to see if your claim would need to be made in this way, or whether you could make a claim in another way.
How common are bus accidents on UK roads?
The government's road safety statistics for 2020 have been affected by the pandemic and subsequent lockdowns, with fewer passengers on public transport and fewer vehicles on the road. However, according to the statistics for 2020, there were still 1505 people injured on UK roads due to an accident involving a bus or coach they were travelling on. You can see the breakdown in the table below.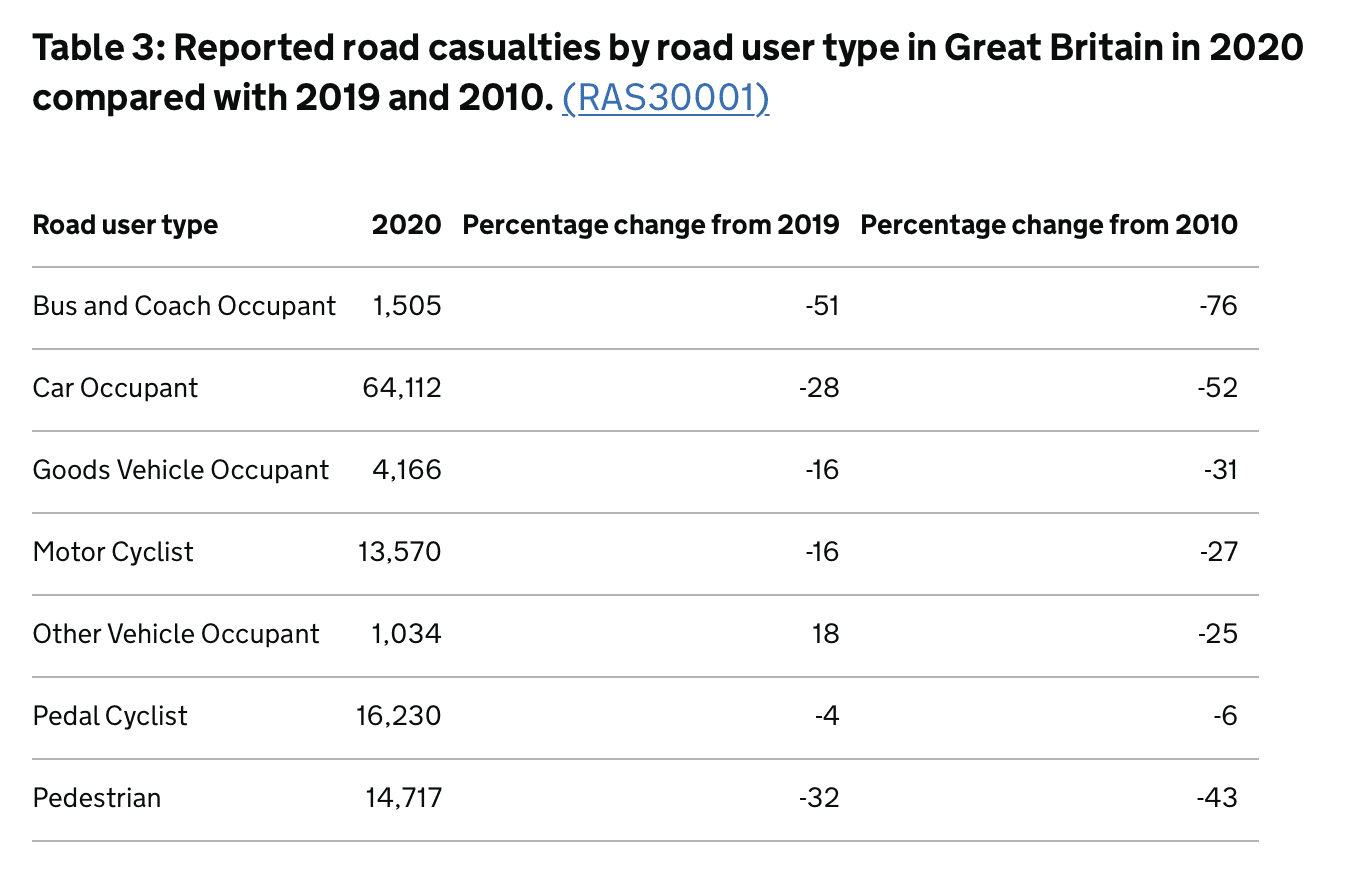 No matter whether you were injured in an accident involving a bus emergency stop as a motorist, passenger, motorcyclist or pedestrian, if you were injured due to someone else's fault, we could help you launch a claim for compensation. Please get in touch to find out more.
Thank you for reading our guide to bus emergency stop accident claims.