By Joanne Jeffries. Last Updated 22nd September 2021. Welcome to this guide covering Inverness airport accident claims.
If you are dealing with the effects of an injury, or have only recently recovered from an injury, which you suffered in an accident at Inverness Airport that wasn't your fault, if it can be proven that your injury could have been prevented then you may be able to make a claim for damages. The key to making a claim is to prove that the injury or illness you suffered in some way is the responsibility of a third party that owed you a duty of care in which they breached consequently causing your health and well being to suffer.
In the guide that follows we are about to explain to you how making a no win no fee personal injury claim for for an accident at Inverness Airport could work, and most importantly how Accident Claims UK could find a solicitor from their panel to handle such claims.
Select A Section
A Guide To Claiming Compensation For An Accident At Inverness Airport
Making an accident claim doesn't need to be difficult or confusing, working with accident claim solicitors can make the process easy, simple and as stress free as possible for you. This guide covers the basics of what different types of accident claims could potentially be made against an airport and how. Some other key points we are going to show you are the details of what goes into deciding how much compensation you can get, which will no doubt be an important question to you, and how to make a compensation claim without running the risk of losing more money than you gain through expensive legal fees. Please remember that reading this guide is only the start of the process of making Inverness airport accident claims, so if there is anything that this guide does not explain enough for you, please get in touch with our advice team using the contact information at the bottom of this page.
What Is An Accident At Inverness Airport?
The accidents which we are discussing in this guide are ones in which you may have been injured due to the negligence of the staff and operators of an airport, and could therefore be entitled to make a personal injury claim for. This guide is also not intended to help people get compensation for accidents in which they were not actually harmed, in order to make a personal injury claim you have to have had an injury. Although under the Montreal Convention claims can be made for the loss, damage or theft of luggage and claims can be made if a flight has been cancelled or significantly delayed.
Inverness Airport Statistics
In 2018 around 900,000 passengers arrived or departed from Inverness Airport and with well over 10,000 flights coming and going. These are small figures compared to some other airports, but it still shows that a massive volume of traffic passes through this airport.
Airport Accident Personal Injury Claims
Personal injury claims are based on proving that the defendant was responsible for whatever incident has befallen the claimant through negligence. That means there are three key points which need to be proven.
That the claimant was owed a duty of care by the defendant
That this duty of care was breached
That the claimant was harmed as a result.
Slip And Fall Airport Accidents
Airports, especially terminals, see huge amounts of foot traffic. That's why it is key that tripping and slipping hazards are not allowed to pose an issue. The flooring of the terminals and the tarmac and pavements around them need to be level and well maintained to remove the risk of passengers or staff having a trip, slip or fall. If you trip or slip on something that should have been removed, such as boxes, wires, a wet patch of floor or ice, then you could possibly claim compensation on the grounds that the third party did not uphold their duty of care to keep the area safe for public and employee use.
You can see more information about how claiming compensation for trips, slips and falls in this guide here.
Accidents Caused By Luggage, Carts And Carousels
Inverness Airport is responsible for making sure that all the equipment and facilities used for moving luggage around the airport are safe for use. The luggage carts and baggage carousels in the arrival and departures terminals can cause accidents if they aren't maintained and serviced properly. In the case of luggage carousels, though they might be slow moving, they could snag long hair or loose items of clothes as people lean over to collect their luggage if they are damaged or defected. Potentially serious injuries could be sustained if this kind of accident where to occur and an emergency stop button was not clearly marked out and working. The machines need to be checked and serviced regularly and staff need to be on hand at all times to prevent these types of accidents.
In the case of luggage carts, carts should not be provided if they are faulty and liable to break while being used. Nor should staff using them be negligent towards nearby passengers, a cart loaded with luggage could easily be heavy enough to knock someone over or inflict injuries by running over someone's foot. Directions for how much weight they can support should also be clear to prevent accidents from occurring due to being overloaded.
Airport Lift And Escalator Incidents
Lifts are engineered to be safe from falling down their shafts, but people can be very badly hurt by getting trapped in the doors of a faulty lift. Escalator incidents can be very dangerous, as causing someone to fall on an escalator can inflict serious injuries. To allow either of these types of accidents to happen by neglecting the condition of the lift and escalator facilities is a serious breach in the  duty of care. Claims for such accidents could be made against the airport itself or the contractors who are responsible for such travel mechanisms. If you or a loved one have been hurt by an accident while using the lifts, escalators, or moving walkways in an airport then you should call us to find out whether you could be entitled to compensation.
Accidents On Airport Ground Transit Systems
There are often shuttle buses and other transit services operating at large airports. They can operate between the airports car parks and terminal buildings, between the airport and local hotels and public transport stations and between the terminal and the planes ready for boarding on the tarmac. These vehicles can get involved in accidents, by colliding with other vehicles driving around the airport or by getting into road traffic accidents en-route to destinations outside of the airport.
If the accident was caused by the poor conduct or lack of training of the airport vehicle driver, or by the lack of maintenance of the vehicle, then a compensation claim could potentially be made against the airport. If you want further information about making a claim when you have been injured in a road traffic accident, then you may want to have a look at the guide we have produced, and for further information about claiming for an accident on a bus, you can consult this guide,
Accidents In Inverness Airport Shops And Restaurants
As well as making claims against airports, our panel of solicitors could also help you make a compensation claim against any of the businesses operating within the airport as well. So for example if you suffered some kind of negligent accident while you were in one of the airport shops or airport restaurants in the terminal then potentially your claim could be against a private business owner. Some of the shops, bars and restaurants you could find in Inverness Airport include
WHS smiths
The Stag and Thistle Bar & Kitchen
D'Lish restaurant and bar
The Whisky cellar
Café Rapide
Some of the cases that could be brought against any of these businesses include:
Suffering an allergic reaction due to failure to follow standards for storing, preparing and labelling food.
Suffering from food poisoning due to a failure to follow standards for storing and preparing food.
Suffering from burns due to being served food and drink at an unsafe high temperature or being served heated cutlery.
Suffering a slip, trip or fall
Being injured by faulty or broken furnishings.
For more details on how to make claims against restaurants, for an accident in a restaurant click here.
Workplace Accidents In Airports
Staff being injured due to the negligence of their employers is no more acceptable than passengers being injured. In British law employers have a duty of care to make sure that their employees have a safe working environment as much as possible. That means that if measures haven't been taken to ensure this and an accident occurs a compensation claim could possibly be made by the injured employee against the employer.
Some different grounds for making a workplace accident and injury claim against an airport employer could include:
Being exposed to hazardous substances (such as aviation fuel) due to the poor storage of those substances.
Being exposed to hazardous substances due to a lack of proper protective gear.
Being injured by a piece of machinery (such as a motorised loading belt) because it was faulty or because you had received inadequate training in its use.
Being injured in a collision with another vehicle on the runway.
Being the victim of bullying, sexual harassment or overwork at the hands of other staff members or superiors.
You can see the different industries that reported work accidents and injuries below in 2019/20.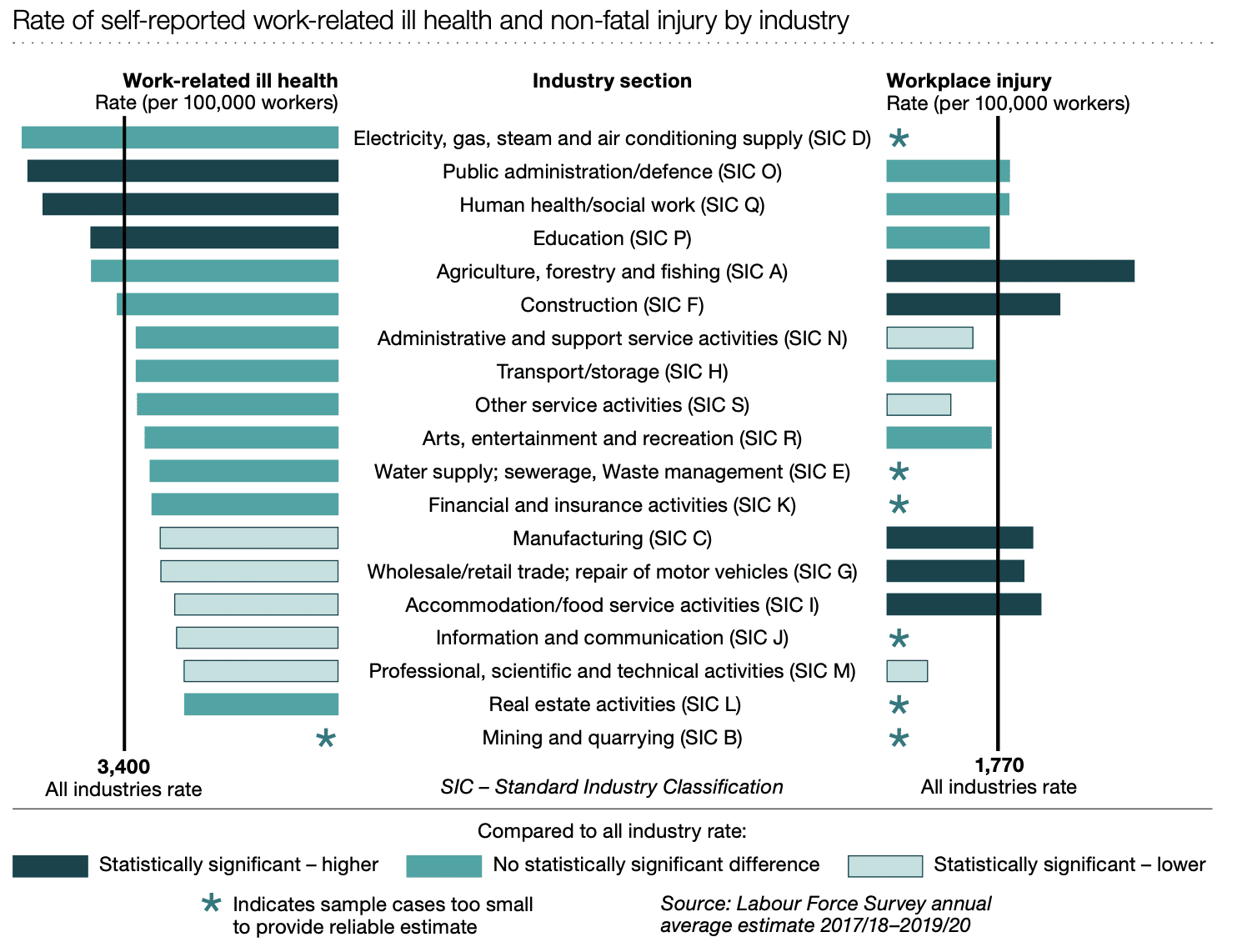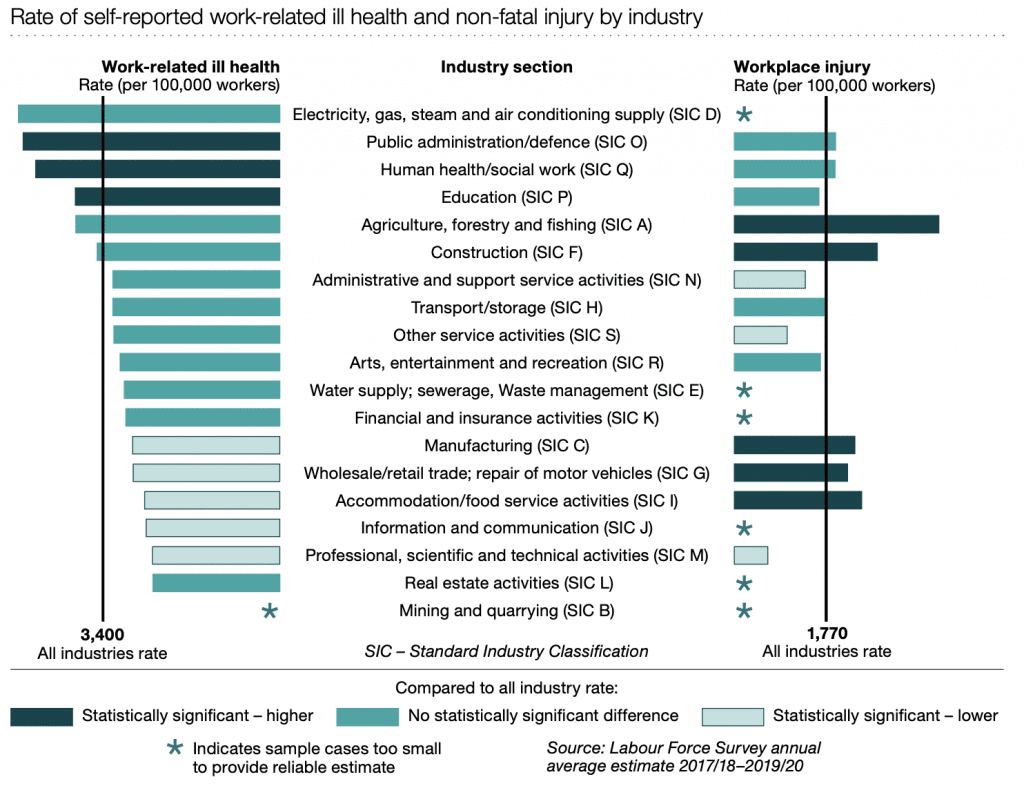 For wider information about claiming compensation for accidents and injuries in the workplace you can consult this accident at work guide. The next section will deal specifically with workplace injuries associated with working in baggage handling as this presents a higher risk working environment.
Inverness Airport Baggage Handler – Injuries And Accidents
The Health and Safety Executive, the UK's national authority on workplace health and safety matters, reports that injuries related to handling goods in an airport environment is the most common cause of injury by a significant margin for people working in airports. This could be due to the fact that, out of the numerous different roles at an airport, baggage handling is a job that involves the most manual work and work involving machinery. Baggage handlers are responsible for loading and unloading the passengers luggage onto and off of the planes and taking it to and from the terminal buildings.
It is an occupation that presents numerous risks of injury. These include:
Injuries from dropping baggage or from being hit by falling luggage.
Pulled and twisted muscles and other injuries associated with lifting and carrying heavy items.
Injuries sustained from accidents with machinery.
Injuries sustained from collisions with other airport vehicles.
Long term muscular-skeletal injuries from spending a long time performing manual work.
Hearing damage from exposure to the sound of jet engines.
There are steps that employers are obligated to take to reduce the risk of these injuries occurring:
Providing breaks to allow workers to rest from performing manual work.
Ensuring that all baggage handlers are equipped with protective gear, such as hard hats and ear protection.
Never making baggage handlers handle loads greater than their physical condition will allow.
Ensuring that all machinery used in moving luggage is fully functional and that all staff members are properly trained in its safe use.
If you have suffered an injury or developed a long term health issue while working as a baggage handler at Inverness Airport and you think that any of the manual handling health and safety protocols listed above or any others you know of were not properly implemented, then call us to discuss how a personal injury solicitor could take up your case.
Calculate How Much You Could Claim – Updated September 2021
Part of the process of making a compensation claim will be calculating how much compensation you will be requesting. Your solicitor will handle this. Compensation has to be calculated because each claim has to seek a specific amount to meet the exact needs of the claimant. Part of calculating a claimants compensation is assessing the severity of the injuries they have suffered and the degree to which their health will be impact in the long term. Different forms of injuries are categorised and their monetary value determined according to guidelines set by the Judicial College when claims are conducted under English law. In the table we have presented below the categorisation of certain injuries. Please be aware that these are figures which could be awarded in English law in Scottish law the amounts could differ. This personal injury claims calculator is just to serve as an example, it is not a substitute for discussing your circumstances with a personal injury lawyer.
| Injury | Severity | Amount | Comment on Severity |
| --- | --- | --- | --- |
| Brain Damage | Less Severe | £14,380 to £40,410 | Injuries will have made a good recovery but may still have persisting symptoms such as impaired concentration ability, memory loss, and mood swings which may affect personal life and ability to work in the future. |
| Minor Brain or Head Injury | Minor | £2,070 to £11,980 | There will be little to no brain damage associated with these head injuries, and the bracket may change according to how long symptoms persist for, if there are any headaches present, and on the severity or the original injury. |
| Neck Injury | Severe (i) | In the region of £139,210 | This bracket covers injuries that include incomplete paraplegia, or permanent spastic quadriparesis. Injuries here may also result in a person not seeing any improvement in neck mobility despite wearing a collar for a number of years and who also suffers persistent severe headaches. |
| Neck Injury | Minor (i) | £4,080 to £7,410 | This bracket mainly covers soft tissue injuries, but can vary greatly according to persistence of symptoms, the type of treatment needed, and over all effect on a person's life. In general, injuries in this bracket will be expected to heal in one to two years. |
| Back Injury | Severe (iii) | £36,390 to £65,440 | This bracket covers fracture to vertebrae and discs, as well as other soft tissue injuries that lead to chronic conditions. These injuries will commonly result in persisting symptoms of pain, discomfort depression, loss of sexual function, impairment to mobility as well as posing a risk to future employability. |
| Back Injury | Minor (i) | £7,410 to £11,730 | Again, covering soft tissue injuries, this bracket can also change according to severity, treatment needed, how long symptoms take to pass, as well as affect it has on other parts of the body. Injuries in this bracket are usually expected to recover without surgery in two to five years. |
| Hip and Pelvis Injury | Severe (i) | £73,580 to £122,860 | Injuries in this bracket will include extensive fractures which affect the lower back that may require spinal fusion, as well as damage to organs near the hips and pelvis such as the bladder and bowels. This could lead to impairment of these organs, as well as affect women by presenting issue when they are in labour. |
| Hip and Pelvis Injury | Moderate (ii) | £11,820 to £24,950 | This bracket commonly covers injuries that require a hip replacement and can include cases where a hip replacement may be possible in the future because of the injury, and there will usually be persisting symptoms. |
| Leg Injury | Severe (i) | £90,320 to £127,530 | This includes injuries that are so severe, it leaves a person no better off than if the leg had been amputated entirely. This can include degloving injuries, or fractures that have required extensive bone grafts to treat. |
| Leg Injury | Less Serious (i) | £16,860 to £26,050 | This includes fractures and serious soft tissue injuries that do not perfectly heal. They may result in symptoms that persist such as a permanent limp, trouble walking, as well as cosmetic deformity and nerve damage. |
| Post Traumatic Stress Disorder | Moderately Severe | £21,730 to £56,180 | Recovery with special help. However the effects may go on to have a bearing on all aspects of life and cause significant disability. |
| Food Poisoning | Serious but short-lived food poisoning (ii) | £8,950 to £18,020 | For two to fours weeks or so diarrhoea and vomitting. Remaining discomfort and disturbance of bowel function and impact on sex life and enjoyment of food over a few years. |
Special Damages Personal Injury Claims Could Include
Compensation is also awarded on the basis of how the claimants financial situation may have deteriorated as a result of having an injury. Injuries, even fairly minor ones can cause the victim to lose money. This can be through having to take time off work, spending money travelling to see a doctor and spending money on drugs such as painkillers and antibiotics. In the case of serious or disabling injuries, the victims ability to work may be impeded, causing them to have to change their line of work into one that is less physically demanding or even preventing them from ever working again. Serious or life changing injures can also impose a long term financial burden on the victim by forcing them to purchase home adaptive renovations of their home, such as installing stair lifts and wheel chair ramps.
No Win No Fee Personal Injury Claims Against Inverness Airport
One of the most important things to take away from this guide is that making a personal injury claim with Accident Claims UK doesn't have to cost you any money upfront. No win no fee claims are a great way to seek compensation from an airport which has allowed you to come to harm without running the risk of spending a large amount of money without any pay off. A no win no fee claim is one where you and your solicitor will sign an agreement stating that the payment your solicitor will receive will be a "success fee" which comes out of the compensation sum you would receive at the end of a successful claim. Obviously this would entail that the solicitor would have to do without any payment if the claim was a failure.
Why Make Your Claim With Accident Claims UK?
We can provide you with free advice and consultation sessions. As well as providing you with expert legal support and representation, our team if they think you have a valid claim will transfer you to our panel of accident claims solicitors who work to a no win no fee structure.
Start Your Claim
To start a claim simply make a phone call which you can do right now, by calling 0800 073 8801. This will take you through to one of our accident claims team members who will talk about your situation and ask you questions about the circumstances of your accident before referring you to one of our panel of solicitors if you wish to go ahead with the claim. If you would like some time to prepare for this chat, then you can pre-arrange a phone call off our team with this sign up sheet here. If you would prefer to communicate through emails, you can send a message to office@accidentclaims.co.uk. Don't forget that we offer free advice sessions, so you don't have to be sure about wanting to start a claim just yet, feel free to call up just to ask questions about things which might be confusing or worrying you.
Could I make Inverness airport accident claims if my child has been injured?
Unfortunately, it may not only be adults that are injured at the airport. When it comes to making Inverness airport accident claims for a child you might be interested to learn that there are two ways you could go about this. The first one would be to wait until your child turned 18, which would then mean they could claim for themselves. However, sometimes, parents and those responsible for children that have been injured in no fault accidents, could make a claim on behalf of their child open till they turn 18. If you are considering making a claim on behalf of an injhured child, we could help you. Our specialist solicitors, authorised and regulated by the Solicitors Regulation Authority could fight for compensation on behalf of your child. You would have to apply to be their litigation friend, however, to make decisions about their claim for them. We could talk you through the process in detail and provided the guidance and support you need.
Could I make Inverness airport accident claims if a loved one has suffered a fatal accident?
Unfortunately, some accidents are so severe that they cause a loss of life to the victim. If your loved one was injured fatally because of someone else's negligence, you could make Inverness airport accident claims for the loss of your loved one. You could claim a bereavement award in some cases, help with funeral costs, and even assistance with the financial loss you've suffered due to your loved one's passing away if you were financially dependent upon them. We understand that reliving what has happened to your loved one may be somewhat traumatic. We would take great care to handle your claim with sensitivity and careful stop please call us to find out more how we can help you.
Essential Resources
Accident Claims Solicitors Covering Inverness 
Airport Safety Resources
Civil Aviation Authority – Passenger Issues
Thank you for reading this guide covering Inverness airport accident claims.