By Joanne Jeffries. Last Updated 20th September 2021. Welcome to this guide on Norwich airport accident claims.
Were you made to suffer after an accident at Norwich airport? Was the accident itself caused by negligent actions on behalf of another party? If so, you could be entitled to compensation for your damages.
As this guide will further explain, there are several ways in which a person could suffer from the consequences of negligence. From a slip or trip to baggage lifting and handling injuries, many of the injuries which result from these accidents may range in severity. However, the extent of your injury or illness is not the main focal point. The important point to remember is that if an accident was the result of another person's dereliction of duty, then you could pursue a personal injury claim for compensation.
With up to thirty years' experience in conducting accident claims, our legal experts are well versed in various areas of personal injury law and we could help you secure a settlement amount for your damages. Whether you want to discuss your unique circumstances with a legal advisor or begin your no win no fee claim today, call us on 0800 073 8801 or click here for more contact methods.
For more information about accidents at Norwich airport, please continue reading.
Select A Section
A Guide To Claiming For Injuries Sustained In Norwich Airport
With a total of 34,281 aircraft movements in 2018 alone, Norwich airport is one of several airports across the UK which provides internal and external flights. For many holiday makers, their trip begins the moment they set foot in the airport. As Norwich airport serves to both international and regional destinations, a variety of passengers will cross its doors on a regular basis. From working professionals and families to stag dos and hen parties, the premises may become busy with numerous holidaymakers at any given time. When these busy moments arise, it is possible for the risk of hazards to increase and, as a result, compromise an individual's travel plans. In some cases, an accident could even affect the victim's private and work life too. You could even make a claim if your flight is delayed or cancelled under EU law.
These circumstances are not limited to passengers. Even if you are an employee of Norwich airport and you suffer an unexpected accident, you could also seek legal assistance from a personal injury solicitor. The cause of your accident is non-essential, as long as your legal expert can prove you were not at fault, you may be awarded compensation for your injury and/or illness.
Throughout this guide will be information and guidance about how to pursue a personal injury claim for an accident at Norwich airport. We will include examples of the most common accident types, along with advice on what additional steps could be taken following an accident in order to gather supporting evidence for your case. It should be noted, however, that each case is unique. Therefore, if your circumstances are not listed in the sections below, this does not necessarily mean that you do not hold a valid claim. As such, our expert advisors can assess the validity under a free, no-obligation consultation.
What Are Accidents In Norwich Airport?
An accident in Norwich airport is an unfortunate incident that occurs both unexpectedly and unintentionally. An accident could take any form and encompass any number of people at one time, sometimes resulting in harm. For a personal injury lawyer to reasonably deduce whether your claim is valid, they must first determine three main factors:
Did the accident result from negligence?
Could the accident have been avoided had the correct precautions been taken initially?
Was the victim injured as a result?
If these basic factors can be proven, then you could be in a reasonable position to pursue a claim. There are, of course, additional aspects that will be taken into consideration, such as whether your claim is applicable within the relevant personal injury claims time limit. However, your legal representative will explain this further when you come to begin your claim.
In the sections to follow, we will look at some of the most common accident claims which many of our solicitors receive. Remember, if you find that you cannot apply your circumstances to those below then an advisor from our expert team will be more than happy to discuss your case with you.
Norwich Airport Aviation And Passenger Safety
Much like any other establishment, Norwich airport will owe a duty of care to those on-site at all times. This includes both passengers and staff members alike. For minimum standards to be met, there are various precautions and regulations which must be implemented by the airport. If these standards are not upheld or there is a breach in the duty of care owed, the airport could be held responsible for any unexpected suffering.
For example, the Health and Safety Executive of RIDDOR and Enforcement statistics for the Air Transport industry show in the 5-year span from 2009/10 to 2013/14 the injury rate per 100,000 employees in air transport hit 594. The HSE, therefore, recommends that every establishment implement preventative measures to uphold safety standards. These measures include basic daily assessments, such as regular housekeeping, routine inspections, risk assessments and relevant training.
One common safety procedure exercised by numerous airports is routine checks baggage checks and the restriction of certain items on aircrafts. This ensures that items that may be considered dangerous are removed to avoid any potential hazards. For example, items restricted from air travel may include:
Gas Devices: Tear gas, gas cylinders, etc.
Explosives: Fireworks, party poppers, etc.
Acids: Corrosives, acids, alkalis or caustic soda.
Flammables: Liquid/solids, e.g. firelighters, paints, lighter fuel, thinners, etc.
Instruments: Those with mercury and magnets may be restricted.
Medications: Without correct documentation, various medications could be confiscated.
You can find further information about restricted items On this EC site
Accidents Which Could Affect People In Airports
Anyone could fall victim to an unexpected airport accident from causes outside of those listed in this guide. As every personal injury claim is unique, it would be near enough impossible to describe every causation. We have therefore provided information to some of the most common accident types in the sections to follow.
Injuries Caused By Slipping And Falling Over
In an airport accident case it is possible for a slip, trip or fall to occur in multiple environments, some of which you may not expect, such as at a baggage carousel or on the tarmac. In many slip and trip cases, Norwich airport airlines could be held responsible under the Montreal Convention 1999 if a slip/trip occurs in-flight. The purpose of the Montreal Convention is to invoke responsibility upon airlines for in-flight accidents and injuries.
According to the Health and Safety Executive (HSE), slips and trips are the most common causes of workplace injuries across the UK. Therefore, there is no denying that these accidents are to be wary of in a plethora of Norwich airport facilities. Therefore, under the Management Health and Safety at Work Regulations 1999, all employers must ensure the safety of all employees by means of assessing risks where necessary and taking the relevant actions to address them. To prevent these accidents from happening, an establishment could incorporate any of the following techniques to minimise risks:
Securing loose cables/mats/rugs
Clearing away obstructions
Regular housekeeping
Maintaining well-lit walkways
Addressing uneven/defective surfaces
Target spillages (e.g. oil, water, cleaning products) as soon as they occur
Maintain weather hazards (i.e. sign-postings)
In this guide by the HSE, you can find more information about how to prevent slips and trips at work. You can see how common these injuries were at workplaces in 2019/20 below.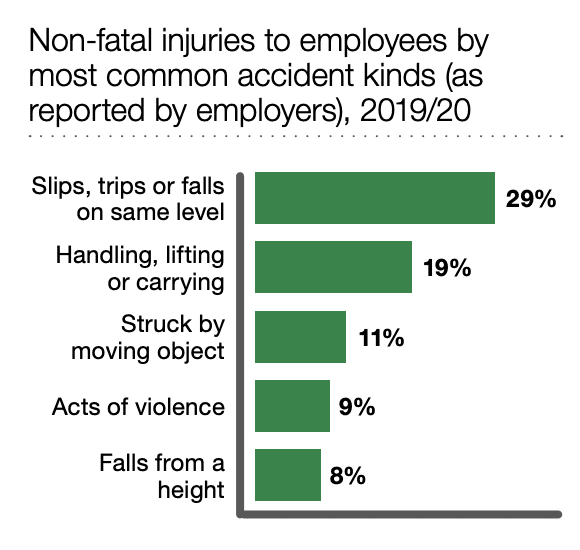 Suitcase And Baggage Facility Accidents
Although not on the forefront of everyone's mind when we think of airport accidents, a personal injury solicitor could assist you in making a claim after an incident involving baggage facilities. For example, if multiple flights arrive into a terminal at the same time, the baggage reclaim area could become increasingly busy and become a high-risk area for those in the vicinity. As a result, passengers could become injured by falling luggage if the carousel if it is not stacked correctly or even become trapped in the conveyer belt itself.
As the Norwich airport is required to uphold a duty of care, failure to maintain these baggage facilities could be both detrimental and valid grounds for a claim. In addition to this, if the airport fails to train its staff correctly in loading carousels or there is no managerial supervision, then this could also be grounds for a claim.
Escalator And Lift Injury Claims
Any machinery used by an establishment should be regulated and maintained regularly to minimise the risk of accidents occurring. If you were injured while using an escalator, lift, travellator or other form of airport transportation, you could make a claim for compensation. While these accidents may be quite rare, there is still potential for them to occur, especially if malfunctions are not reported or addressed correctly.
For instance, if a defective escalator is not maintained to minimum safety standards, a person could trip while disembarking and suffer a Norwich airport injury as a result, such as a strain or a fracture In such cases, it is important to gather key evidence following an accident to be used at a later date. As recommended by Citizens Advice, you could collect the following pieces of evidence on your own accord :
Photographs of the scene (i.e. The defect/cause of the accident)
Witness contact details
Medical records (From treatment following accident)
Accident logs (i.e. Reporting the accident to the relevant operator and retaining a reference number)
These simple steps could significantly increase your chances of securing a monetary value for your suffering. For more information about lift and escalator injury claims, click here to read our guide.
Accidents On Norwich Airport Buses
If you have been harmed while using airport transport facilities, such as a train or a bus, you could be entitled to compensation. There are numerous methods of transport available for those using Norwich airport facilities, all of which should prioritise the safety of those onboard at all times. These range from electric vehicles used to transport those in need of special assistance to larger modes of transport, such as a Norwich airport bus and trains.
There is a chance for you to claim compensation for an injury suffered as a result of airport transport accidents and road traffic accident injury claims for incidents around the airport. Even if you are an employee, you could claim compensation for an accident while operating a vehicle if another party was to blame. This could be while operating a vehicle to transport luggage, stairs or fuel.
Accidents In Shops, Restaurants And Other Norwich Airport Facilities
The Food Standards Agency (FSA) states that food distributers must uphold reasonable food hygiene standards at all times to avoid the risk of allergic reactions, food poisoning and other incidents of the like. If a substandard of care is dispensed during service, it could have disastrous consequences for those involved. For example, if a waiter trips and spills a hot beverage on a customer, the individual could suffer a severe scald. Even if you suffer a scald as a waiter, you could still claim compensation.
Further from this, if allergy advice is not printed clearly on menus then the customer will not be aware of hazardous substances in their meals.
According to the FSA, there are 14 main substances that are of high risk to those who suffer from allergies. These include:
Eggs
Crustaceans
Sesame seeds
Fish
Lupin
Molluscs: Whelks, snails, oysters, mussels, squid, etc.
Nuts: Walnuts, cashews, almonds, hazelnuts, etc.
Peanuts
Sulphur
Celery
Mustard
Lactose
Gluten: Wheat, barley, oats, cereals
Soybeans
As a safety precaution, food establishments should seek to highlight these allergens in emphasised text on their menus, either in bold or a distinguishable colour to ensure customers are aware of such substances.
Workplace Accident Claims Against Norwich Airport
Without training, Personal Protective Equipment (PPE), mandatory measures and other such safety strategies, an employer could put their staff at risk of a Norwich airport accident by ignoring their responsibility as an employer. By law employers are legally responsible for health and safety management of their employees. They must uphold a duty of care to protect workers from anything which may result in harm, including minimising risks likely to arise in the workplace. This could be achieved through a number of different methods. In particular, employers are legally required to display the approved poster illustrating British health and safety laws under the Health and Safety Information for Employees Regulations (HSIER) along with a copy of the approved leaflet titled "Health and safety law: What you need to know".
Failure to do so could be considered an act of negligence. An accident at work which arises from such neglect could be reasonable grounds for a personal injury claim. Contact us today to find out more about worker accident claims against Norwich airport.
Baggage Lifting And Handling Injuries
As a baggage handler, you should expect to be trained in the correct format in order to lift heavier items of luggage correctly and thus minimise the risk of a strain injury. In addition to this, employees must be supervised by the relevant individuals while lifting baggage in case an accident occurs. If no supervision is given, an airport accident case could result in an injury to the neck, shoulder or back.
The Health and Safety Executive describes some areas in which the risk of such injuries is heightened. These include:
Pulling and pushing heavy equipment
Handling items above knee level or above shoulder height
Lack of supervision by managerial bodies
Extension from lower back region of heavy items
You can find further information regarding baggage lifting and handling injury prevention by clicking here.
Personal Injury Claims Calculator For Accidents At Norwich Airport – Updated September 2021
It is understandable that you may be curious as to how much compensation you could receive for your personal injury claim. In the table below are examples of  monetary amounts based on JC Guidelines 2019.
| Injury | Severity | Amount | Information |
| --- | --- | --- | --- |
| Illness/Damage Resulting From Non-Traumatic Injury (E.g. Food Poisoning) | Severe | £36,060 to £49,270 | A case of severe toxicosis will induce symptoms of serious acute pain, vomiting, diarrhoea and fever. The sufferer will require hospital admission for days/weeks, even after which continuing incontinence, haemorrhoids and irritable bowel syndrome will persist. |
| | Serious | £8,950 to £18,020 | Though serious, this case of short-lived food poisoning will reflect diarrhoea and vomiting will persist over a 2 to 4-week period. Some remaining discomfort and disturbances will continue after this for the next few years, which impacts sex life and enjoyment of food. |
| | Significant Discomfort | £3,710 to £8,950 | The symptoms of this bracket will include significant discomfort, stomach cramps, alteration of bowel function and fatigue. The individual will require hospital admission for some number of days, though symptoms will persist over a few weeks. A full recovery will not be made for a number of days. |
| | Varying Degrees | £860 to £3,710 | A case in associated with this bracket will display varying degrees of disabling pain, cramps and diarrhoea. These symptoms will continue for a number of days or weeks. |
| Neck Injuries | Severe | In the region of £139,210 | An injury of this severity will be associated with incomplete paraplegia or result in permanent spastic quadriparesis. Where the injured person wears a collar for 24 hours a day, they will have little or no movement, in spite of wearing this for a number of years. |
| | Moderate | £23,460 to £36,120 | An injury of this type (be it fracture or dislocation) will show severe immediate symptoms and thus necessitate spinal fusion. In addition to this, chronic conditions which usually involve symptoms to other parks of the anatomy or serious soft tissue injuries to the neck and back combined will be considered in this bracket. |
| | Minor | £4,080 to £7,410 | A full recovery from a minor neck injury will take place over a 1 to 2-year period, which also applies to cases of short-term acceleration and/or exacerbation injuries. |
| Back Injuries | Severe | £85,470 to £151,070 | The most severe cases of injury to the back will involve combined damage to the spinal cord and nerve roots. As a result, this will lead to very serious consequences not typically associated with common back injuries. |
| | Moderate | £26,050 to £36,390 | This bracket contains a wide variety of injuries in which residual disability is of less severity than the bracket above. In this bracket are cases of compression/crush fracture of the lumbar vertebrae, for example, in which there is substantial risk of osteoarthritis. |
| | Minor | £7,410 to £11,730 | This bracket will consider cases of short-term acceleration and/or exacerbation injuries, which usually require between two and five years to recover to either fully or at least to a nuisance level. |
Other Compensation Included In Personal Injury Claims
In the table above are monetary values for what is known as General Damages. These types of damages are seen to be unquantifiable, such as your injury and future prognosis. Alongside General Damages, however, it is possible to claim additional expenses for unexpected medical costs, loss of earnings or travel expenses suffered during your recovery period. These are known as Special Damages. In order to claim these back, it is vital for you to retain any receipts, wage slips and other relevant document(s) to use as evidence.
While you may consider using an online personal injury claims calculator to estimate how much you could be entitled to, a simple chat with a legal expert from our panel could provide you with a more centralised estimation relevant to your unique circumstances.
No Win No Fee Claims Against Norwich Airport
When you begin your claim for compensation, a solicitor from our expert team will offer to represent your case on a No Win No Fee basis. Also known as a Conditional Fee Agreement (CFA), this type of agreement simply states that if your solicitor is unsuccessful in securing compensation on your behalf, you will not be held accountable for their legal fees. However, if a settlement amount is secured, you will pay for your solicitor's time and services with a percentage of the total compensation. You should note that this is legally capped at 25%.
Further from this, there are no hidden costs throughout the claims process or upfront fees associated with beginning a No Win No Fee personal injury claim. These are just some of the many benefits associated with a CFA. For more information, call us today.
How Our Team Could Help You If Injured At The Airport
With up to thirty years' experience in representing victims of third-party negligence, we could help you pursue a claim for your suffering. As we can provide our services nationwide, it is not imperative for us to be based in your area to conduct a compensation claim. In fact, in many cases we have handled claims by telephone or email, which means you won't need to limit yourself to solicitors in your local area. We could even arrange for your medical assessment to be in an area close to you.
Start Your Claim
Begin your claim today by simply choosing one of the contact methods below. Our lines are open 24 hours a day, 7 days a week with a friendly advisor just a phone call away.
How do I gather evidence for Norwich airport accident claims?
When you are at the scene of the accident, everything could be rather stressful, so you may wonder whether you'd be able to properly gather evidence. How you act at the scene of an accident could determine how successful you would be at gathering evidence. If, for example you were to ask witnesses for their contact information, or take photos at the scene of the accident this could be very useful. However, sometimes it may not be possible for you to gather evidence at the time of your injury. This may not preclude you from making a claim, however. Many airports have CCTV footage, and there are other ways in which witnesses could be found and contacted after the event.
One of the main pieces of evidence that you would have to gather to make Norwich airport accident claims would be the medical report. Some people may mistakenly believe that visiting their GP or local hospital would be enough to gather such evidence. However, as part of your claim you'd need to submit to a medical examination by an independent medical professional. They would write a report after your examination detailing your injuries and your potential for recovery. This could be used to value your compensation claim.
How do I choose solicitors for Norwich airport accident claims?
You would not have to choose a local solicitor to make your claim. Solicitors based all across the country could work on your claim for you. This gives you much more choice when choosing legal representation. However, many solicitors advertise that they are authorised and regulated by the Solicitors Regulation Authority, and have years of experience in pursuing claims. Therefore, we would advise you to take a look at independent reviews on their legal services, and call them to ask them questions such as would they be able to offer you legal advice, and could they work on your claim on a no win no fee basis.
Essential References
Below are some additional resources which may be of use to you. These consist of internal links to various guides on our website and external links to relevant bodies.
CAA – Commerical Airport Safety
Information and advice from the Civil Aviation Authority on how airport safety
HSE – Transport Safety
A guide by the Health and Safety Executive (HSE) on air transport
AC – Air BnB Claims
How to claim compensation for an accident in an Air BnB
AC – British Airways Claims
If you were injured on a British Airways flight, you could pursue an accident claim. Read this guide to find out more.
AC – Work Related Illnesses
Have you suffered a work-related illness due to negligence of your employer? If so, this guide could be of use to you.
Thank you for reading our Norwich airport accident claims guide.