By Joanne Jeffries. Last Updated 30th November 2021. Welcome to our guide on personal injury law in Switzerland, and claiming for an accident on holiday ini Switzerland. If you become injured following an accident on holiday in Switzerland, then you may be considering what your next steps are with regards to seeking compensation for your injuries. This guide could help,
This guide will outline what steps you should take in the event of an accident in Switzerland, how Accident Claims UK can help and how our no win no fee service works.
We are specialists in personal injury and holiday accident claims and work on a no win no fee basis. If you'd like to begin your claim today, then please call us on 0800 073 8801.
If you'd like to know more first then please carry on reading and we'll show you how to claim for skiing accidents in Switzerland, car accidents, hotel accidents and how to get free healthcare should you need it while holidaying in Switzerland. We will also explain about making accident at work claims for a back injury or other injury you may have suffered.
Select A Section
How To Deal With You Accident On Holiday In Switzerland
A Guide To Claiming Compensation For An Accident On Holiday In Switzerland
You may be unsure whether you'll be able to claim compensation following an accident on holiday in Switzerland. If so, you'll find this guide, full of helpful information, very useful.
Essentially, if you've had an accident that was nobody's fault, your fault or happened because you were messing around then you won't be able to claim compensation.
However, if your accident was caused by somebody else's negligence, mistake or deliberate action then you could have a valid claim against them. We need to be able to prove that the 3rd party involve could've prevented your accident had they done something differently.
Reasons you could claim can include: staff negligence, a lack of staff training, a lack of instructions provided during an activity or lack of warning that something could injure you.
The next important factor that must have happened is that you have to have seen a GP or doctor at a hospital. This is because, when making a claim for compensation, we need to be able to demonstrate a) that you were in fact injured and b) how severe the injury was. These two elements make up the general damage's element of a claim and without a medical record are impossible to prove.
So, if you're involved in any type of accident or are made ill because of somebody else's negligence and you'd like to seek compensation, you should ensure you attend a medical facility to receive assessment and treatment. You'll probably undergo further medical assessments as part of any claim but the first one, following your accident, is essential. Whether you're claiming under personal injury law in Switzerland, or claiming for a package holiday injury, this could be vital.
Finally, you'll need to ensure that you make your claim within the allowed time limits according to personal injury law in Switzerland or the UK, depending on who you're claiming against. Every country has its own time frames for making an accident claim and if you file too late, you'll find that it will be rejected.
In the UK, we have a 3 year time limit from the date the accident happened to begin your claim. The only exception to this is when you don't know about your injuries or illness until a later date. For instance, if you attend a doctors for a medical assessment and they diagnose a condition that can be linked to your accident, then your 3 year time limit begins when you receive the diagnosis.

The Most Popular Destinations For Visitors To Switzerland
We are able to help with an accident that's happened in any part of Switzerland, whether it be in the mountains, a village, the capital city or anywhere else but just for reference we've listed the top 10 destinations in Switzerland below:
Zermatt
Zurich
Geneva
Lucerne
Wengen
Saas-Fee
Basel
Interlaken
St Moritz
Grindelwald
What Do You Do If You Get Injured Or Ill On Holiday?
If you are involved in any type of accident in Switzerland, there are a number of steps to take that will make the process of claiming compensation easier. There's nothing wrong in planning for an accident claim, so long as it was caused by somebody else, then it's only right that you should be compensated for your pain and suffering.
The steps that you can take that will help enormously when you begin your claim are:
Seek medical treatment for all injuries. This will ensure you get the treatment you need as soon as possible and at the same time it will ensure a medical record is created that will detail what injuries you sustained and how severe they were. This can be obtained at a later date or you could ask for a copy while you're being treated.
Document any expenses that you incur because of your accident such as travel or medical costs. Keep receipts that can be used to claim back this financial loss.
Contact your holiday rep in the case of a package holiday and also contact your travel insurance provider.
Ask for any witnesses to provide their contact details and also to write a brief statement of what they saw.
Photograph the scene of the accident trying to capture the root cause, or what you believe was the cause, of the accident.
If you're involved in a road traffic accident, then contact your car hire provider to arrange recovery of the vehicle. They may require a police reference number so you would need to report the accident. Also, if your car has a dashcam, ask for a copy of the video files.
When you return to the UK, make contact with us here at Accident Claims UK and we'll assess your claim with you and hopefully begin a personal injury claim on your behalf.
What Is The Emergency Number In Switzerland?
Just like in the UK, the Swiss emergency telephone service operates on a single number for all of the different emergency services.
If you're involved in an accident and require an ambulance, the police or the fire service then simply dial 112 from any phone and you'll be connected to the relevant service.

Using The The Swiss Healthcare System
The current process for using healthcare services in Switzerland require British tourists to apply for a Global Healthcare Insurance Card prior to travel. It's free to apply for and takes around 7 days to come in the post, so allow enough time.
Once you have an GHIC card, if you require medical treatment (either via 112 emergency service or at a doctor's surgery) then you will receive it for free during your holiday.
GHIC won't cover some services like the cost of being transferred back to the UK if you require special transport or miss your scheduled flight. It also won't cover private medical treatment, so it is still advisable to obtain travel insurance.
You should ensure you carry your GHIC card and travel insurance policy with you at all times in Switzerland and ensure you show it to staff as soon as it's possible to do so.

How Long Do You Have To Claim For An Accident On Holiday Abroad
All accidents, including skiing compensation claims in Switzerland, are time-limited and if you fail to register your claim on time, can be rejected automatically.
The current time limits for accident claims under Swiss law are:
| How the holiday in Switzerland was booked | Time limit to lodge claim |
| --- | --- |
| A UK package holiday. | 3 Years may very |
| An independently booked trip or flight | 2 Years may very |
We recommend that as soon as you return to the UK you contact Accident Claims UK so that we have plenty of time to assess your claim and then gather the supporting medical evidence.
Types Of Accident Abroad We Can Handle
Claims For Injuries On A Package Holiday Or Package Tour
Package holiday accident claims are made easier by special legislation put in place by the British government in the 1990s. It usually provides longer timescales to make your claim, compared with claiming when you booked the holiday independently.
To be classed as a package holiday, you need to have ordered 2 or more main parts of your holiday at the same time and from the same provider, examples are:
Your flight and excursions
Your excursions and hotel
Your hotel and flight
When you arrive on resort your rep should provide you with an emergency telephone number and it's essential that you report any accident to them, otherwise claiming could be difficult.

Hotel Accident And Injury Claims
Accidents in hotels can happen in any type of hotel, from the 5-star, luxury resorts to hostels that only provide basic facilities but, in either case, can lead to holiday accident claims if they were caused by negligence of any type.
Accidents in hotels that commonly get claimed for include: food poisoning, injuries caused by damaged equipment or furniture, swimming pool accidents and injuries caused while using hotel gyms.
If you believe your hotel could've prevented your accident, then you could make a claim against them so please get in contact with us to discuss what happened. It wouldn't be usual to make a claim against an individual member of staff, so the claim would either be against the hotel or possibly the package holiday provider who booked the hotel for you.

Illness Caused By Food Poisoning Or Waterborne Diseases
While food poisoning can be self-treated, according to the NHS, we recommend that if you suffer from it while on holiday you should visit a doctor ASAP. As discussed earlier the doctor will assess you and provide any necessary treatment but at the same time create a medical record that your illness did happen.
Food poisoning is caused by poor hygiene in food preparation, storage, cooking and reheating and can happen at any establishment that serves food such as a hotel, restaurant, café, bar or fast food outlet.
Common symptoms that you should look out for include: stomach cramps, nausea, vomiting, diarrhoea and a very high temperature. Similar conditions can be caused by water borne illnesses caused by infected swimming pools or drinking water.

Hurt In A Slip Or Fall Injury?
Perhaps one of the most common accident types is a fall following a slip or trip. Mainly because it could happen just about anywhere on holiday: in your hotel, on a mountain range, at the airport, in a shop or just about anywhere you can think of.
While many falls result in minor injuries, some lead to life changing conditions which is why, if somebody else caused you to fall, you should consider claiming compensation to cover the cost of your recovery.
Reasons why somebody else could be to blame for your fall can include:
Hidden trip hazards that aren't visible because the lighting in the area is inadequate, turned off or broken.
Pathways or flooring that is damaged and causes you to trip up i.e. a tear in a rug or carpet that your foot gets stuck in.
An excessively wet or slippery floor where no warning is provided.
You should try to take a photograph of the cause of your accident and make a note of the location so that we can find out who's responsible for the building or land it occurred on.
Some of the common injuries caused by slips and falls include: soft tissue damage, head injuries, spinal injuries, simple fractures and complex fractures all of which will require medical treatment of some sort.

Swiss Alpine Ski And Hiking Accident Claims
Skiing accidents in Switzerland are unfortunately always going to happen and often do. Of course, if they are purely an accident and couldn't have been avoided then you wouldn't be able to claim compensation.
That said, skiing compensation claims in Switzerland can be made if they were caused by negligence or could've been avoided had somebody done something differently. Examples of where somebody else could be blamed for an accident include:
Faulty, inadequate or inappropriate equipment.
A ski lift operator not operating the lift correctly.
A fault with the ski lift.
Inadequate training or safety advice from a ski instructor.
Inadequate signage warning of dangers.
To make a valid ski accident claim, we need to be able to prove that somebody else was to blame. The list above is just a sample of the reasons but your case may be different so please get in touch and explain what happened in your accident.

What To Do If You Are Involved In Road Or Car Accident In Switzerland
Switzerland's roads offer some of the safest driving conditions in the world with a very low number of fatalities in 2016, 256 compared with 1750 in 1970 which is a massive drop.
Accidents do happen however which means you should be prepared to deal with the aftermath in the appropriate way.
You should of course ensure that anybody who needs treatment receives it, either by calling 112 or administering first aid yourself. Then, when considering a compensation claim, you should try to photograph the accident in situ before moving the vehicles to side of the road and putting on your hazard warning lights.
There is a European accident report form, used by insurance companies to determine what happened in an accident. You should only enter facts on to this document and don't let the other driver fill it in for you. Don't write anything that could suggest you were to blame and only sign it when you're happy with the contents.
Obtain the other drivers contact details, insurance details and the licence plate number from their vehicle.
How Our Team Can Help Victims Of Swiss Accidents Claim Compensation
Do I Have To Use A Swiss Lawyer Or Solicitor
There is a common misconception that, if you have an accident in Switzerland then you have to use a Swiss solicitor to make a compensation claim – which puts a lot of claimants off making a claim at all.
But the truth is, your solicitor can be based anywhere in the world, including here in the UK. We've got a panel of expert solicitors who deal with just personal injury and holiday accident claims and they can deal with Switzerland skiing accident claims, car accidents and every other type of accident, so long as it was caused by somebody else.

No Win No Fee Swiss Holiday Or Skiing Accident Claims Under Personal Injury Law In Switzerland
Many people are put off of making a personal injury compensation claim because of the potential costs involved.
When using a traditional solicitor's agreement, the client has to pay for the solicitor's service regardless of the outcome of the case. The benefit of this type of agreement is that, if the solicitor wins the case then their client keeps all of their compensation. However, if the solicitor loses the case the client still has to pay for the service charge which can mount up to a high value quite quickly.
With no win no fee agreements, the client agrees a fixed percentage fee that the solicitor will retain from any compensation if the case is won and when any compensation is awarded the solicitor keeps their agreed share and sends the rest directly to the client.
If the case is lost, then the client doesn't have to pay the solicitor at all. We believe this is the most stress and risk-free way of making a compensation claim.

Why You Should Use Our Team To Help You With Personal Injury Law in Switzerland
Accident Claims UK only work on personal injury claims, including holiday accident claims and have supported numerous clients over many years.
We've worked on ski accident claims, slips and falls, hotel claims, car accidents and many other types of accident all using our no win no fee service.
The team are friendly, professional and available to answer questions throughout your claim when you need us. With all of the claims we take on the process usually follows this processs:

| | | |
| --- | --- | --- |
| You make contact with us via live chat, email, phone or post. | We listen to your claim and then assess it. | When you're happy to proceed, we begin the claim process on your behalf |
Start Your Claim Today With Advice on Personal Injury Law in Switzerland
We hope you've found this guide to Swiss holiday accident claims useful and are now ready to use Accident Claims UK to make your personal injury claim. If that's the case, then you can contact us using any of these methods:
Telephone: Call us on 0800 073 8801 for a quick response
Email: Send a message to office@legalexpert.co.uk and we'll aim to respond within 3 hours
Live chat: Our experts can offer advice and answer queries 7 days a week
Start your claim online: Fill in this easy form to begin your claim and we'll call back at a convenient time
When you get in touch, the first thing we'll offer is a free, no-obligation, initial consultation where we'll listen to your side of the story and then we'll offer an honest assessment of your claim and let you know what we think is the likelihood of making a successful compensation claim.

Where To Get Help Or Find Out More About Personal Injury Law in Switzerland
Hopefully this guide about how to claim compensation for an accident on holiday in Switzerland has provided you with all of the information you need to begin your claim. Here are some more resources that may be useful to you whether you are seeking a law firm to help you claim against local authorities or against a UK package holiday company:
British Embassy Switzerland – Berne
Thunstrasse 50
3005 Berne
Switzerland
Tel: +41 (0)31 359 7700
Web: www.gov.uk/world/organisations/british-embassy-berne
Opening Times: Monday to Friday: 9am to 12.30 and 13.30 to 16.30
Personal Injury Law in Switzerland FAQs
How is pain and suffering compensation calculated under personal injury law in Switzerland?
Whether you're claiming under personal injury law in Switzerland or against a UK entity for an accident or injury in Switzerland, you would need to submit evidence of your pain and suffering. When you make a claim for compensation you'll need to make sure that you visit an independent medical expert so that they could provide a written report. This report would contain details of the independent medical professional's opinion on your injuries and your prognosis for recovery. Your lawyer and the courts could use this to arrive at a compensation settlement that is appropriate for your suffering and pain.
Do I need a lawyer to claim under personal injury law in Switzerland?
You might be surprised to learn that not all claims legally require you to have a lawyer. In some cases, you could make a claim without legal support. However, claiming compensation, whether under personal injury law in Switzerland or against a UK entity, could be somewhat complex. You might prefer, like many claimants, to have legal support to help you. A lawyer could help by putting together a strong case and negotiating for the maximum amount of compensation for your claim.
Could I claim for a fatal injury at work that my loved one had in Switzerland?
Fatal accidents at work can and do happen. According to the HSE's 2020/21 statistics, 142 people died in the UK due to work-related accidents, as you can see below.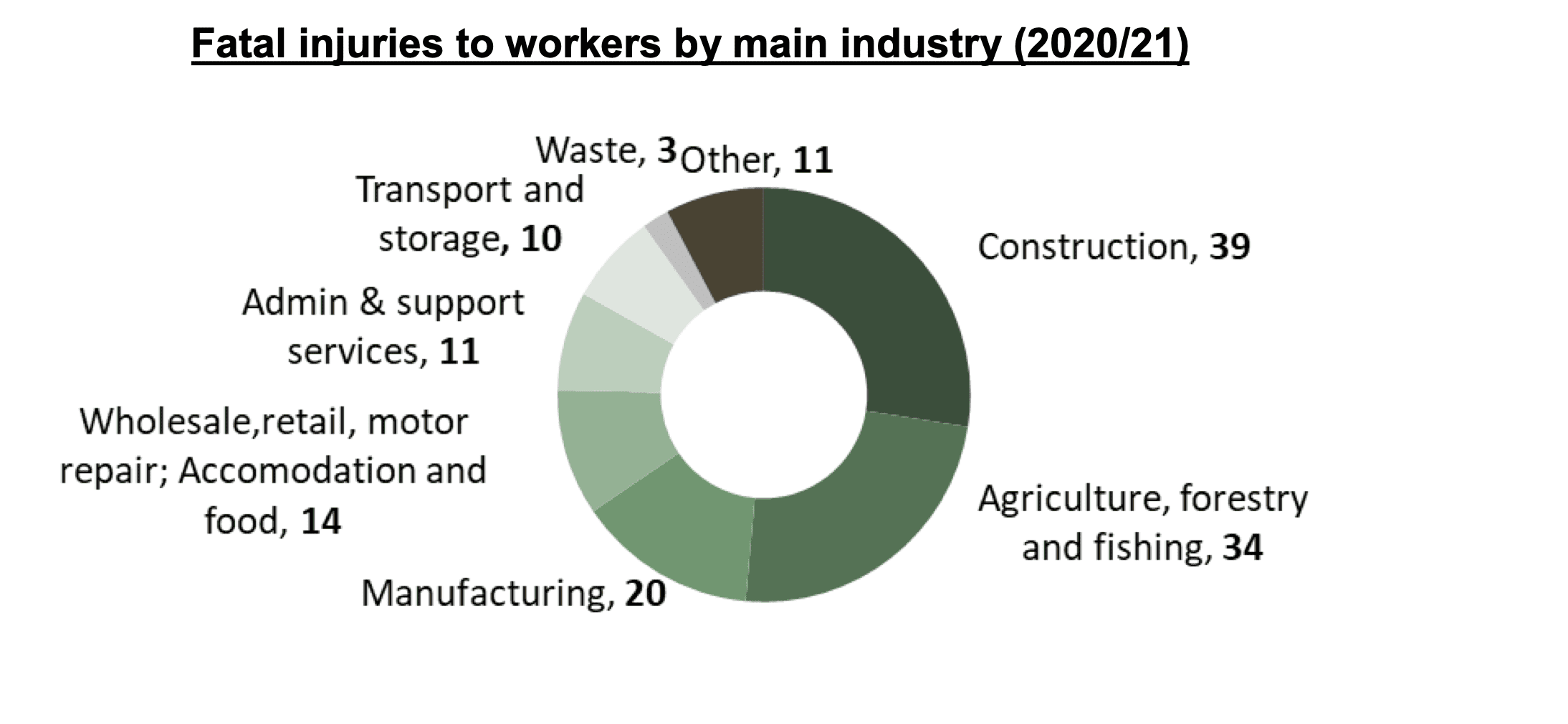 Whether your loved one was working for a UK company in Switzerland or was fatally injured while on a business trip, we could help you work out who a claim could be against and how to get started with a compensation case.
What evidence would I need to claim for an accident on holiday in Switzerland?
The evidence that you would require when making a claim for an accident on holiday in Switzerland would vary depending on the type of injury add suffered on the accident you'd had. In general, you would need to submit evidence that proved the accident happened. This could include evidence such as CCTV footage, a police report, or witness statements for example. To make a claim for your injury you would need to submit independent medical evidence. You would be examined by an independent medical expert, who would then complete a medical report verifying the severity and nature of your injuries. Don't forget, you could claim for both psychological and physical injuries. In addition to this you would need to submit evidence of special damages you intend to claim for. If you intend on claiming for loss of earnings, for example, you could submit copies of your pay slips to show where you have lost out on earnings from being off sick. If you are claiming for care costs, medical expenses or travel expenses, for example you could submit bills, receipts and bank statements showing payments made.
If you have any queries about any of the evidence you might need to submit as part of your claim, please call our team for assistance.
How do I make a claim for an accident on holiday in Switzerland with a UK lawyer?
It is vital to select the solicitor that you are going to have help you with your claim with care. There are lots of law firms and solicitors in the UK that could help you. We could help provide you with an experienced, knowledgeable lawyer who has handled claims like yours before. Please do not hesitate to get in touch and we will help you start the claims process quickly if you are eligible to do so.
Useful Links Relating To Personal Injury Law in Switzerland
NHS guide to healthcare in Switzerland – A useful guide, by the NHS in England, about healthcare arrangements in Switzerland for UK tourists.
Package Holiday Accident Claims – a more detailed guide about how to claim compensation for accidents on package holidays.
Road Traffic Accident Claims – Our guide to what to do in the event of a road traffic accident and the amounts of compensation certain injuries can be awarded.
Thank you for reading our guide to claiming for an accident on holiday in Switzerland.