By Jo Jeffries. Last Updated 7th October 2022. Welcome to this guide to making Tesco claims, for injuries and accidents that happen to you as a result of negligence. Whether you're looking for Tesco compensation payouts as a member of staff, or as a customer injured in a Tesco car park hit and run, this guide could help. In it, we discuss whether there is a Tesco claim form you should fill in, or whether you should write in to make a Tesco complaint for compensation instead of filling in a Tesco claims form. We also discuss whether the Tesco accident report book could help evidence you claim, and whether a Tesco back pay claim could feature in your compensation payout.
When Could You Be Eligible To Receive Tesco Compensation Payouts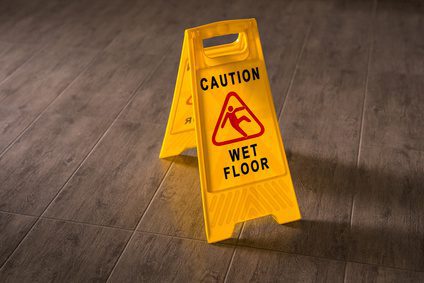 When we take a trip to Tesco, we expect to pick up our groceries for the week; we don't expect to end up getting injured. Such instances may be rare, but if you have been injured while shopping or working at Tesco, you will be able to make a claim if you are not responsible for what happened. From car park accidents to incidents whereby someone has slipped on water in Tesco, we have helped many personal injury victims to get the payout they deserve for a wide range of accidents and injuries. If you think that you or someone you know could be entitled to compensation for an accident that happened in Tesco, and you want to know more, this guide will explain everything you need to know.
Choose a section
Making a claim for an injury sustained at Tesco
There are many Tesco stores across the United Kingdom. At the time of writing, there are 3,433 stores UK-wide. This includes One Stop, Metro, Express and Tesco Extra stores, as well as Superstores. If you have been injured while shopping or working at one of these stores, there is a very high chance you could be entitled to Tesco compensation payouts. This guide will reveal everything you need to know about making Tesco accident claims. This includes details on how to make Tesco claims, accident at work compensation examples, the accident at work claim time limit, how to secure slipped in Tesco compensation payouts, and much more.
What is a Tesco accident?
This refers to any type of accident that has happened on Tesco premises, be it in-store or outside in the car park. It also applies to anyone, from shoppers to workers. So long as the accident happened on a part of the grounds that Tesco is responsible for, and you are not responsible for what occurred, there is a high chance you can make a claim.
What steps should you take after suffering in injury at Tesco?
To give your claim the best chance of success, you will need to gather evidence. This includes the following:
Make notes about what happened
Report the incident to Tesco so they can make an official record of it in the Tesco accident book
Get the contact details of anyone that witnessed the accident
Take photographs of the scene
Take photos of your injuries if they are visible
Gather your medical records
Keep any proof of the costs you have encountered.
How to start a claim for an accident that happened at Tesco
We make the claim process really straightforward at Accident Claims. It is as simple as giving us a call and then we will sort everything for you. We will explain everything that is entailed, and we can also arrange a medical locally for you if you need this. Our solicitors could fight for the highest compensation possible for Tesco claims
I have been involved in accident when I was doing my shopping at Tesco, am I eligible for a payout?
You could be eligible for Tesco compensation payouts if the accident you were involved in was not your fault. You need to be able to prove this. If you are partly to blame, there is a chance you could still be entitled to make a Tesco complaint for compensation. Nonetheless, the amount you receive will be a lot lower to reflect this. Aside from this, for you to claim, the incident must have taken place within the past three years, and seeing a doctor for the injuries you have sustained is also a requirement.
Accident at work claims for employees of Tesco
Not everyone who makes a claim against Tesco has been shopping at the supermarket. We have made many Tesco claims for people that have been injured while working in Tesco too, from those making a back injury at work claim to those that have been injured due to a falling object. If you work at Tesco, your employer has a responsibility to provide you with a safe and healthy working environment. If they have failed in this duty, and you have been injured as a consequence, you can most certainly claim.
When could employers be liable
There are a number of ways in which your employer could be to blame for your Tesco accident at work. This includes:
Allowing you to use machinery that is defective
Encouraging work practices that are unsafe
Not allowing you to take regular breaks
Ignoring the findings in risk assessments
Not carrying out regular risk assessments
Failing to give you the right Personal Protective Equipment (PPE)
Allowing you to do jobs that you are not qualified for
Failing to give you sufficient training for the job you are doing
If you are worried that making a claim against your employer will backfire on you and you will lose your job, don't be. There are regulations in place to protect you against this as well. If your employer were to make you redundant due to what has occurred, they would only find themselves in deeper legal waters.
Slip, trip and fall claims at Tesco
There are many different types of accidents that can happen at Tesco, yet some of the most common are slips, trips, and falls. We have handled many slip trip fall claims over the years. This is because there are numerous ways these incidents can occur in a supermarket environment, and in the car park too, which is discussed in further detail in the next paragraph. For example, you may have tripped because of a misplaced item, you could have had a fall in Tesco due to a pothole in the car park, or you may have had a slip in Tesco due to a spillage in one of the supermarket aisles.
I was involved in a car accident in a car park at a Tesco store, can I make a claim?
Anyone who has had an accident on Tesco premises can make Tesco accident compensation claims. This includes the car park. After all, Tesco is responsible for the car parking area. However, whether your claim will be launched against the firm will depend on how the accident happened. If the incident happened because of an uneven surface or a pothole, then it will be Tesco who you are making the claim against. Should the accident have happened because of another driver's carelessness, you will be making the claim against them instead.
If I have been injured due to an accident in Tesco, what can I claim for in Tesco compensation payouts?
There are many different types of damages that you can claim for if you have been involved in an accident at Tesco. When you make your Tesco complaint, compensation could include:
General damages
General damages refers to the payout you will be awarded to cover the suffering and pain you have been subject to. The amount you receive will be calculated by using the medical report that has been put together by your doctor. This is why it is vital to see a healthcare professional, no matter how minor your injuries may be.
Claiming for care provision
If someone has been looking after you while you get better, that person will be able to claim for the care they have provided.
Medical expenses
Loss of income
Loss of earnings is covered in more detail in the table below. Firstly, you need to ask your employer if you are injured at work do I get paid? If not, you will be able to claim for income you have already lost (Tesco back pay claim), as well as any income you may lose in the future if you are expected to be off work for longer.
Travel costs
Any other out-of-pocket costs
You can essentially claim for any costs you have been subject to because of the injuries you have sustained. This could be anything from counselling expenses to the cost of childcare because you have not been able to look after your children due to your injuries.
Some of the most common kinds of accidents that can happen at supermarkets like Tesco
There are many different types of accidents that could happen while shopping or working at Tesco. This includes the following:
Cuts from shelves or fixtures that are defective or damaged.
Injuries that have happened because of falling objects.
Injuries that have been caused as a consequence of falling in a car park due to a pothole or a surface that was not even.
Injuries that have occurred due to the negligence of a member of staff.
Food poisoning.
Accidents that have happened because of a faulty product.
A wet floor or spillage that has caused a slip, trip or fall.
Injuries that have happened because of a misplaced product that has obstructed an individual's path.
Injuries that have been caused because of a faulty lift, door, or escalator.
If the accident you have been involved in has not been listed, you can still make a claim. When claiming, it is not the type of accident that matters; rather it is how it happened. You always need to be able to prove that someone else is responsible for the incident that has taken place.
How much compensation am I going to receive if I have suffered in an injury due to an accident at Tesco? What could I receive in Tesco compensation payouts?
You will, no doubt, want to know how much money you are going to get if you launch a claim for Tesco compensation. We have put together a table below, which explains the average payout for injuries that are typically associated with accidents that happen at Tesco. It is important to stress that every case is different, and they are treated on an individual basis. There is not a set list of payouts. Therefore, if a solicitor promises you 'x' amount of money, please don't pin your hopes on this. No legal professional should do this. You may have also come across an accident at work claim calculator for compensation online. Again, this will only ever provide you with a rough estimate.

Why are you claiming compensation?
What are the typical Tesco compensation payouts for this injury?
Extra comments
Loss of income
£5,000 - £500,000
While recovering, it is likely that you have had to miss some work. If you have suffered a loss of income because of this, you will be able to claim for it. There are some situations whereby the claimant receives more than the figure that is stated to the left.
Loss of expected income
£10,000 -£400,000
You cannot only claim for the income you have already lost, but you can also claim for any income you are expected to lose in the future. This will be determined based on the money you earn at present, and your earning potential for the future too. There are some situations whereby the claimant receives more than the figure that is stated to the left.
A severe traumatic injury
£43,010 to £61,910

If you have experienced a severe injury, this payout is designed to cover the constant discomfort and pain you have been subject to.
A serious traumatic injury
£16,790 to £27,760

If you have suffered a non-penetrating injury that has caused long-standing and serious complications, this is likely to be the sort of payout you will receive.
A moderate traumatic injury
£6,610 to £12,590

A good example of any injury like this is a case of an incident whereby high pressure from the seatbelt has caused injuries. This can happen if there has been an accident in the supermarket's car park.
A severe neck injury
In the region of
£148,330

If you have been diagnosed with spastic quadriparesis on a permanent basis or incomplete paraplegia, you can expect to receive the biggest payout.
A moderate neck injury
Up to £38,490
Common injuries falling into this payout range include dislocations and fractures. You may also receive a payout at the lower end of the scale if the accident you had at Tesco has caused a pre-existing condition to get worse.
A minor neck injury
Up to £7,890
There are various factors that will be taken into account when figuring out your payout for a neck injury that is minor in nature. This includes how serious the original injury was, the pain you have experienced, how often you experience this pain, if you are taking any medication, how the injury is having an effect on your life, and such like.
A severe shoulder injury
£19,200 to £48,030
To be classified as a severe shoulder injury, it must have resulted in disability.
A serious shoulder injury
£12,770 to £19,200
Serious neck and shoulder pain can result in a lower payout of this category. Something closer to the maximum would be a shoulder dislocation.
A moderate shoulder injury
£7,890 to £12,770
For this payout, you are likely to have been diagnosed with a frozen shoulder or something similar. You will experience a lot of discomfort and your movement will be very limited. Symptoms will probably persist for a number of years.
A minor shoulder injury
Up to £7,890
The length of time it takes you to recover will determine the payout you receive.
A minor injury
£1,370 to £2,450
A full recovery will be made within three months.
£690 to £1,370
A full recovery will be made within 28 days.
Up to £690
A full recovery will be made within seven days.
Are you unable to find the injury you have sustained in the table above? Don't worry, as we said, every case is different. Would you like to get an idea of how much money you may receive? You can reach our team on the Tesco accident claims number. This is provided at the end of the guide. One of our advisors would be more than happy to assist you.
Making No Win No Fee Tesco claims
One thing we can guarantee you about our service is that all Tesco injury claims are 100 per cent No Win No Fee. This may be a phase you have heard about before, yet you may be unsure regarding what it means for you. No Win No Fee essentially means that you are not going to pay a penny if the outcome of the case does not go your way, i.e. you are not awarded any compensation. Some companies will charge you a fee despite claiming to offer a No Win No Fee service. We promise that there are no strings attached when you work with us.
When we say No Win No Fee, we mean it. Not only will you give peace of mind because you are protected financially. You'll also know that the solicitor is going to be accountable for the service they provide. Therefore, you know they are going to be working hard for you. Plus, you know they are only going to take on your case if it has a genuine chance of being a success. For more information on accident at work No Win No Fee cases, please give us a call.
Why should you choose our company to help you launch your Tesco complaint compensation claim?
There are a number of different reasons why you should choose Accident Claims as the company to help you make Tesco claims. This includes the following:
We genuinely care about all of our clients and your recovery process. We understand that this comes first. We want you to focus on getting better while we focus on getting Tesco complaint compensation for you.
We won't confuse you with complicated legal jargon.
Our team is friendly and will make you feel at ease.
We will keep you informed each and every step of the way.
It is always our aim to secure the maximum amount of payout that is achievable.
We have worked on many supermarket accident cases, and we have successfully secure payouts for the victims of such incidents.
Our experience speaks for itself. We will match you to a specialist solicitor with up to 30 years of experience in the industry.
Call us today if you want to make a claim or you need free legal advice on making Tesco claims
If you require legal advice, or you are ready to make a claim for the accident you have been involved in, you can reach our dedicated claims team on our Tesco accident helpline number, 0800 073 8801. You will benefit from free advice, with no obligation to continue with our service, so you won't feel pressured to continue with claiming. It is completely on your terms. If you do wish to proceed, though, we will match you to the best solicitor based on the ins and outs of your claim. We can also provide you with accident at work compensation case studies if you would like some.
Helpful links Relating To Tesco Claims
This link takes you to the UK Government's Health and Safety Executive website. Here you will find information on health and safety in the retail industry. This includes details on the Primary Authority Scheme. Plus, helpful information on violence, workplace transport, manual handling, and slips and trips.
Flooring in supermarket advice
This link concerns smooth supermarket floors. It explains the slip risks that occur due to smooth floors, as well as information on sensible short-term and long-term action.
If you are unsure regarding what type of injury you have sustained, you can use this NHS page to find out about common conditions and treatments. This includes everything from back pain to a locked neck.
FAQ On Tesco Claims
Could I receive Tesco compensation payouts for my work-related injury?
Are you concerned about an accident you've had at work in Tesco? Would like to work out whether you could receive Tesco compensation payouts? Please give us a call. It doesn't matter what the cause of your accident was. If your employer was to blame for not protecting you for foreseeable risks of injury at work, you could be eligible to claim. If you're wondering what the most common causes of injuries at work were last year, we can give you figures from the HSE for 2020/21. According to self-reported injury statistics from the Labour Force Survey, slips, trips and falls were most common. you can see other causes below.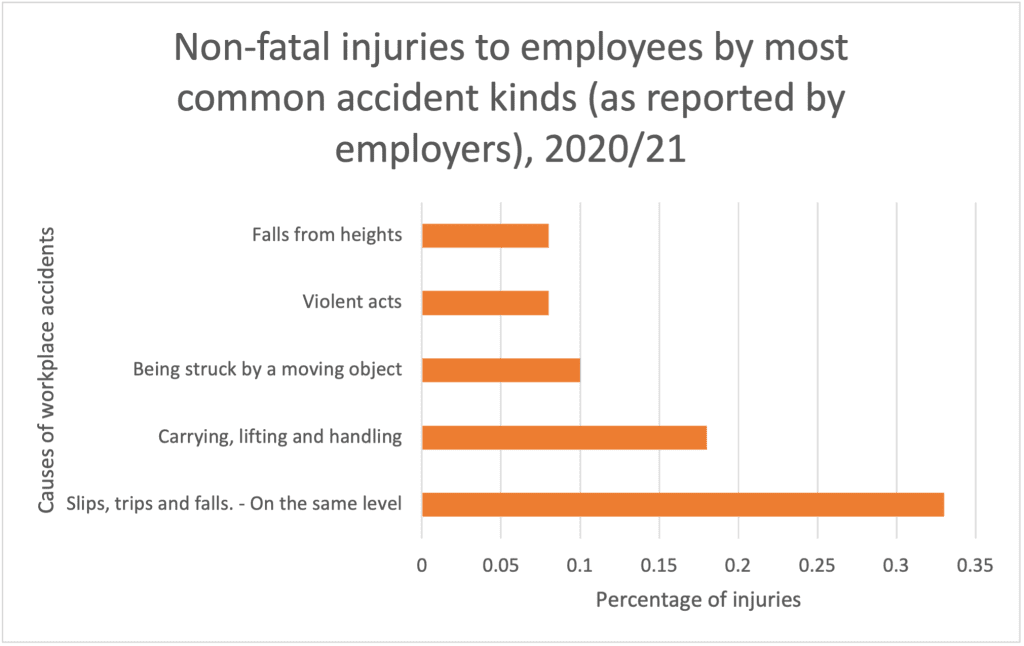 Could I receive Tesco compensation payouts for my child who was injured?
Are you are looking to claim compensation on behalf of a child? You should know that the compensation would normally go into a trust for them. You could make a claim on their behalf as a litigation friend. This would enable you to go about claiming on their behalf. Decisions about their claim could be made by you. You would normally have up until their 18th birthday to claim. If you decided not to claim on their behalf, they could make their own claim once they turned 18 years old. This is because the law does not deem children under the age of 18 to have the legal capacity to make decisions about their own claims.
I Was Injured In A Tesco Car Park Hit And Run, what can I do?
Were you injured in a Tesco car park hit and run accident due to another drivers negligence? Did it cause you injury? If so, you may be able to make a personal injury claim and seek compensation for your injuries.
Instead, you could contact our team. They can advise on whether you could be eligible to make a hit and run claim for the injuries you sustained due to negligence. 
The driver in my Tesco car park hit and run accident can't be traced, what do I do?
If you were involved in a hit and run accident, you could make a claim via the Motor Insurers' Bureau (MIB). They compensate those who have been involved in an accident with untraceable and uninsured drivers.
Please call us to discuss your case and to see whether you have a valid claim. We would be happy to talk to you about a compensation payout for such an accident and whether one of our No Win No Fee solicitors could help you with your claim.
I slipped and fell, can I make a complaint to Tesco?
You may be wondering 'can I make a complaint to Tesco after a slip and fall?'. The person in control of a public space owes a duty of care to ensure the reasonable safety of those visiting the space for it's intended purpose. If this duty of care is breached and you have sustained harm as a result, you can get in touch with our team to discuss what steps you could take.
To find out more about when a claim against Tesco for compensation payouts could be justified, get in touch with our team.