By Max Murdoch. Last Updated 31st May 2022. Have you been in an accident on a moped that was caused by someone else's negligence? Did you sustain injuries as a result of this accident? If so, you may be able to make a personal injury claim.
Road traffic accidents can cause severe, life-changing injuries. Furthermore, people who ride mopeds are classed as vulnerable road users because they don't have the protection offered by vehicles like cars or vans. This means that they could sustain more severe injuries than road users who do not fit into this vulnerable category.
Valuing Injuries Caused By An Accident On A Moped
If you've been in an accident on a moped, you may have some questions about your eligibility to claim. This guide will answer these questions and more to put you in a position where you feel confident in making a claim. What's more, our team of advisers are available 24/7 to offer free legal advice and assess how much compensation you may be entitled to.
If you have a valid claim, an adviser can connect you to a personal injury lawyer. They can then begin working on your personal injury compensation claim on a No Win No Fee basis.
To get in touch with our friendly team of advisers, you can:
Ring them on 0800 073 8801 to chat with an adviser today.
Talk with an adviser via our instant live chat pop-up box to receive an immediate response.
Fill out our claims form online to receive a reply at your earliest convenience.
Select A Section
A Guide On How Much You Could Claim For After An Accident On A Moped 
Firstly, we'll look at what an accident on a moped is and what rules and regulations surround riding a moped on the road. We've then included some sections looking at potential moped rider injuries and accidents that could occur on a moped.
Next, we will look at some potential causes of moped accidents what to do if involved in an accident on a moped. Furthermore, we'll prove some motorcyclist and moped rider accident statistics. We've also included a compensation table so that you can see how much you could be owed in compensation.
In addition to this, we will explore the types of damages you could receive as part of your claim. We will then move on to explaining what No Win No Fee agreements are and whether our panel of personal injury lawyers work on this basis. Additionally, we've provided some further guides to offer more information about an accident on a moped, as well as the answers to some frequently asked questions. 
What Is An Accident On A Moped? 
There are a number of different kinds of vehicles that are able to use the roads in Britain. All road users have a duty of care to one another to ensure their own safety and the safety of others while driving.
One type of vehicle that can be used on British roads is a moped. A moped is defined as a small motorcycle. They don't have engines any bigger than 50cc.
The Highway Code is a set of guidelines for road users in Britain. There is a section of specific rules for motorcyclists and a section of rules for motorcyclists and drivers. The motorcycle rules in the Highway Code also apply to moped riders.
Riding A Moped On The Road
In order to ride a moped on a public road, you must have a provisional license and complete compulsory basic training (CBT). Your CBT only lasts for 2 years; if you do not pass your test within this time frame, you'll need to complete your CBT again. Furthermore, you need to pass your test within 2 years of passing the theory test, or you will need to take the theory test again.
There are a number of different things that motorcyclists (including moped riders) are able to do that other types of road users are not permitted to do. For example, someone on a motorbike is able to "undertake" another vehicle on the left-hand side, provided that the vehicle is turning right and there is sufficient room to do so. Car drivers should not pass a vehicle on the left-hand side.
Because they are vulnerable road users, motorcyclists and moped riders are expected to wear protective clothing and make themselves as visible as possible. Furthermore, they need to wear a helmet and can only carry one pillion passenger, who needs to be sat astride the vehicle on a proper seat.
Common Moped Rider Injuries
Some injuries that a moped rider could sustain in an accident might include:
It's important to note that your ability to claim may be affected by the safety measures you take before riding. For instance, if you suffer from a road rash on your arm after being knocked off your bike, you may be considered partially responsible for your injuries if you were not wearing a protective jacket. As a result, your compensation could be reduced accordingly.
If you've suffered an injury from an accident on a moped caused by someone else's negligence, our team of advisers are here to offer free legal advice. They'd be happy to have a chat about your situation and assess how much compensation you may be entitled to.
Common Accidents On A Moped
There are a number of different things that might cause a moped accident to occur. These include:
Rider error- sometimes, a person driving a moped might make a mistake that leads to an accident. For instance, they may be travelling above the speed limit, meaning that they're unable to stop when approaching a hazard. If your moped accident was caused by a mistake you made, you would not be able to claim compensation.
Other road users- another road user could cause an accident in a number of different ways. For example, the driver of a car could run a red light, which leads to them hitting your moped as you cross a junction.
Road conditions- in some cases, a moped accident happens even when all road users involved have adhered to their duty of care. This might be because of the condition of the road. For instance, if the road is full of potholes, then this could cause someone to come off their moped and injure themselves.
Don't worry if you don't see your particular accident circumstances listed above. Our expert team of advisers are available 24 hours a day to chat with you about your situation. If you have a legitimate claim, they can connect you to one of our injury lawyers. They can then discuss No Win No Fee agreements with you and begin the claims process.
Can I Claim If I Was Knocked Off My Moped?
If you've suffered an accident on a moped that was due to somebody else's negligence, you may be entitled to compensation. There are multiple different kinds of accidents that you could be involved in, for example:
Roundabout accidents – If a moped driver is driving safely on a roundabout and another vehicle doesn't check before pulling out, this could result in someone being knocked off their moped.
Dooring accidents – If someone in a parked car doesn't check to see if it's safe to open the door, they could open it and hit you as you drive past on a moped. If the moped is riding on the road safely and the car driver opens the door unexpectedly, this could mean that the car driver is negligent.
Accidents at junctions- When drivers are turning left or right at a junction, they should check their side mirrors and blind spot for any cyclists or motorcyclists who could be next to them. If they turn and don't check for other vehicles, this could cause you to be knocked off your bike by the side of their vehicle.
Accidents while overtaking- When you're on a moped and stuck in stationary traffic, you're permitted to do something called "filtering". This is where you travel through the middle of traffic that has stopped. If you have an accident while filtering, you will need to prove that you were travelling at a reasonable speed in order to claim.
If your claim is valid, they can connect you with a personal injury lawyer from our panel if you'd like to pursue a compensation claim. They can then discuss No Win No Fee agreements with you and discuss what types of evidence you should gather for your claim.
Who Caused Your Accident? 
When you make a claim for compensation after a road traffic accident, then you will often be claiming against the at-fault road user. This is the person whose negligence caused the accident and your subsequent injuries. Normally, the at-fault insurance company will pay the compensation owed to you for your injuries.
In some cases, however, the party to blame will be an organisation like a local authority or business that runs and maintains a car park. They're responsible for maintaining the road surfaces to ensure that they can be used safely. If you injured yourself because of a pothole that was not repaired, then you may be able to claim.
What To Do If Involved In An Accident On A Moped
When you've been involved in an accident, it's important that you follow the appropriate steps following the incident. There are some things that you need to do, as they're a legal requirement.
Should I call the police?
If you've been involved in an accident on a moped, there are some instances when you should call the police. You should call 999 immediately if someone has been injured in the crash or if the scene of the accident is creating a hazard for other road users.
Furthermore, you can contact the police if the driver refuses to give their contact or insurance details to you after the crash. You don't need to involve the police if there have been no injuries and no third-party property or vehicle damage.
Should I call my insurance company?
If you've been in an accident on a moped, you should alert your insurance company. Your insurance company wants to be told about the incident even if the damage to your moped is minor. This is because your history as a rider is what your insurance company uses to calculate your insurance premiums.
This doesn't necessarily mean your insurance price will increase. However, if you don't report an incident and your insurance provider finds out at a later date, this may prevent you from claiming for other incidents in the future.
Motorcyclist And Moped Rider Accident Statistics
The above graph includes statistics taken from the Department for Transport. It shows the number of road users killed in Great Britain in 2020 by types of road users. This can help us see which type of road user suffered the most number of fatal accidents that year.
As you can see, the type of road user that suffered the most fatalities in 2020 was pedestrians, with 346 reported. On the other hand, the category of road user that saw the lowest number of fatalities was pedal cyclists, with 22 reported.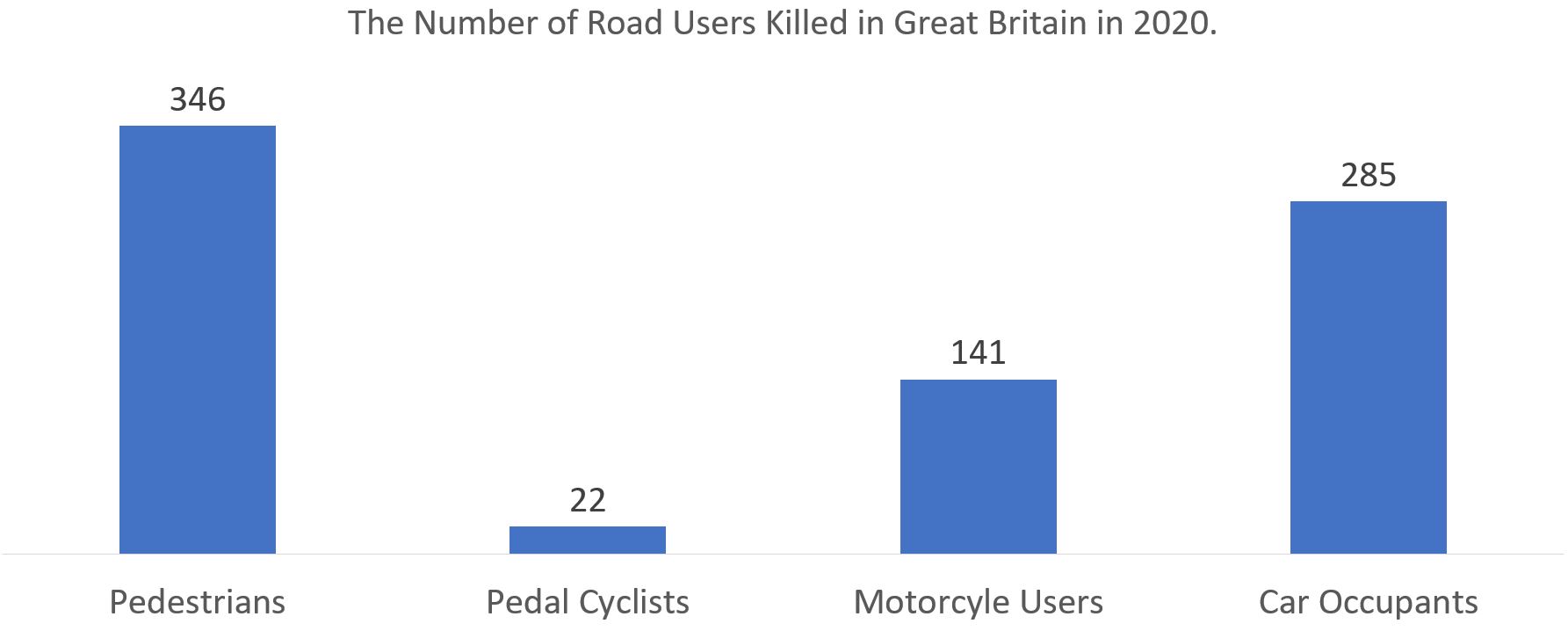 How Much Could I Claim For An Accident On A Moped?
Some guides may include a personal injury claims calculator. However, we've chosen to include a compensation table to illustrate how much compensation a range of injuries could be valued.
This table is used purely for example purposes and the figures may vary.
| Injury: | Notes: | Compensation: |
| --- | --- | --- |
| Brain damage | Very severe. While the injured person might regain some ability to follow basic commands, they won't have a meaningful response to their environment, their language function will be severely limited and they'll need full-time nursing care. | £282,010 to £403,990 |
| Brain damage | Moderate (i). Where there is an intellectual deficit of a moderate to severe extent, a change in personality and an effect on the senses. | £150,110 to £219,070 |
| Arm injuries | Severe injuries. Amputation isn't necessary but the person is left with little useful function left in their arm.  | £96,160 to £130,930 |
| Arm injuries | Injuries that result in permanent and substantial disability. One or both forearms are broken resulting in significant disability.  | £39,170 to £59,860 |
| Knee injuries | Severe (i). Serious injury to the knee where the joint is disjointed and osteoarthritis develops.  | £69,730 to £96,210 |
| Knee injuries | Moderate (i). Dislocation, torn cartilage or meniscus causing minor instability, wasting and weakness in the knee. | £14,840 to £26,190 |
| Injuries to the elbow | An injury that is severely disabling. | £39,170 to £54,830 |
| Injuries to the elbow | Less severe injuries. No major surgery is needed but the function of the elbow is impaired.  | £15,650 to £32,010 |
The above compensation table shows the general damages that some injuries may be awarded. General damages compensate for the injury itself and the physical and psychological impact it's had on your life. An example of a mental injury the injuries could cause you is Post-Traumatic Stress Disorder.
The figures in the above table come from guidelines from the Judicial College. These are the latest figures, taken from the edition published in April 2022. They have assessed compensation settlements from past claims and used them to create guideline compensation brackets for a range of different injuries.
Potential Compensation Payouts for a Moped Accident
If you are involved in a moped accident, you may be physically injured, but you also may suffer financial losses as a result. You could potentially claim for these in the form of special damages compensation.
Potential financial losses you could claim for include:
Medical costs – This can include prescription costs or private healthcare costs, if you require necessary medical treatment that cannot be supplied through the NHS.
Loss of earnings – A serious injury from a moped crash can lead to you being unable to work. This could cause you to suffer financial losses. If the injury is long-term or permanent, you could also potentially claim for future loss of earnings.
Travel costs – If you're unable to drive due to the injury, you can claim for the costs of taxis/public transport.
Care costs – The injury could lead to you needing a private nurse to help recover from your injuries or manage everyday activities.
You would need evidence, such as invoices, bank statements, receipts and payslips, to prove the value of the financial losses. If you'd like to know more about how to claim for a moped accident, please contact our team of advisors for legal advice that is completely free. They can provide you with a compensation estimate and inform you if you're eligible to claim.
No Win No Fee Claims For An Accident On A Moped
No Win No Fee agreements have various benefits to people who are looking to claim for accidents resulting in injury. Also known as a Conditional Fee Agreement, a No Win No Fee agreement is a contractual agreement between you and your personal injury lawyer. It sets out the guidelines your lawyer must follow before receiving payment.
The contract states that you won't have to make a payment to your solicitor if your claim is unsuccessful. If your claim succeeds, your personal injury solicitor will deduct a small, legally capped percentage of your compensation.
If you're interested in finding out more about No Win No Fee agreements, why not speak to a member of our team today? One of our advisors will be happy to offer you free legal advice.
Talk To Us 
Our friendly team of advisers are available 24 hours a day to answer any questions you may have. They can have a chat with you about your situation and assess how much compensation you may be entitled to.
After speaking with an adviser, you're under no obligation to continue with our services. However, if you'd like, an adviser can connect you with a professional personal injury lawyer, provided your claim is valid.
You can get in touch with our expert team of advisers by:
Calling them on 0800 073 8801 to receive free legal advice.
Chatting with an adviser today via our live chat pop-up box.
Filling in our online claims form to speak with an adviser whenever is best for you.
Road Traffic Accident Claim Resources 
Cycling Accident Claims– Have you suffered injuries from a cycling accident that was due to someone else's negligence? Our article explores how you can make a cycling accident compensation claim.
Snow and Ice Car Accident Claims– If you're wondering whether you could claim for an accident caused by ice or snow, read our guide.
Fatal Accident Claims – Our guide looks at who may be entitled to compensation for a fatal accident.
How Do I Know If I've Broken A Bone? – Do you suspect you may have broken a bone injury? This NHS guide includes important information about bone fractures.
Broken Leg – If you've sustained a broken leg, this NHS link looks at the treatment and recovery time for this injury.
MIB Making A Claim – You can make a claim through the Motor Insurers' Bureau (MIB) through this link.
Accident On A Moped FAQs
What do I do if I get in a motorcycle accident?
The first thing it's recommended you do after a motorcycle accident is to seek medical attention if you've suffered any injuries. You should also ensure you exchange insurance details with the other drivers involved.
What part of the Highway Code covers motorcycles and mopeds?
Section 83 to 88 of the Highway Code covers motorcycles. scooters, mopeds, quad bikes and tricycles. Guidance for moped and motorcycle drivers can also be found in Section 89 to 102.
Who is the Motor Insurers' Bureau?
The Motor Insurers' Bureau (MIB) aims to provide compensation for people who have been in a road traffic accident with an uninsured driver or a stolen car.
Do I have to repay any benefits?
When you're injured as the result of an accident, you may receive benefits related to the impact your injuries have had. For example, if you've broken your leg and cannot work you may receive Jobseekers Allowance. However, you may have to pay the benefits back if you subsequently receive a compensation settlement that covers loss of earnings. You can find out more about this via the Compensation Recovery Unit.
Thank you for reading our guide about an accident on a moped.
Guide by SN
Edited by FS