In this guide, we will be taking a look at the role of the Supply of Machinery (Safety) Regulations 2008 in workplace health and safety. We will also look at the steps that are involved if you wish to claim personal injury compensation after you're injured as a result of negligence.
These regulations outline the requirements that need to be met before a piece of machinery is put on the market or put into service for the first time. After this, the maintenance and upkeep of the machinery is outlined by other legislation.
Machinery that malfunctions could cause injuries to those that use them. If this happened because of a breach of duty of care, then you might be able to claim compensation.
Our claims team is always available to provide free legal advice and answer your questions. You can contact them 24 hours a day, 7 days a week. You can do this by:
Select A Section:
A Guide To What Is Covered By The Supply of Machinery (Safety) Regulations 2008
In this guide, we are going to look at what you can do to make a personal injury claim for injuries caused by a breach of the Supply of Machinery (Safety) Regulations 2008. To begin with, we will look at exactly what these regulations are and the role they play in workplace health and safety.
In addition to this, we'll look at how unsafe machinery could cause accidents to occur, as well as some statistics relating to accidents at work. This guide will also give examples of some of the injuries that can happen as a result of accidents like this.
You might be wondering how much compensation you could potentially receive for the injuries you've sustained. If so, you might find the section in this guide on how compensation is calculated to be of use.
If you choose to make a claim, there are many advantages to doing this with legal representation. For example, a lawyer can help you make sure that your claim covers all the ways in which you were harmed, and may be able to advise you on when to accept or reject an offer of compensation.
However, hiring accident claims solicitors in the usual way can be expensive. For this reason, we have included a section on No Win No Fee agreements to explain how you can hire a solicitor with no upfront costs.
If you have any more questions about anything mentioned in this guide, or if you would like to see if you're eligible to begin a claim today, speak with one of our advisors.
Claims Deadlines Explained
If you're interested in making a compensation claim following an injury caused by negligence, then you need to ensure that you start it within the appropriate time limit.
Generally, for personal injury claims, this is three years. It doesn't matter how long your claim takes to conclude as long as you start it within this time limit.
There are some exceptions that apply, however. For example, if you were under the age of 18 at the time you were injured, then the time limit is suspended until you turn 18. While you're still a child, a litigation friend can claim on your behalf.
For more information on the time limit to starting a claim, as well as exceptions that apply, speak with an advisor today.
What Are The Supply of Machinery (Safety) Regulations 2008?
The Supply of Machinery (Safety) Regulations 2008 is a piece of legislation that covers new machinery. It also covers some non-machinery products, such as:
Safety components
Interchangeable equipment
Chains, ropes and webbing
Lifting accessories
Transmission devices that can be removed
However, some kinds of machinery are excluded from these regulations, including domestic electrical machines and fairground equipment.
As we have already mentioned, this piece of legislation is applicable before a piece of machinery is used or put on the market for the first time. The Provision and Use of Work Equipment Regulations 1998 dictate how equipment should be maintained and used after this point.
There are a few different parties that this legislation is relevant to, one being manufacturers. However, it also applies to:
People who import non-compliant material
Distributors who market products under their name
Anyone who modifies existing machinery to a substantial extent
Anyone who designs and builds machinery for their own use
Health And Safety In Manufacturing
We can examine statistics that has been provided by the Health & Safety Executive, to visualise the number of fatal accidents in the manufacturing industry. We can also compare it to other sectors. The graph below shows that the construction industry was the one with the highest number of fatal injuries in this time period.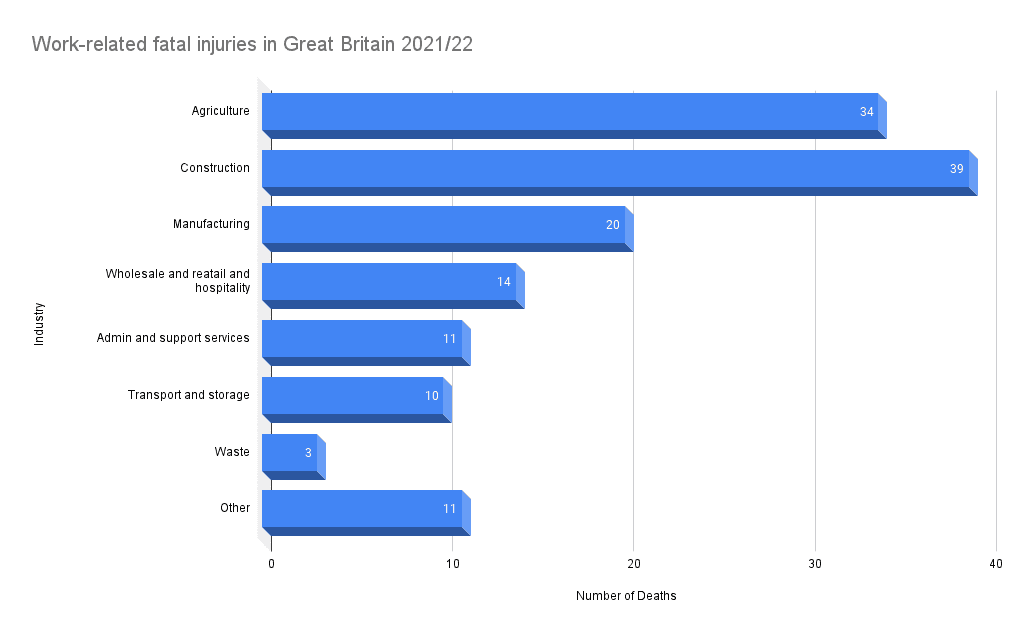 What Duty Of Care Do Manufacturers Have?
Under the Supply of Machinery (Safety) Regulations 2008, manufacturers have a duty of care towards those who will use their machinery for the intended purpose. They should make sure that equipment:
Is designed and built to be safe and meets all of the essential health and safety requirements (ESHRs); these can be found in the regulations.
Comes with a corresponding technical file which the authorities can view on request. This should demonstrate how the ESHRs have been met.
Carry a conformity marking and are correctly labelled with the UKCA or CE mark, whichever is relevant.
Come with comprehensive instructions in English. If the machinery is partly completed, it should come with assembly instructions.
"Machinery" is defined by the HSE as a piece of equipment that includes moving parts and usually has some kind of drive unit. It can include:
Paper-making machines
Circular saws
Combine harvesters
Lifting equipment (even lifting equipment that is not powered)
Escalators
For free legal advice, speak with one of our advisors today.
Applying The Supply of Machinery (Safety) Regulations 2008
You may understand the requirements of the Supply Of Machinery (Safety) Regulations 2008 a bit better now, but still be wondering exactly what this means in practice.
Under this piece of legislation, manufacturers are expected to:
Look into what hazards could present themselves when the machinery is being used
Evaluate the risks that are likely as a result of the hazard
Addressing these risks in the design of the machinery, or if this is not possible, including safeguards, or if this is not possible, including warning signs
Including instructions on the operation of the machinery which outline any risks that cannot be mitigated by the design of the machine
Retain information in a file on what steps have been taken and why these have been done
If a breach of duty of care on the part of a manufacturer meant that you were injured by machinery, you may be able to claim. Get in touch with our team for free legal advice.
Is Second Hand And Refurbished Machinery Covered?
In general, second hand or refurbished equipment is not covered by the Supply of Machinery (Safety) Regulations 2008. However, there are some exceptions to this.
If someone is importing equipment into Great Britain that is "new" to the market- meaning second-hand machinery that has not been put in service or placed on the market beforehand- it will need to meet these regulations.
If someone has completely refurbished a piece of machinery, then it may need a new conformity marking. This is because, although it's made up of the same components, it now operates in a completely different way. As a result, it should be treated as if it is a new piece of equipment.
Workplace Accidents Caused By Unsafe Plant Machinery
If a piece of machinery does not comply with all of the health and safety requirements of the Supply of Machinery (Safety) Regulations 2008, it may be unsafe to use. This could lead to an accident at work. Below, we have listed some example scenarios showing how unsafe machinery could lead to a work-related accident:
A heavy load being lifted on a building site could fall, crushing a bystander.
The machinery could catch fire or explode.
Safety switches may fail, and the emergency stop procedure does not initiate when activated.
There may be hazards on the machine (for example, an exposed blade) but no warning signs to alert users of this.
No effort was made to mitigate how much the machine vibrates when operating
Parts of the machine get extremely hot, but these are not insulated despite the fact that they can be without affecting the function of the machine.
Any of the above scenarios could cause someone to be injured. If you'd like to know more about how a manufacturer of machinery could breach their duty of care, speak with an advisor today.
Workplace Machinery Injuries
If the Supply of Machinery (Safety) Regulations 2008 are not followed, then this could result in an accident as we've outlined above. However, it's not enough for you to have been involved in an accident caused by negligence in order to claim.
You also need to show that you were injured as a direct result. Machinery accidents can cause minor injuries as well as severe ones.
Below are some examples of the types of work injury a machinery accident could cause:
A burn injury that you sustain because part of the machine gets extremely hot without any insulation.
You trap your arm in moving parts of the machinery that don't have a safety guard. As a result, your arm needs to be amputated.
You fall from a height because a piece of lifting equipment broke. You sustain a head injury as a result.
Over time, you develop hand-arm vibration syndrome through continued use of equipment in a warehouse because the risk of this was not considered when the machine was built.
You experience industrial deafness because no attempt was made to mitigate the risk of loud noises having an impact on your hearing.
If you have suffered some type of injury in a workplace accident caused by machinery, call and speak to our claims team. They will let you know whether you might have a valid claim or not.
Calculating Workplace Machinery Injury Claims
If you make a successful compensation claim for injuries caused by a breach of the Supply of Machinery (Safety) Regulations 2008, your settlement could consist of two different heads of claim. The first of these is general damages.
General damages are the part of your claim that compensates you for the pain and suffering caused by the injuries that you've experienced. This can include physical and psychological injuries. As part of your claim, you may be asked to attend an independent medical assessment with a doctor who will assess you. Their findings will be included in a report which will then be used to value your claim.
Legal professionals might also use a publication called the Judicial College Guidelines to help value claims. This contains guideline compensation brackets based on a wide range of different injuries that are based on previous compensation awards.
We have included some of these brackets in the table below:
| Type of Injury | Severity of Injury | Possible Compensation | More Information |
| --- | --- | --- | --- |
| Pelvis and hips | Severe | £73,580 to £122,860 | Extensive fractures to the pelvis causing, for example, dislocation of a joint in the low back and a ruptured bladder. |
| Foot | Severe | £39,390 to £65,710 | Severe foot injuries, for example fractures to both heels or feet that restrict mobility. |
| Ankle | Severe | £29,380 to £46,980 | Severe ankle injuries that necessitate an extensive treatment period in plaster or the insertion of pins, leading to ankle instability. |
| Blindness | Total | In the region of £252,180 | Where the injured person is left completely blind |
| Elbow | Moderate | Up to £11,820 | Including simple fractures, tennis elbow and lacerations that don't cause permanent damage or impairment of function. |
| Neck | Moderate | £23,460 to £36,120 | Injuries such as fractures or dislocations causing severe and immediate symptoms. |
| Leg | Moderate | £26,050 to £36,790 | Complicated or multiple fractures or severe crushing injuries to a single limb. |
| Jaw | Simple | £6,060 to £8,200 | Simple jaw fracture that requires immobilization but where a complete recovery is made. |
| Back | Minor | £7,410 to £11,730 | Where a full recovery to nuisance level is made within two to five years. No surgery will have been required. |
| Head | Minor | £2,070 to £11,980 | If there is any damage to the brain at all, then it will be minimal. |
For more information on how much your injuries could be worth, speak with one of our advisors today.
How Else Could I Be Compensated?
You might also be awarded another head of claim as part of your compensation settlement. Special damages are awarded to compensate you for any financial losses you have suffered as a result of your injuries. These may be losses you already encountered, or they could be losses that you are predicted to face in the future.
Documented evidence to prove these losses will be required in order to claim for them. Below are some of the losses that can be included in this head of your claim.
Loss of earnings. This could be a current loss of earnings (for example, if you have had to take time off work to recover and did not get paid in full) or a projected future loss of earnings (for example, if you're disabled by the accident and cannot return to work at all)
The cost of any private medical care you've had to pay out for
Travel costs to and from medical appointments
The cost of adaptations to your home or vehicle
Our claims team can give you an idea of what could be included in your personal injury claim. Give them a call and they will be happy to offer you free legal advice.
No Win No Fee Claims For Workplace Machinery Injuries
If you're claiming for injuries caused by a breach of the Supply of Machinery (Safety) Regulations 2008, you may wish to do so with a lawyer. Working with a legal professional means that you're able to benefit from their guidance, support and expertise. Furthermore, they can offer you advice on when to accept or reject an offer of compensation as well as ensure that all possible damages are included in your claim.
However, you might be put off by the prospect of having to make a payment to secure their service or make ongoing payments as the claim progresses and they do more work on your case. If this is the case, you could benefit from a No Win No Fee agreement.
Another name for a No Win No Fee agreement is a Conditional Fee Agreement (CFA). Under such an arrangement, there's nothing to pay your solicitor to secure their services. Also, you don't pay any ongoing fees to your lawyer while your lawyer works on your claim. If you aren't successful in claiming compensation, you don't pay your lawyer a fee at all.
In the case of a successful claim, your solicitor will deduct a pre-agreed success fee from your compensation. The percentage that this makes up is capped by law, ensuring that you get the majority of the compensation you're awarded.
Contact Us
Do you believe that you may have due cause to make a claim for a breach of the Supply of Machinery (Safety) Regulations 2008? Use the information below to get in touch with our claim advisors. They can give you a free, no-obligation assessment of the value of your claim. And if your case is valid, they could connect you with a No Win No Fee solicitor from our panel.
You can get in touch by:
Essential References
Here are some links to other useful websites.
Health And Safety In The Manufacturing Sector
What To Do If You Are Injured In A Workplace Accident
Health And Safety Statistics: 2020 To 2021 Annual Release
Here are some links to other useful guides.
For more information on how a breach of the Supply Of Machinery (Safety) Regulations 2008, speak with our team today.
Guide by MW
Edited by FS