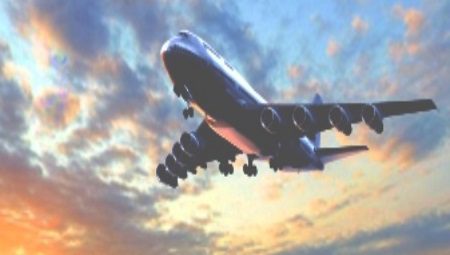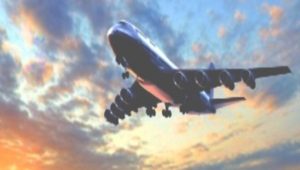 On this web page, you will read a complete guide if you have suffered a personal injury on a Jet2  flight. The information in this guide will illustrate potential accidents that could happen aboard an airplane. You will learn how you could be eligible to make a claim, and why an airline may be liable to pay compensation.
If you finish reading this guide, and still have unanswered questions, then please give us a call on 0800 073 8801 today. One of our claims team will be happy to answer them for you, and to help you to get your claim started right away if they feel you have a valid case.
Select A Section:
A Guide To Personal Injury Claims On A Jet2 Flight
Within this guide we are going to provide information that you may need if you are thinking about making a personal injury claim for an accident or injury on a Jet2 flight. We have provided such information so that you can assess your own claim from a position of knowledge. The first part of this guide will cover some of the basic facts. This will include a basic definition of an airline accident, as well as important considerations such as any time limits that apply to making a claim. We also go over the concept of eligibility, and also take a look at your rights as a passenger, and how the Montreal Convention protects those rights.
The next part of this guide moves on to discuss examples of potential airline accidents that may lead to compensation claims, and this will include:
Burns and scald claims.
Claims made by a disabled passenger.
Claims due to an accident involving the service trolley.
Slip, trip and fall claims.
Falling luggage claims.
Claims due to unexpected air turbulence.
Food-related illness claims.
Claims for injuries caused by a broken seat.
The final part of this guide relates to facts regarding the claim process itself. We will include in this section, a table that details typical amounts of compensation paid for a range of different injuries, as well as a list of the most commonly awarded types of damages. We will also introduce our claims service towards the end of the guide, as a simple and effective way to have your claim processed in a financially risk-free manner.
If, when you finish reading this guide, you have questions about its contents, or you simply need advice and information related to your own claim, please speak to one of our claim advisors. They will be more than happy to answer your questions, and give you any assistance that you need.

What Is A Jet2 In-Flight Accident?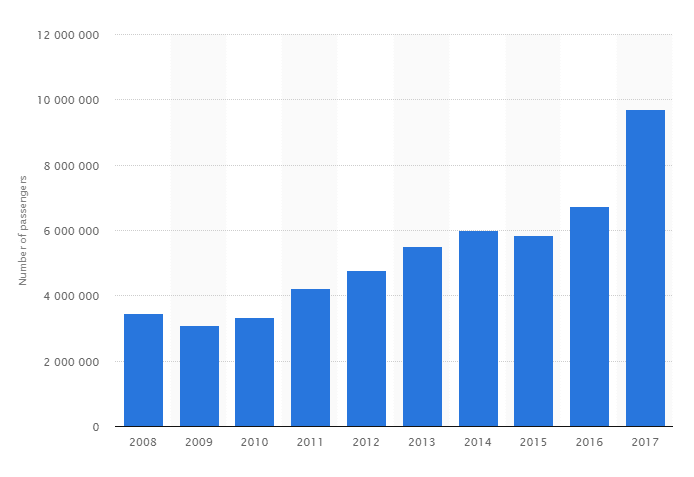 Take a look at the graph above; it shows how the number of passengers flying with Jet2 has more than doubled in the last 10 years. A Jet2 In-flight accident could be any unexpected incident that occurs during a flight that may cause injury or damage. However not all airline accidents will be eligible for compensation. In-order to pursue a claim for a personal injury the airline or its staff must be at fault in some way through a negligent act or error which has caused you a direct injury. This guide is focused on potential accidents that may occur aboard a flight.

Is There A Time Limit To Make A Flight Accident Claim?
You will need to begin your compensation claim within the applicable personal injury claims time limit, in order to be able to be eligible for compensation. However, the situation here is a little confusing. If you are making a claim under UK law, for instance if you suffered an injury while on a flight that was booked as part of a package holiday through a UK tour operator you have 3 years (may vary). If your legal team is leveraging the Montreal Convention (more on this below) as a vehicle for processing a claim, then this time lime is reduced to two years (may vary). We recommend you speak to one of our claim experts to find out which time limit applies in your own case.

When Am I Eligible To Make An Air Accident Compensation Claim?
In order to be eligible to make a Jet2 flight accident claim, you must first prove that Jet2 owed you a duty of care, that this duty of care was breached and this lead to an accident or error that caused you an injury or illness. If the airline accident you were involved in was avoidable and you were injured call our claims specialists today who will provide you with legal advice on what the next steps may be.
However, in some cases, the claimant may have been partially to blame for the accident. In these cases, it may be possible to still claim. The legal teams representing the claimant and the defendant would negotiate a reduced percentage of liability, and any settlement offered would reflect this level of liability in the amount of compensation.

What Are My Rights As An Air Passenger?
If you intend to make a Jet2 accident claim, then it is important that you understand your air passenger rights. Every airline is legally obliged to provide you with a standard set of rights, in regards to consumer protection in the country where you purchased your ticket.
Do I Have Additional Rights Under The Montreal Convention?
The Montreal Convention comes into play when a plane is flying outside of any national borders, and is therefore no longer under the legal jurisdiction of any recognised nation.
Airlines are required to adhere to the rules set out in the Montreal Convention, as a prerequisite of doing business.

Examples Of Accidents People Could Have On A Flight
There are different ways that passengers could be injured on a flight. Here are examples of different ways a passenger may become injured and may be able to pursue a claim for their injuries amongst other areas.
Burns and scald claims.
Claims made by a disabled passenger.
Claims due to an accident involving the service trolley.
Slip, trip and fall claims.
Falling luggage claims.
Claims due to unexpected air turbulence.
Food-related illness claims.
Claims for injuries caused by a broken seat.
We will cover each of these examples of claim types in their own section below.

Burns Or Scalds From Hot Food Or A Hot Drink
Every member of the cabin crew has been trained to service in-flight refreshments safely. If they accidentally spill a hot drink or hot food on to a passenger causing burns then that passenger may be eligible to pursue a claim for compensation. If you have experienced a hot tea or coffee burn while flying with Jet2 that was not your fault call our claims specialists to see if you have the grounds to pursue an airline claim
Injuries And Accidents To A Disabled Passenger
Disabled passengers are granted specific rights by the UK Government, and this means that they can expect a very specific minimum level of service from airline staff. This is why all airline staff are trained to handle disabled passengers safely. If this training fails, resulting in an injury to a disabled passenger, the injured party could be able to make an inflight accident claim.

I Was Injured By The Service Trolley, Can I Make A Claim?
Every member of the cabin crew are trained to serve people safely from the food and drink trolley. The confined space could make this difficult, and accidents could happen if the cabin crew do not maneuver the trolley carefully. A passenger may be struck by the trolley if their feet, hands or limbs are protruding into the isle. If breaks are not applied to the trolley when it is stationery or not in service it could roll into a passenger, and due to the weight of these service carts it may cause serious injury.
Injuries Caused By Falling Over On A Plane
Slips, trips and falls are one of the most common of all accidents as they could happen anywhere and there are so many things that could cause these accidents. These accidents could be caused by hazards such as:
Water spilt on the floor of the aircraft bathroom that has not been cleaned up or marked with a warning sign.
Spilt food in the aisles that has been left and not cleared away.
Luggage left in a place that could cause a trip.
The service trolley being left in an inappropriate place.
Broken stairs while board or disembarking.
If you have been involved in any of these slip trip or fall accidents and you are not sure if the airline is liable for the injuries suffered call our claims specialists and they can determine if you are eligible to make a claim.

I Was Hit By Luggage Falling From A Storage Locker, Can I Claim Compensation?
It is the responsibility of the cabin crew to ensure that all luggage placed into overheads storage bins, is secured before take-off and landing. If the over head luggage compartments are not secured before during take off and landing and a piece of luggage falls out and injures you, you may have the basis for an airline compensation claim.

I Was Hurt During Unexpected Turbulence, Am I Eligible To Claim Compensation?
A personal injury solicitor would not be able to process a claim purely for injuries caused by unexpected air turbulence, as nobody is to blame for the weather. However, if the aircraft crew have failed in their duty in some way, such as not ensuring all passengers are belted in, that the bathrooms are not in use and that any in-flight service is suspended and a passenger is injured the airline may be liable.

Food Poisoning
An airline is obligated to provide in-flight food that is safe to eat. Food poison could exist if the food that is being served has been stored, prepared or heated incorrectly. Passengers who have allergies to certain food could also suffer an allergic reaction if all allergen information is not printed on the label of packaged food, if the menu does not display any of the 14 allergens in its content or if the cabin crew are asked about certain allergens in the food provided in the in-flight meal and wrongly inform a passenger.

I Was Injured By A Broken Seat, Can I Make A Personal Injury Claim?
The seats of a plane are an integral part of its safety features, and are checked regularly as part of safety inspections. The chair is used as the tether for the safety belt, and a faulty chair could negate the protection offered by the safety belt entirely. If a passenger is injured due to a faulty or poorly maintained chair they can call our claims specialists who could tell them whether their accident amounts to an airline injury claim
Personal Injury Accident Claim Calculator
You could use an online personal injury claims calculator to try and get a rough estimate of how much you could be able to claim in compensation. The table below is based on actual real-world figures, that could be awarded in compensation for a range of injuries. This table and any compensation calculator can only inform you of one part of the condensation award, general damages.
| Type of Injury | Severity | Amount | Information |
| --- | --- | --- | --- |
| Head Injury | Minor brain or head injury to moderate brain damage. | Up to £219,070 | Brackets start at brain damage being minimal, good recovery will be made to concentration and memory effected, work life affected, intellectual deficit, a personality change, an effect on sight, speech and senses with a significant risk of epilepsy. |
| Neck Injury | Minor to Moderate | Up to £38,490 | Brackets starts at soft tissue damage with recovery in 3 months to accelerated and/or exacerbated a pre-existing condition, permanent nuisance symptoms, wrenching-type injury and disc lesion of the more severe type. The top end of this brackets includes included chronic conditions, usually involving referred symptoms to other parts of the anatomy. |
| Shoulder Injury | Severe | £19,200 to £48,030 | Significant disability leading to neck and arm pain. |
| Arm Injury | Simple Fractures | £6,610 to £19,200 | Simple fractures of the forearm. |
| Hand Injury | Moderate to Serious | £5,720 to £61,910 | Starting off at soft tissue damage, crush injury, laceration, deep wounds to significant impaired function, permanent disability, to reduced capacity, loss of grip, amputation of fingers and possibly palm. |
| Hip/Pelvis Injury | Moderate | £12,590 to £39,170 | Hip replacement, hip/pelvis surgery, to significant pelvis/hip permanent disability. |
| Leg Injury | Less serious leg injuries to severe leg injuries. | From £17,960 to £135,920 | Brackets start as simple leBrackets start as simple leg fractures, leg will be left with metal implant and/or defective gait, a limp, impaired mobility, sensory loss, discomfort, to imperfect union of fractures, muscle waste, serious compound fractures resulting in instability multiple fractures, effect on employment.g fractures, leg will be left with metal implant and/or defective gait, a limp, impaired mobility, sensory loss, discomfort, to imperfect union of fractures, muscle waste, serious compound fractures, multiple fractures, effect on employment. |
| Knee Injury | Moderate | Up to £26,190 | Brackets include twisting, bruising, continuous discomfort to dislocation, torn cartilage, mild future disability. |
| Ankle Injury | Modest Injuries | Up to £13,740 | Undisplaced fractures, twists, sprains, ligament injuries. |
| Foot Injury | Modest to Serious | Upto £39,200 | Simple metatarsal fractures, ruptured ligaments, puncture wounds to metatarsal fractures resulting in permanent, deformity, risk of fusion surgery to severe injury to a foot or heel. |
For a much more accurate estimate of how much you could claim, please speak to one of our claim advisors, who will be able to tell you once they know a little about your own circumstances.

What Can I Be Compensated For After A Flight Accident?
When a personal injury lawyer is successful in processing a claim, the settlement will be made up of several types of damages, such as:
Special damages compensate the claimant for financial and other kinds of losses:

Travel costs to pay for travel related to medical treatment or legal obligations or travel if an earlier or later flight is needed than already booked.
Medical fees to compensate for having to pay for any private medical treatment.
Care costs if the claimant had to hire in home help, or a nurse at home.
Missing out on income if the claimant had to take time away from work and didn't receive their full salary or wages during this time.
Loss of future income if the claimant will not be able to continue working, or will have to work at a reduced level, which affects their potential to earn in the future.

General damages compensate the claimant for physical harm:

Pain and suffering at the time of the accident.
Mental trauma and shock of being involved in an accident.
Psychological damage such as post-traumatic stress disorder, anxiety or depression.
Painful medical treatment and an extended recovery period.
Long-term or permanent disabilities that will lower the life quality of the victim.
No Win No Fee Flight Personal Injury Claims Against Jet2
Using our No Win No Fee, there is no charge to start your claim, and no charge to process your claim. There is also no charge if we fail to secure you any compensation. The only time we do charge, is when we have received a compensation payment for you. We will then take our fee from the money received, and give you the remainder.

Why Claim Compensation With Our Team?
When you use us to make a personal injury claim, you can rest assured that we will a) do everything we can to make sure you claim is a success, and, b) always try to get you the maximum level of compensation possible for your case. We use simple English to answer any questions that you have, and are always available to update you on the status of your claim.

Contact Us
Are you ready to begin your Jet2 personal injury claim? Do you think you have a valid reason to be awarded compensation for a flight accident? If so, please speak to our claims team on 0800 073 8801. They will then walk you through this simple three-step process:
| | | |
| --- | --- | --- |
| Speak to our claims team; you can use email, web chat or the phone. | We evaluate your claim, to see whether you are eligible for compensation. | If eligible, we will move on to process your claim for you. |
Holiday Accident Claims Advice
You may find these following guides to be of help:
How to make Jet2 holiday accident claims
A guide to package holiday claims
These additional links might also be useful:
How the Montreal Convention protects passengers
Other Useful Compensation Guides
Edited by Mel.