On this page, you will find a full guide to making a compensation claim following an accident on holiday in Portugal. In the sections below, you will discover all of the information that you will need, to be able to begin making informed choices about your own claim.
We hope that this guide provides you with the answers to any questions that you currently have. If it doesn't, please feel free to speak to one of the Accident Claims UK team on 0800 073 8801. They will be happy to go over the circumstances of your claim with you, and answer any questions that you have.
Select A Section:
A Guide To Claiming Compensation For Accidents Or Illnesses On Holiday In Portugal
This guide is aimed at people who have come to harm while on holiday in Portugal. This includes injuries caused by an accident, and also illnesses. Any kind of harm that a personal injury lawyer would be able to process a compensation claim for. Over 2 million holidaymakers from the UK visit Portugal each year. The majority of these head to sunshine destinations such as the Algarve. City breaks in cities such as Lisbon are also popular. Most of these people have a great trip, and return home safely afterwards. However, some have their trip ruined by falling ill, or being injured in an accident. If you are one of these people, read on. This guide is for you.
This guide begins by giving you the information that you are going to need, to deal with your accident and injuries while still overseas. This includes how to get in touch with the local emergency services, and also what your rights are as a UK citizen, with regard to receiving medical care in Portugal. We have also listed a number of steps that you can take, which will help prepare for making a compensation claim when you get back to the UK. This part of the guide also includes a table that lists the time limits for making a claim.
The second part of this guide, contains a number of sections, each of which goes into detail about one of the more common types of holiday claims. This includes:
Injuries and illnesses that occur on a packaged holiday.
Hotel accidents and injuries.
Food poisoning contracted by eating in a restaurant.
Slips, trips and falls on holiday.
Water sports and activity accidents.
Road traffic accidents overseas
Cycling accidents.
Scooter, moped, and motorcycle accidents.
Bus and coach accidents.
The last part of this guide begins by explaining why the best idea is to use a UK legal firm to process your holiday accident claim. We will then introduce the Accident Claims UK national accident and injury claims service. This is an effective yet simple way for you to get the legal help you need to make your claim. You will not find a personal injury claims calculator on this page. These are usually inaccurate. Instead, if you want to know how much you could be able to claim, speak to one of the Accident Claims UK team on the number at the end of this guide.

Popular Resorts, Cities, And Areas For Visitors To Portugal
If you are injured while visiting popular destinations such as these below, you should able to make a claim, and Accident Claims UK can help you to do so.
Lisbon
Porto
Sintra
Algarve
Madeira
Faro
Cascais
Coimbra
Funchal
What To Do When You Get Sick Or Have An Accident Abroad?
You won't find an accident abroad compensation calculator on this page. What you will find are some solid facts and useful information. For example, there are a number of steps you can take to get ready for making a claim when you get home to the UK. Of course, you will want to deal with the accident and any injuries first, and we go over this in the sections below. These steps are all aimed at leaving a paper trail, to streamline the process of making a claim.
Make sure the police are contacted, if you are involved in a serious accident, such as a road traffic accident, or you have been the victim of a criminal act.
If you can, take photographs of the cause of your accident. For example, if you slip on a wet floor, photograph the hazard using your smartphone.
If there were witnesses to the accident that injured you, gather their contact details so that your legal team can contact them later.
Visit a hospital or clinic to have your injuries looked at. Do this even if you don't think you need any medical attention. When you get back to the UK, repeat this step at a local hospital.
Start to keep a list of any losses you have suffered due to the accident or injury. This can be financial losses, or non-tangible losses. For example, when it comes to holiday claims, loss of enjoyment for the remainder of your holiday is a seen as a loss.
Taking steps such as these, will simplify the claims process, as there will be official records to prove that the accident happened, and how. When you are ready to make your claim, speak to one of the Accident Claims UK team on the number at the end of this page. You may also like to read the following guide, which is related to this one:
How to make a claim for an accident on a package holiday

Emergency Numbers And Medical Services In Portugal
If you have suffered an injury abroad, what to do could include the need to contact the emergency services. The Portuguese Government has fallen in line with the unofficial European standard of providing a single point of contact for the emergency services, on 112. When you dial 112, even if you dial it from a phone with a UK SIM card, you will be put through to an operator who speaks English. The operator will ask you about the emergency, and will then send any emergency services that are needed. Instead of dialling 112, you can reach the individual emergency services on these numbers as well:
The Police (local numbers for major cities):
Faro – 289 822 022
Lagos – 282 762 930
Olhão – 289 710 772
Portimão – 282 417 510
Tavira – 281 322 022
Local Hospitals (for the major population areas):
Faro – 289 891 100
Lagos – 282 770 100
Portimão – 282 450 300
You may also be able to get some help from the UK Government while overseas, and we have included contact details for this at the end of this guide. For additional information about local emergency services, you can check this link:
Additional info on Portuguese emergency services

Healthcare In Portugal For Tourists And Visitors
For people who have had holiday accidents overseas, the European Health Insurance Card (EHIC) can be of great help. This is a reciprocal healthcare agreement between all countries that take part in the scheme, and this includes Portuguese healthcare establishments. When you visit the hospital or clinic, then as long as you have a valid EHIC on you, you will receive medical treatment at the same level as a Portuguese citizen.
However, you need to understand that your EHIC is only going to cover you for emergency treatment, and treatment required to stabilise you to return to the UK for extended treatment. There is no free outpatient care, and there is no free treatment for existing medical conditions. Additionally, some medicines may not be available using your EHIC. If you do need some sort of healthcare that isn't covered by your EHIC, you will need a health or travel insurance policy that can cover the cost; otherwise you will have to pay from your own pocket. If you do have to do this, you could potentially claim the medical costs back as part of your compensation settlement. Accident Claims UK can help with this. Speak to one of our team on the number at the bottom of this page to learn how.

How Much Time Do You Have To Claim Compensation?
For accidents abroad, international personal injury claims usually have a time limit within which they must be made. The time limit depends on the circumstances of your claim. The Portuguese personal injury claims time limit for different claim types, can be found in the table below:
| Claim Circumstances | Time Limits |
| --- | --- |
| If you booked your trip from a UK based package holiday company. | 3-years. |
| If you booked your own trip. | 3-years. time limits can vary |
| If you are on a flight to or from Portugal. | 2-years. |
You Have Had An Accident On A Package Holiday, Can You Claim Compensation?
If you are on a holiday that you booked as a package tour and you are injured, it is the travel company that will be pursued for damages, and not the overseas provider. This is because UK package holiday companies are regulated under UK law. These regulations are intended to ensure that every package holiday firm provides holidays that are both safe, and also of a specific standard of quality. If the holiday company fails in this legal obligation, and you are harmed because of it, you will have a valid reason to claim from them.
One important consideration here, is that you must let the travel company know that you have been harmed, and report the incident to them. Once you get home to the UKK, contact Accident Claims UK on the number at the end of this guide, so that we can get your claim started for you.

Name of tour operator
TUI
Thomas Cook
Jet2Holidays
LastMinute.com
TravelRepublic.co.uk
Claim For An Accident Or Illness At A Hotel In Portugal
When we look at holiday accidents statistics, we find that one of the most common forms of claims, is for injuries caused by an accident in a hotel. A hotel can present a whole host of potential accident hazards for its residents, such as:
Damaged floor coverings in the hotel lobby and rooms, causing a resident trip over.
Water that has been carried in from the pool area, causing a person to slip over.
Broken equipment in the hotel gym causing an injury.
Drownings due to no lifeguard being on duty in the hotel pool area.
Electrocutions caused by faulty room fittings such as plug sockets, lamps and light switches.
There are many ways that a person can be injured while they are staying at a hotel overseas. However you have come to harm, Accident Claims UK should be able to help you. Speak to one of our team on the number at the end of this page, and they will explain how we can be of help.

Food Poisoning Or An Accident In A Restaurant Whilst On Holiday
UK holidaymakers overseas, are always at the risk of food poisoning and other foodborne illnesses. This is because UK visitors don't have a natural immunity to the local bacteria in the same way that the residents do. If you come down with food poisoning due to eating bad food in a restaurant, then a personal injury solicitor should be able to process a claim for you.
Accident Claims UK has plenty of experience processing overseas food poisoning claim on behalf of our clients, and we are sure that we can do the same for you. Speak to one of our team on the number at the bottom of this page to proceed with your claim. We can also help people that have been injured in an accident while visiting a restaurant overseas. You can find more information about this, in this guide:
How to claim compensation for an accident in a restaurant while overseas

Hurt In A Slip Or Fall Accident? Claim Compensation
Slips, trips and falls are the most common of all holiday claims that we help people with here at Accident Claims UK. These accidents can happen at any time, and anywhere. From the moment you step out of your door to go on holiday, until you step out of the taxi bringing you home from the airport, you are at risk. Typical hazards causing these kinds of hospital accidents are:
Wet or dirty floors in the hotel dining room, café or restaurant.
Damaged floor coverings in a hotel room.
Broken curbstones in the hotel carpark.
Cracked paving slabs in the hotel garden.
Obstacles left by the hotel cleaning staff.
As you can see, there are lots of ways a slip, trip or fall can happen in a hotel. Accident Claims UK is experienced in these kinds of claims, and we are sure that we can help you with yours. Speak to one of our team on the number at the bottom of the page to learn how.

Watersports Holiday Accident Claims
If you are injured while involved in water sports, or some other kind of activity on holiday, you may be able to make a personal injury claim. If the organiser of the activity is found to be liable for the accident, then a valid reason to make a claim could exist. Furthermore, if the activity was included in a package holiday, then you will be able to claim against the package holiday firm.
To learn who might be liable to pay you compensation for a water sports or activity accident while on holiday, speak to one of the Accident Claims UK team on the number at the end of this guide today.

Car Accident On Holiday Compensation Claims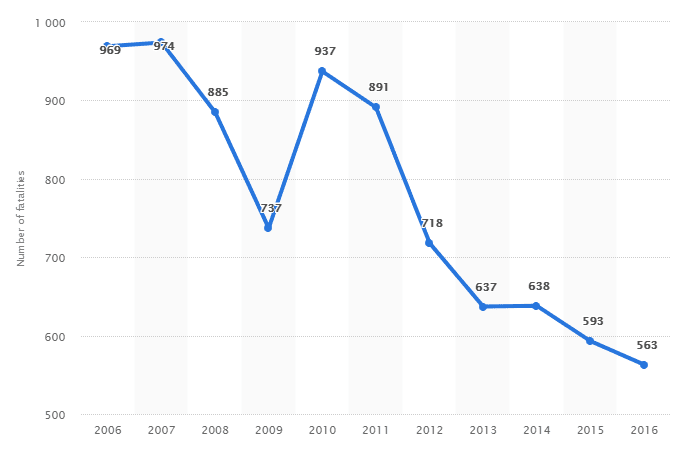 Take a look at the graph above. You can see that the number of fatal road traffic accidents in Portugal has dropped significantly in the last 10 years. Overall, this is a very safe place for UK visitors to drive. But of course, accidents do still happen, and when they are caused by a third party, they can become the basis for injury claims.
Here at Accident Claims UK we are very experienced in helping people to make overseas road traffic accident claims. If you would like to find out if we can do the same for you, speak to one of our team on the number at the bottom of the page.

Do I Have To Use A Solicitor Based In Portugal?
There is no advantage at all in using local holiday illness claims solicitors to help make your claim. It is much simpler to keep in touch with a UK based legal firm, who will be equally as capable of processing a claim as a local firm overseas. Here at Accident Claims UK, we regularly help accident victims to claim compensation for injuries they sustained while on holiday. To find out if you have a valid claim, and to learn how we can be of help, please speak to one of our team on the number below.

No Win No Fee Holiday Accident Claims Solicitors
Accident Claims UK can process your holiday clam under a No Win No Fee agreement. This means we won't charge you a fee when we first start on your claim, and we won't charge you a fee while we are processing your claim. It also means there will be no fee if we fail to win you any compensation at all. However, when we do win you a compensation settlement, we will take our fee straight out of the money we have received for you, and then send you what is left.

Claim Your Compensation With Us
Accident Claims UK can act as your holiday claim solicitors, and help you to successfully make a compensation claim. Getting a claim started with us isn't hard. Just call us on the number below and speak to one of our team. They will go over your claim with you, and then explain how our national claims service can provide a simple and effective way for you to have your claim processed, in a financially risk-free way.
| | | |
| --- | --- | --- |
| Get in touch via email, web chat or phone. | One of the team will go over your claim. | If the claim is valid, we will offer our claims service to you. |
Contact Us Today
Have you suffered an injury, or come down with an illness while you are on holiday abroad? Do you think that somebody else is liable for the harm you have been caused? If so, speak to one of the Accident Claims UK team on 0800 073 8801 right now, and they will be able to get your claim started right away.

Useful Contact Information
British Embassy Lisbon
1 de São Bernardo 33
1249-082 Lisboa
Portugal
Tel: +351 21 392 4000
Web: www.gov.uk/world/organisations/british-embassy-lisbon
Opening times: 9:30am to 5pm, Monday to Friday.
British Vice Consulate Portimâo
Edificio A Fabrica
Av. Guanaré
8501-915 Portimão
Portugal
Tel: +351 282 490 750
Web: www.gov.uk/world/organisations/british-vice-consulate-portimao
Opening times: 9am to 5pm, Monday to Friday.
At this link, you will find NHS provided information related to getting medical care in Portugal as a UK citizen:
NHS guide to healthcare in Portugal
At this link, you will find the website of the Association of British Travel Agents (ABTA):